Hot Cocoa Bomb Recipes and Tips
These hot cocoa bomb recipes and tips will help you make the season's hottest trend! Add a little festive sweet fun to the holidays this year with this Christmas and winter treat.
Hot Cocoa Bombs – The hottest trend of the COLDEST season
Here at Ruffles and Rain Boots, we were early to adopt the fun hot cocoa bomb trend. When I saw them in a specialty shop, I knew they were going to be a huge hit! So I took to the kitchen…
And failed! Whew, did I learn A LOT about making hot cocoa bombs?! In order for you to avoid making my mistakes, keep reading for both recipes and tips. I'll cover: the supplies you'll need, recipes for making fun flavor combos, and tips for making, gifting, and storage.
Save or Share This for Later
If you're too busy to make these right now, go ahead and save this to your favorite treats pin board on Pinterest or share it on Facebook. Speaking of Facebook, why not join the Facebook group here (we're a fun, kind, and crafty group).
As an Amazon Associate, I could earn from qualifying purchases.
Supplies for Making Hot Cocoa Bomb Recipes
Hot Chocolate Bomb Mold
The most important item you'll need when making these fun cocoa bombs is the mold. I have used a couple and these two are my favorites. Both are easy to mold and de-mold, which is not the case with all of them out there, but the silicone is my favorite.
Be sure to check out this list for all of my favorite hot cocoa bomb making ingredients and supplies.
Let me just interject before you move on… Don't limit yourself. If you keep scrolling, you can see some fun shapes. Really, just make sure you have a flexible silicone mold that isn't *too* detailed, and I bet you can make a hot chocolate bomb with it the first time without fail.
How Many Hot Cocoa Bombs Does it make?
If you use the commercially available bags of candy melts, you can get 6 spheres (2.5 inches; the first mold). It might take you one or two times to get them right, so start by making one and checking the width of the layers before filling all of the molds.
Another thing I'd like to note: you will not get as many from the larger molds. The LEGO mold I used only gave me a few chocolate bombs, so buy a couple of packages for anything larger than about 2 inches.
Staple Ingredients
The following are used in pretty much all of my fun cocoa bomb recipes, but decorations can be left off easily. Psst: don't leave them off, they are REALLY FUN to decorate.
White or Milk Chocolate Candy Melts (NOT chocolate chips)
Hot Cocoa Mix (homemade or prepackaged)
Mini or Regular-Sized Marshmallows
Colored Candy Melts (for drizzle or accents)
Sprinkles (they make everything better)
Flavors
If you want to vary the cocoa bombs you make, the easiest way to do so is with flavorings. Peppermint is a popular one, but don't limit yourself! A few to thing about are salted caramel, Mexican chocolate, peanut butter – the possibilities are endless!
Additions and Customizations
Sprinkles are your best friend when jazzing up your hot cocoa bombs, friends. I pick them up from Amazon, Etsy, and my local stores.
How to Make Hot Cocoa Bombs at Home
There aren't a lot of steps to make hot chocolate bombs. It can be boiled down to:
MELT. Put the chocolate into the microwave and melt.
MOLD. Pour 1 tablespoon of melted chocolate in each mold cavity. Each hot cocoa bomb will need two molds.
COOL. Place the molds into the freezer to set them.
FILL. Use any of these hot cocoa bomb recipes and fill up one of the halves.
SEAL. A warm plate or small pan on the stove is all you need to create a clean, sturdy seal.
Tips to Make the BEST Hot Cocoa Bombs Every Time
Use candy melts, not chocolate chips. You'll have a smoother melt and a longer time to "work" the chocolate.
Do not go light on the coating. Get a nice, even coat on the mold or your shell will crack. Be sure to get the chocolate up to the brim.
Use a warm plate from the microwave to melt the rim of one side of the bombs when assembling. You won't have to worry about any extra tools or inconsistencies – the plate does all the work for you!
Use your fridge or freezer to both set the pieces AND the final hot cocoa bomb before serving or wrapping for gifts or storage.
Use food-safe gloves to avoid fingerprints.
If your molds are breaking, ask yourself these questions:

Are you using chips? If so, don't.
Are you setting them in the freezer? If not, do.
Are you getting a "good seal" when combining? See our tip on melting the edges evenly with a plate.
Is your chocolate chunky? Temper the chocolate per the candy melt instructions, being careful not to over heat.
How to Store Cocoa Bombs and Shelf-Life
To store or gift these, place hot cocoa bombs in an air-tight container and store at room temperature. If you live in a warm environment, place in the cool (not the coldest) section in the refrigerator.
These things don't last very long in our house so as to shelf-life, I'd have to say they would last as long as the shortest ingredient would. To be extra safe, I would say these would last a minimum of a couple of weeks stored in an air-tight container.
Don't worry about the additions like marshmallows getting "crispy." The moisture from the hot milk or water will rehydrate them nicely.
Hot Cocoa Bomb Flavors
Below, I'm going to share the most popular hot cocoa bombs based on flavor. These recipes are easy to make once you know the tricks and you'll likely have everything you need on hand to jazz them up.
At the end of this helpful write up, I'm going to share some additional hot cocoa bomb flavors you can make. Some are conventional, some are amazingly unique.
Grinch Hot Cocoa Bombs
Okay, I'm starting wtih these Grinch cocoa bombs because they are my daughter's absolute favorite. If you have little ones (or want to surprise the Grinch in your life with a sweet treat), make these.
Peppermint Hot Cocoa Bombs
Another of the most-loved cocoa bomb flavors is also my favorite of all of the recipes! These peppermint hot cocoa bombs have just enough zing to make them the perfect wintry treat.
Hot Cocoa Bomb Flavor Ideas
The three examples above give you a great idea on where to start with different shapes, decorations, and flavors. A few more ideas to get you creating are:
Pumpkin Spice Hot Cocoa Bombs – Flavor Fun
If you want to add a little flavoring, this easy recipe is the place to begin. Start your Fall celebrations a bit early (or use up some of that mix you bought earlier this year), and make these pumpkin spice hot cocoa bombs.
Before I leave this section on flavors, let me drop this salted caramel hot cocoa bomb recipe here from Annie and Will at Venture 1105. This makes my mouth water!
Raspberry Dark Chocolate Cocoa Bombs
Listen, you're probably an adult reading this, so… These dark chocolate hot cocoa bombs are decadent and PERFECT to make for that friend who has to roll with little voices screaming for mini marshmallows as the highlight of her cocoa-making.
Mexican Hot Chocolate Bombs
What would a girl do without the zing of these Mexican hot cocoa bombs. To me, these are an unexpected, but most welcomed, adult-flavored treat for the season.
Chocolate-Covered Cherry Hot Cocoa Bomb Recipe
Oooh, let's all channel a 50's diner and get in on the fun to be had with these chocolate covered cherry bombs. Needless to say, everyone loved this flavor!
Strawberry Hot Cocoa Bombs
If you ask my daughter, these are her "favorite cocoa balls of all time ever!" Learn how to whip up a set of strawberry hot chocolate bombs in no time at all. Psst: they're really, really pretty in person, too, so they make a great "pink hot cocoa bomb" for that one friend. ;)
Reece's Peanut Butter Hot Cocoa Bombs
Peanut butter and chocolate are one of the best combinations every dreamt up. Learn how one simple ingredient can make you the star wit this Reece's hot cocoa bombs recipe.
Unique and Creative Hot Coffee Bomb Flavors
If you want to spice things up a bit for the older crowd, here are few hot coffee bomb flavors you should try. I'll put basic measurements for what goes inside – the outside is always the same and you can decide to use white chocolate, milk chocolate, or dark chocolate for the shell.
spiked coffee bombs recipe – I'm working on some, ahem, 'grown up coffee bombs' right now for Christmas morning (trying to get the ganache right), so check back soon
peppermint mocha coffee bomb – use a chocolate shell, a serving size of a peppermint mocha mix, and crushed peppermint candies; use hot water
creamer of choice coffee bomb recipe – use a white chocolate shell, 1 tablespoon of your choice of coffee creamer, and a serving size of instant coffee; use hot water
creamer of choice mocha – use a dark chocolate shell, 1 tablespoon of your choice of coffee creamer, and a serving of instant coffee; use hot water
caramel cappuccino coffee bomb recipe – use a full serving of a pre-made cappuccino mix inside a white chocolate, milk chocolate, or dark chocolate shell; use hot water
How to Mold Hot Cocoa Bombs
Below, I will share some of the amazing ways to liven up chocolate bombs using molds you can pick up on Amazon. The best part is that some of these are so, so easy to use and make you look like a rockstar!
Each type of mold will have its own nuances, but for the most part they are quite easy. A few tips to use detailed molds to make hot cocoa bombs:
use bold, thick shapes with imprint details
limit the use of colors (it isn't difficult, just time-consuming to add the accents)
make sure the molds have a bit of give to them to make un-molding easier
be mindful of the thickness of the chocolate, as details will break off if too thin
Shaped bombs: Mickey or Minnie Mouse Hot Cocoa Bombs
Okay, so if you want to be a bit "extra" for the Disney fan in your life, these Mickey and Minnie hot cocoa bombs are going to WOW them. They take a little more time, but honestly, they're worth it, especially for a Disney Christmas family movie night.
Gingerbread House Hot Chocolate Bombs (Fun Shapes)
No matter the flavors, you can whip up some fun and visually WOW-ing hot cocoa bombs. These gingerbread house hot chocolate bombs are jaw-dropping.
Winnie the Pooh Hot Chocolate Bombs
If you are concerned with adding sprinkles for the tiny hot cocoa fans, use shapes and accents to bring out some amazing treats like Winnie the Pooh hot cocoa bombs. They look SO professional but can easily be done at home.
LEGO Hot Cocoa Bombs
In full fun-time fashion, I whipped up a set of LEGO shaped hot chocolate bombs and friends, they are nothing short of epic. The little ones can decorate them how they see fit, but be sure to check out the "surprise inside" of these!
Unicorn Hot Chocolate Bombs
If you want to add a little whimsy and magic to your cold-weather days, let the little ones help you make some Unicorn hot cocoa bombs. They are so much fun!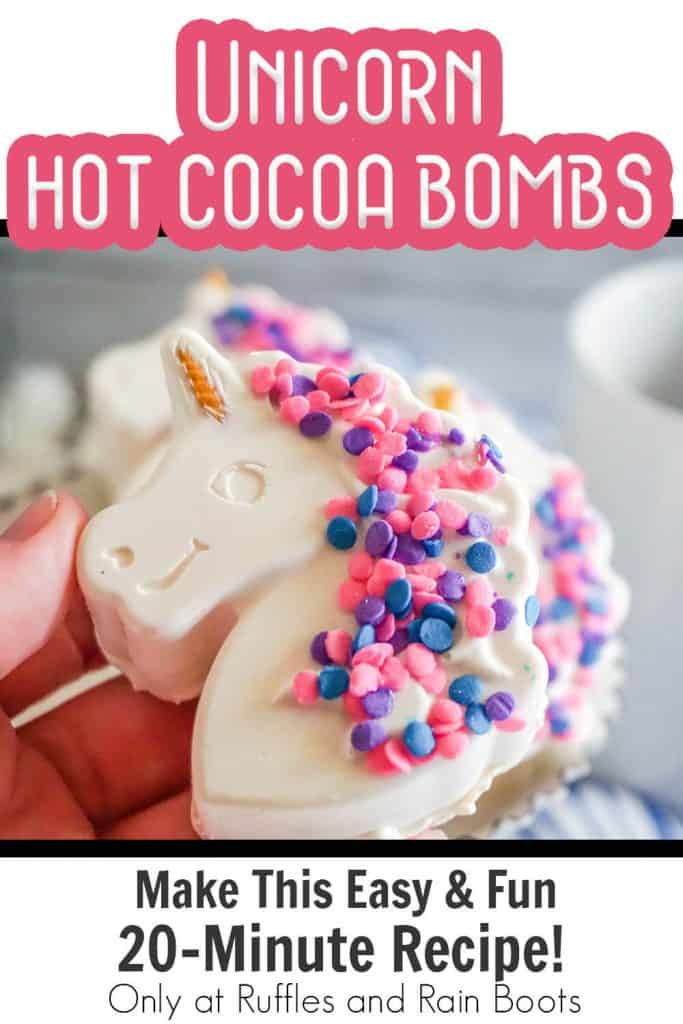 Easy Decorations: Mickey Mouse Hot Cocoa Bombs
If you're unwilling to make mouse ears for your cocoa bombs, I get it. A lower-effort version (which I LOVE) is to use decorative sprinkles like we've used here in these Mickey Mouse hot cocoa bombs. The kids loved them.
Harry Potter Hot Cocoa Bombs
Listen, there is someone out there right now who is ecstatic to find these sprinkles… Just as I was. :) These Harry Potter cocoa bombs are subtly themed with a happy little Hedwig.
Snowman Cocoa Spheres
If you can't tell, I buy a ton of sprinkles… Is there a support group for that? A quick way to get the kids involved is to give them a pack of sprinkles and have them decorate alongside you when making these Snowman Hot Cocoa bombs.
Cotton Candy Hot Cocoa Bombs
What sweet-loving, cocoa-gulping individual wouldn't be jumping for joy to get their hands on a cotton candy hot cocoa bomb? Now they can.
Whoppers Hot Cocoa Bombs
If you love the malted candy, these Whoppers Hot Cocoa Bombs are the candy lover's dream recipe. And yeah, they're super easy.
Birthday Cake Hot Cocoa Bombs
I have a winter baby, so these birthday cake hot chocolate bombs were a HUGE hit. They are perfect as a party favor, as well.
Mother's Day Hot Chocolate Bombs
If you are still dealing with the chill of winter not yet subsiding, May is perfect for these Mother's Day hot cocoa bombs. They're easy and elegant.
Princess Anna Hot Cocoa Bombs – Frozen Hot Cocoa Bombs
Any FROZEN fan is going to love seeing these Princess Anna hot cocoa bombs in their mugs. And though they look fancy, they're pretty down to earth (just like Anna).
Any Questions About Making Cocoa Bombs?
If you have any questions about making these ridiculously fun treats, just ask them below in the comments. I love making these and will help out where I can.
Please Save or Share
Your shares are how this site grows and I am sincerely grateful. Please share this to Facebook to help spread the word.