These Whoppers Hot Cocoa Bombs are a Malted Milk Ball Lover's Dream!
Making these whoppers hot cocoa bombs is a quick and easy treat that is definitely worth making for yourself or a gift for any malted milk ball lover!
Whoppers Hot Cocoa Bombs
Here at Ruffles and Rain Boots, we are obsessed with making hot cocoa bombs. It's still chilly around here this spring and I just can't shake the desire for a big mug of cocoa on the nights when the wind is blowing and it's all rainy. Good news for me, I found some yummy candies to inspire my latest creation of whoppers hot cocoa bombs!
RELATED READING: ADORABLE BUNNY BUTT HOT COCOA BOMBS
So simple and a real treat for anyone – trust me, gift them one time and you'll have huge fans. Plus, malted milk ball hot cocoa bombs are the most tasty treat for anyone that's a fan of this old fashioned candy. So, if you're ready for a mind-blowingly yummy treat, let's get started.
No Time to Make This Now? Pin it for Later
You're busy, I get it. Pin this to your favorite DIY gift ideas board on Pinterest and it'll be here when you're ready.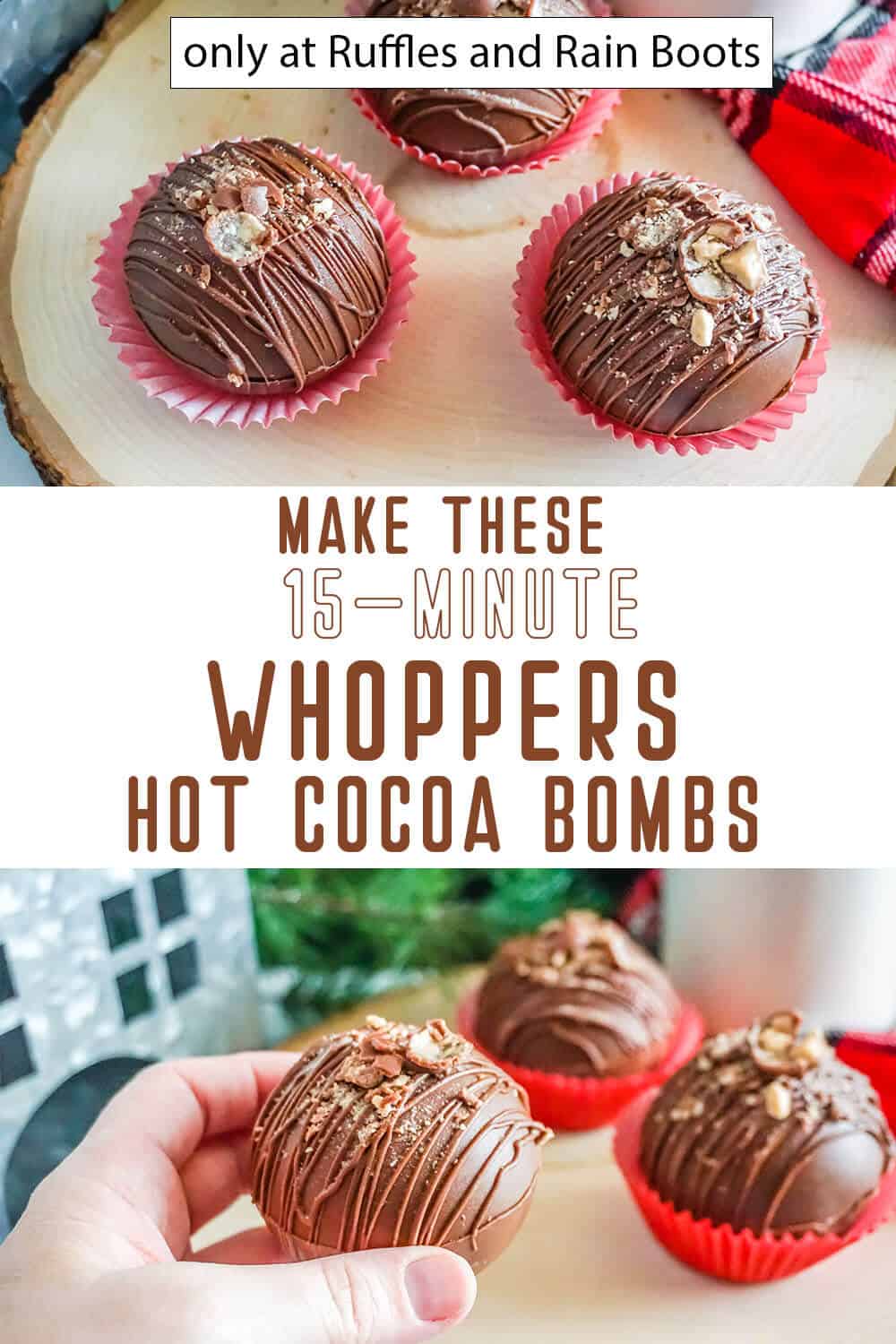 As an Amazon Associate, I can earn from qualifying purchases.
Tips to Make Malted Milk Ball Cocoa Bombs
New to making cocoa bombs? Check out the tips and tricks I share here on how to make hot cocoa bombs the easy way.
Despite what is probably your first idea, I recommend that you never make cocoa bombs with baking chocolate chips like those and you put in cookies. When melted, they're difficult to work with and not worth the effort. Instead, I strongly recommend using candy melts like these – they make for a much better material to mold with.
I know there are different makers of malted milk balls. And honestly you can use any of them to make malted milk ball cocoa bombs. But I saw a box of whoppers like these and couldn't resist just grabbing the easy and handy candy to make my cocoa bombs.
When you're all chilly and ready to make your own big ole mug of cocoa with your bombs, all you need to do is place the cocoa bomb in a mug, then in a second container warm up enough milk to fill your mug. Get that milk nice and hot, then pour it over your bomb in the mug and watch the bomb "explode" revealing the floating marshmallows – and the whoppers!
How Do I Make this Whoppers Hot Cocoa Bombs?
I'm so glad you asked. Below is our written tutorial.
More Easy Hot Cocoa Bomb Recipes You Might Like
Reeces Hot Cocoa Bombs – Sincerely one of the most amazing flavors you'll find for hot cocoa bombs ever, these are a definite for anyone who loves Reeces candies.
Mexican Hot Chocolate Cocoa Bombs – Spicy twist on the standard fare and like nothing you've ever tasted if you haven't had Mexican hot chocolate before!
Birthday Cake Hot Cocoa Bombs – I adore (and I am not kidding) the flavor of these cake flavored hot chocolate bombs – so good, you will immediately want another!
Please Save This to Pinterest
Your shares are how this site grows and I am sincerely grateful. Know a friend who'd like this? Please share it on Facebook or save it to your favorite hot cocoa bombs board on Pinterest.