These Raspberry Dark Chocolate Hot Cocoa Bombs are a Decadent Treat!
Craving something dark and decadent on a cold, chilly day, I broke out some hot chocolate and made raspberry dark chocolate hot cocoa bombs.
RASPBERRY Dark Chocolate Hot Cocoa Bombs
Here at Ruffles and Rain Boots, we love winter. The cuddles, the movie nights, and the hot cocoa are some of the highlights of what could otherwise be a dreary time of year. It's just so much to love. And making a little decadent raspberry dark chocolate hot cocoa bomb is the proverbial cherry on top.
RELATED READING: THE BEST HOT COCOA BOMB TRICKS AND TIPS
Making these easy treats is so fun, I've taken to making them as gifts for friends for ding-dong-ditching and other little special surprises. These raspberry dark chocolate hot cocoa bombs are too good to share. And I'm just not even sorry. LOL! If you're ready to make a treat you're not going to want to share, let's get started.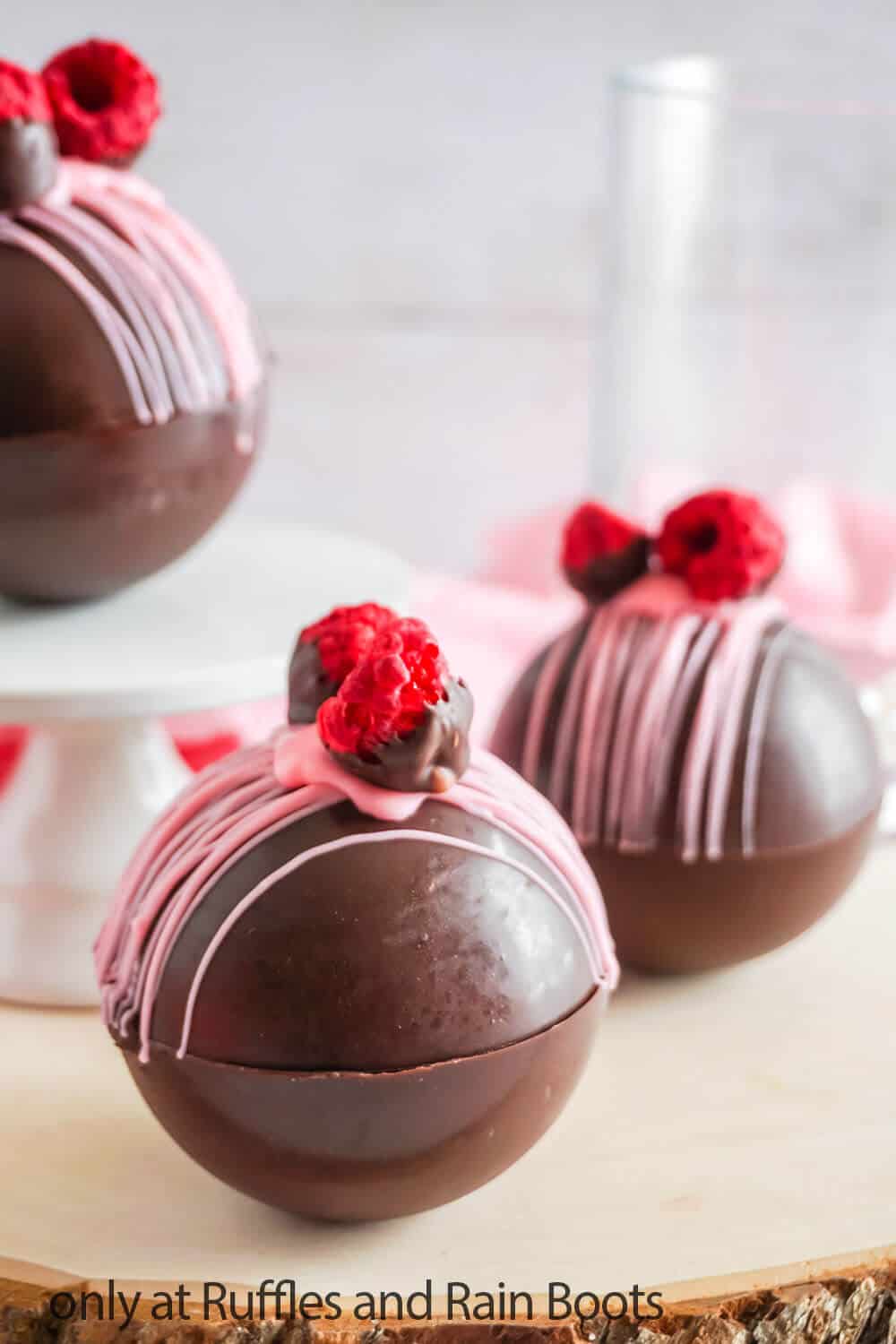 No Time to Make This Now? Pin it for Later
You're busy, I get it. Pin this to your favorite easy dessert recipes board on Pinterest and it'll be here when you're ready.
As an Amazon Associate, I can earn from qualifying purchases.
Tips to Make Dark Chocolate Raspberry Hot Cocoa Bombs
Don't get hung up thinking you have to use chocolate chips to make homemade hot cocoa bombs. Chocolate chips are just difficult and lumpy when melted. I always recommend you use candy melts instead, particularly when you're working with white or dark chocolate – both of these chocolate types can be super temperamental. And although you don't get the satisfaction of watching a million chips melt, candy melts are just more smooth and prepped for the melting. Don't overthink it, just grab dark chocolate melting discs like this and it'll be so much easier.
That little sweet touch of raspberry is everything when combined with the dark chocolate. But, of course, these dark chocolate hot cocoa bombs have to be shelf stable for longer than you can do with a fresh raspberry if you want to gift them. So, I snagged a bag of freeze-dried raspberries like this and found a way to make use of both the raspberry powder and the whole berries!
When the chill hits and you're craving that chocolate, ready to use your dark chocolate raspberry cocoa bombs, just pop them into your favorite coffee mug, then heat-up your milk pretty hot in a measuring cup and pour it directly over that bomb. Your hot chocolate bomb will float and as it melts, it will "explode"!
How Do I Make this RASPBERRY Dark Chocolate Hot Cocoa Bombs?
I'm so glad you asked. Below is our written tutorial.
More Easy HOt Cocoa Bomb Recipes You Might Like
Please Save This to Pinterest
Your shares are how this site grows and I am sincerely grateful. Know a friend who'd like this? Please share it on Facebook or save it to your favorite sweet treats board on Pinterest.