Raspberry Dark Chocolate Hot Cocoa Bombs
Craving something dark and decadent on a cold, chilly day, I broke out some hot chocolate and made raspberry dark chocolate hot cocoa bombs. They are delightful and cover both the bitter and sweet needs.
This recipe takes less than 15 minutes to put together, so it's an easy and quick way to set your tastebuds up for a bit of pampering.
RASPBERRY Dark Chocolate Hot Cocoa Bombs
Here at Ruffles and Rain Boots, we love winter. The cuddles, movie nights, and the hot cocoa are some of the highlights of what could otherwise be a dreary time of year. And making a little raspberry dark chocolate hot chocolate is a proverbial cherry on top… errr, raspberry on top?
Making these easy treats is fun, too, and I've taken to making them as gifts for friends for ding-dong-ditching and other little surprises. If you're ready to make a treat you're not going to want to share, let's get started.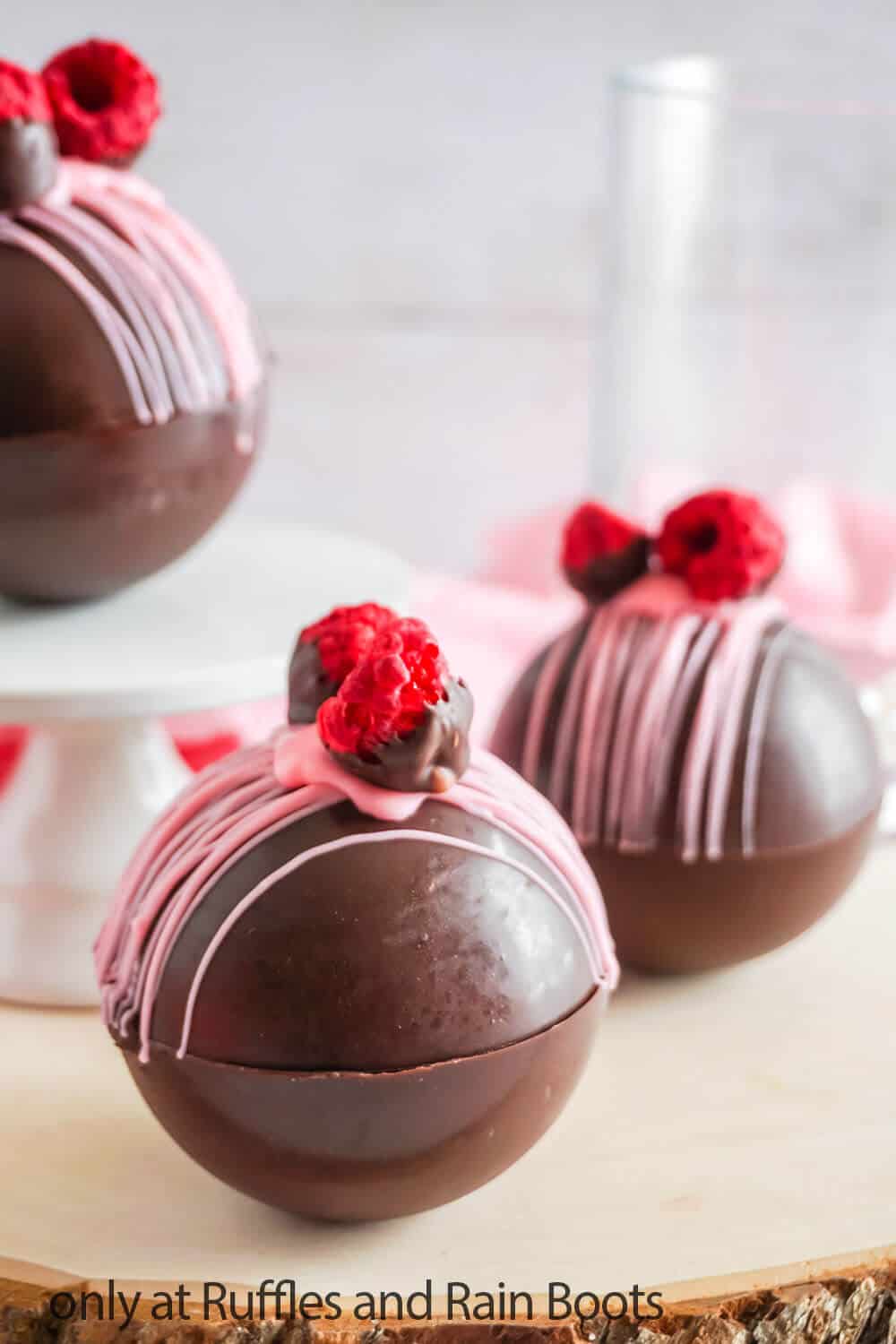 RELATED READING: THE BEST HOT COCOA BOMB TRICKS AND TIPS
No Time to Make This Now? Save or Share for Later
Don't have time to whip up a batch or need to gather an ingredient? Save this to your favorite dessert recipes pin board or share it to Facebook using the sharing buttons. It will be easy to find when you're ready to begin.
As an Amazon Associate, I can earn from qualifying purchases. There could be affiliate links within this article.
Tips and Hints To Keep in Mind
Don't get hung up thinking you have to use chocolate chips to make homemade hot cocoa bombs. Chocolate chips are just difficult and lumpy when melted!
Use candy melts, particularly when you're working with white or dark chocolate – both of these chocolate types can be temperamental. Candy melts are smooth and prepped for actually being melting and molded. Pick up dark chocolate melting discs like this and make things easier on yourself.
That little sweet touch of raspberry is everything when combined with the dark chocolate. These dark chocolate hot cocoa bombs have to be shelf stable for longer than you can do with a fresh raspberry, however. I used a bag of freeze-dried raspberries like this and found a way to make use of both the raspberry powder and the whole berries!
When the chill hits and you're craving that chocolate, ready to use your dark chocolate raspberry bombs, just pop them into your favorite coffee mug, heat-up about a cup of milk, and pour it directly over that bomb. Your hot chocolate bomb will float and as it melts, it will "explode!"
How to Make Dark Chocolate Hot Cocoa Bombs
It's so easy, you can read through the entire recipe below and be done in about 12 minutes with all the actual 'hands on' time. Below is the written (and printable) tutorial. If you have any questions, use the comments section.
If you love cocoa like I do, check out this best-selling hot cocoa bomb recipes book for tons of recipes.
More Easy Hot Cocoa Bomb Recipes You Might Like
Please Save or Share This
Your shares are how this site grows and I am sincerely grateful. Know a friend who'd like this? Please share it on Facebook or save it to your favorite sweet treats pin board.