Harry Potter Food and Crafts for Movie Nights or Parties
These Harry Potter food and crafts are perfect for a Harry Potter movie night or party! Let's dive into the fun with food and activity ideas for any fan.
Harry Potter Crafts and Activities
We're a crafty bunch here at Ruffles and Rain Boots. From play dates to parties, these Harry Potter crafts are sure to please young and old fans.
Harry Potter Mason Jars
Okay, so I need to share my absolute favorite wizard craft with you first. These Harry Potter mason jars are so much for kids (of any age, ahem) to make!
Harry Potter Story Stones
And my second favorite craft in this series of insanely fun book-lover's giddy goodness are these Harry Potter story stones. The kids are going to have a wild time making them and there is NOTHING stopping you from making your own set. Everyone needs a paperweight.
Wizard wands for Harry Potter Fans
Whether it's a Phoenix feather or a unicorn hair running through it, these Harry Potter wands are a fun DIY for everyone. They can be made with jewels, beads, charms – the sky is the limit!
The Sorting Hat Bookmark
In the first Harry Potter book, is there anything better than the Sorting Hat? It cracked me up and became an instant favorite! I made this Sorting Hat Bookmark when we started reading the books with my daughter and we still use it!
Harry Potter's Golden Snitch Ornament
This Golden Snitch ornament is a fun and quick craft for anyone. The best part is that it is a ridiculously easy craft (we give you the wing template) and many can be made if you're making a themed tree or banner!
Harry Potter Printable Popcorn Boxes
Family movie nights are a big deal around here and I try to make them special. These printable Harry Potter popcorn boxes make you into a rock star in just minutes.
DIY Snitch Necklace – COMING SOON
If you're one to keep your eye on the ball- um, golden snitch, you might want to make your own Snitch necklace. It's a simple DIY and is perfect for a rainy afternoon.
Harry Potter Bath Bombs 
Oh yes, yes. You can now WOW Harry Potter fans of all ages with a little tub fun and pampering.
Gryffindor Bath Bombs – COMING SOON
If the lion is your house, these Gryffindor bath bombs will put you in good company. Dumbledore, Harry, Ron, and Hermione were all strong Gryffindors.
Hufflepuff Bath Bombs – COMING SOON
If I'm being honest, these are my favorite of the bunch. These Hufflepuff bath bombs are so mysterious.
Ravenclaw Bath Bombs – COMING SOON
Look good and feeling smart? It's a day for a Ravenclaw bath bomb, friends. And you're in good company because one of my favorite Harry Potter characters, Luna Lovegood, graces the Ravenclaw common room.
Slytherin Bath Bombs – COMING SSSSSSSOON :)
Does anyone else say, "Ssssssssslytherin" every time they say the word? Well, now you know a bit more about me than you might have wanted… But even better, you can now make your own Slytherin bath bombs.
Be Sure To Follow Along with Ruffles and Rain Boots 
We love making crafts here at the 'Boots and would love to share them with you. Sign up to receive our weekly newsletter and you'll get access to the Hand Lettering Library (full of free practice sheets and instructions) and the Exclusive Library (full of free cut files for cutting machines, tips on our favorite craft mediums, and all things fun)!
Harry Potter Food Ideas
Some special Harry Potter food ideas can transform movie night or a party into something magical. Here are a few of our favorite Harry Potter party foods.
Sorting Hat Cupcakes with a Surprise Inside! 
If you are planning a party, you need – yes, that's the right word – to whip up a batch of these Sorting Hat cupcakes. People will be so excited to see what house to which they are sorted.
Harry Potter Popcorn – A Healthy(ish) Treat
You need something amazing to put into your printable Harry Potter boxes, so whip up a batch of this tasty Harry Potter popcorn recipe. It's tasty and guess what? It's NOT butterbeer!
Harry Potter Marshmallows
We had so much fun making these Harry Potter marshmallows for a quick movie night activity! The kids and the parents all got involved and the results were amazing (and delicious when served in hot cocoa). Psst: click through to see all the designs.
Dragon egg Cake Balls – COMING SOON
Surprisingly easy to make, these fun dragon egg cake balls are for anyone who just wishes they could join Charlie Weasley in Romania…
Nimbus 2000 Broomsticks Snack
These Nimbus 2000 Broomsticks are ridiculously easy and the kids will love to play with their food. If you're setting up a Harry Potter movie night, this is a must-have (mostly because they're simple and loved by everyone).
Planning a Harry potter Party? 
If you are planning a Harry Potter party, just know that I have you covered with inspiration in TONS of areas. Check these out…
Harry Potter Drinks 
Inspired by everyone's favorite wizarding series, these Harry Potter drinks are jaw-dropping beverages for all ages.
Harry Potter Cupcakes and Cakes
If you are like me and LOVE to bake, check out this confectionary collection of Harry Potter cakes and cupcakes.
Harry Potter Food Ideas and Recipes
Real food? Yes. Really impressive? You bet. If you need a creative spark, just take a run through the brick wall into these Harry Potter food ideas.
Harry Potter Snacks
No Potter party would be complete without tasty snacks! Check out this list of Harry Potter inspired snacks you can actually make without too much fuss.
Harry Potter Gift Ideas
And I know, I know – you probably already have an idea of what you're getting your HP fan but if you need a little inspiration… These Harry Potter gift ideas are magical.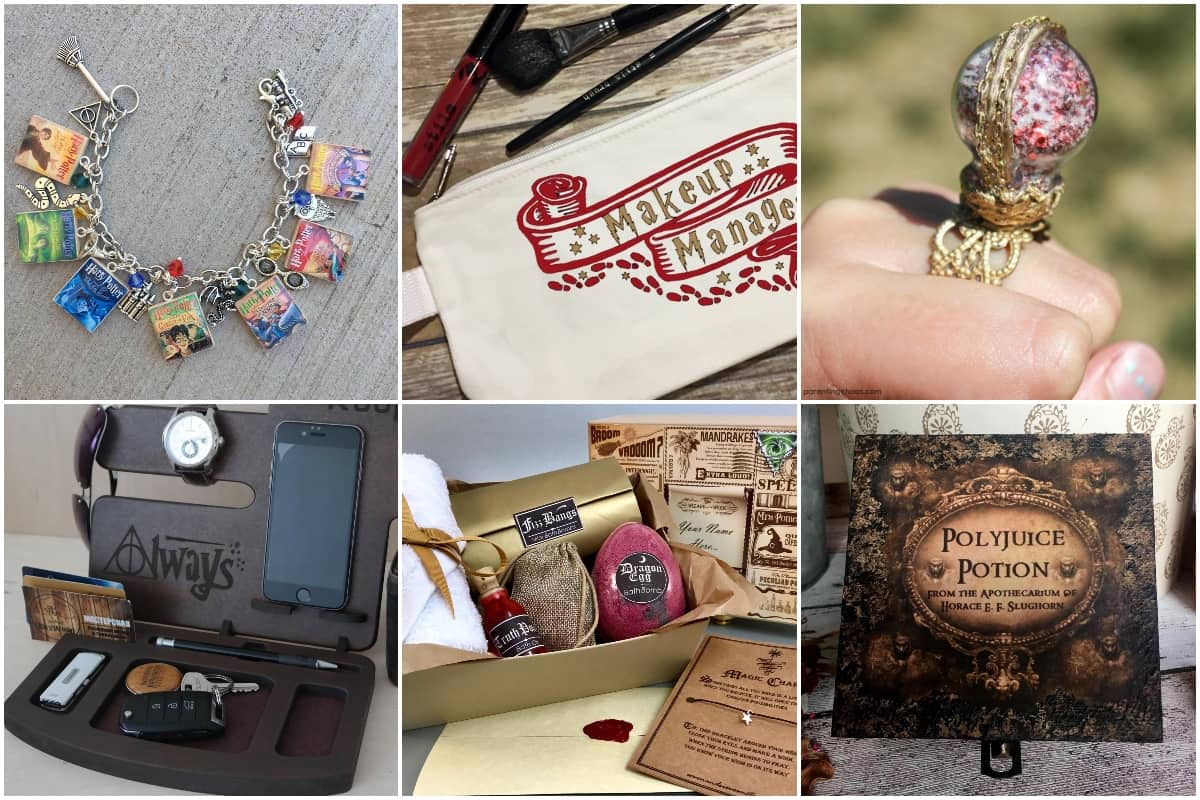 Please Save This to Pinterest
Your shares are how this site grows and I am sincerely grateful. Please share this to Facebook or save it onto a Harry Potter Pinterest board.