How to Make a Gnome Beard – Materials and Tips
You can learn how to make a gnome beard from fur, moss, yarn, wool, and even rope. Learning how to make different beards and braids for gnomes is fun and allows you to really get creative.
HOW TO MAKE A GNOME SERIES: Gnome Beards
Here at Ruffles and Rain Boots, I've been making gnomes a long time… Back when I started, it was SO HARD to find them in stores or online – most of them had to be imported from the Scandinavian countries!
Over the years, I've become known for making gnomes and I love sharing that knowledge with you. A rising tide lifts all boats, right? So if I can save you some searching and school-of-hard-knocks-learning, I will. Today, we're going to talk all about gnome beards – using fur and other materials.
RELATED READING: How to Make Gnomes Series 2: The Best Supplies
Get Secret Gnomes, Tips, & Freebies Delivered!
What is the best pattern to use when you don't want to sew? Do you know the secrets to a properly-proportioned gnome? Do you know where to get the best-priced fur?
Get all of this (and exclusive content just for you) delivered right to your inbox with the gnome-making series, free of charge. Sign up to get the once-weekly newsletter (and a jaw-dropping special offer)!
Please Share and Save This Resource
In case you don't have time right now to go through it, share this page to your Facebook or save it to your favorite board on Pinterest. It will be here when you're ready.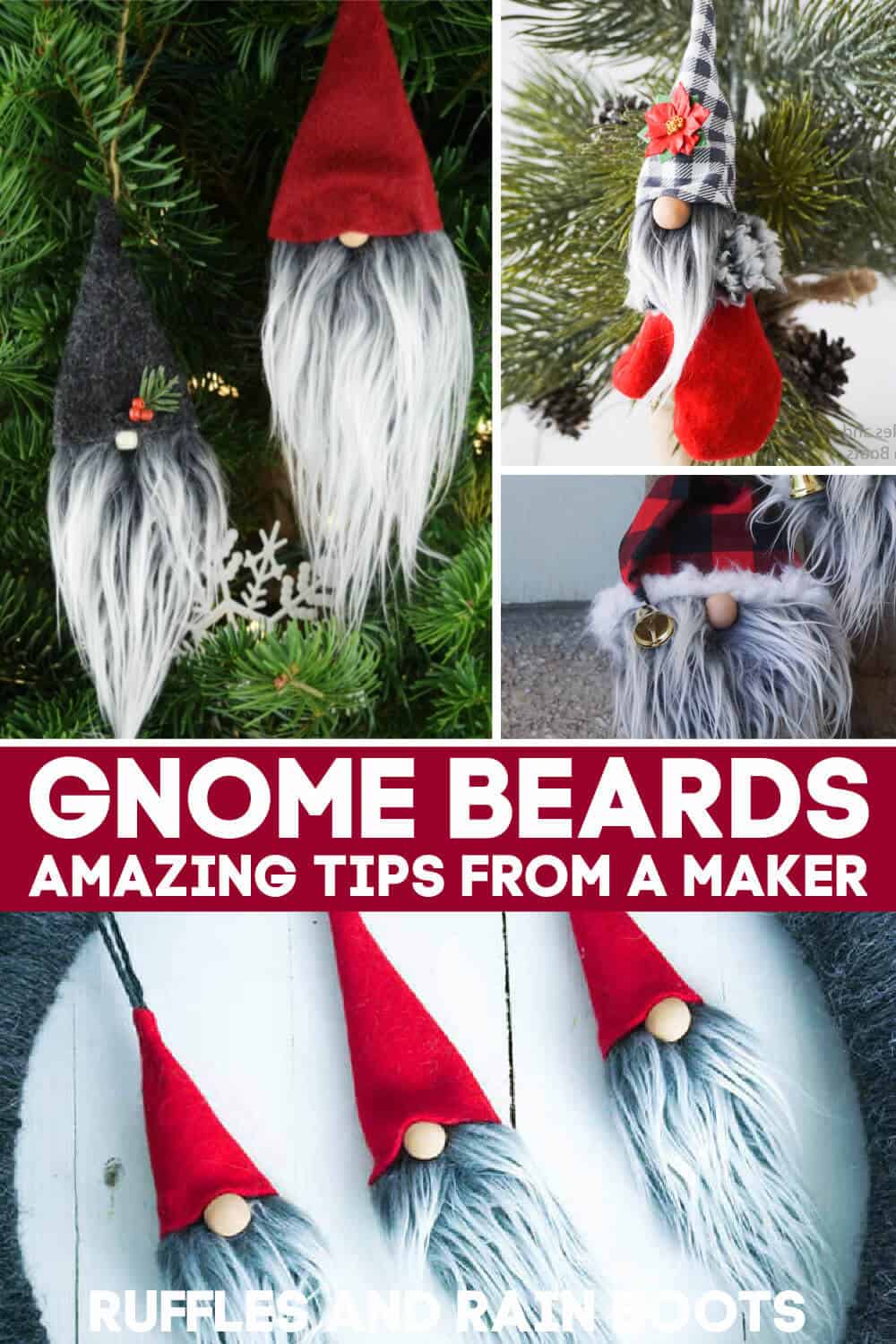 There are affiliate links in this article which means I could be compensated for the recommendation.
How to Make a Gnome Beard: All Fur Is Not Equal
Over the course of this series on how to make gnomes, I'll be sharing a ton of tips, tricks, alternatives, and inspiration. One thing will remain constant: if you choose to make gnome beards with fur, I believe spending a little money on a quality fur will immediately make a difference in your gnomes.
Make a Gnome Beard with Fur Gnome Beard
For example, even though each in this set of gnomes was made in 15-minutes, it uses quality materials: minky fabric adds warmth and texture, premium felt and fabric adds a thick, elegant base, and a long-pile faux fur adds depth and dimension.
Not all fur is created equal – the look and feel of the faux fur can really change the aesthetic of a gnome. Below, you'll see a few types of fur:
on the far right is what I call "craft fur" – it's sold in small sheets and is the lowest quality, aside from toy-level fur; comes in fun patterns and colors, so it is still a great choice
on the far left is fur from the bolt – this is the fur sold at craft stores and needs to be cut into desired lengths; it can be quite lush and plush or short and choppy; good quality fur
the fur in the middle – this is Mongolian fur in frosted gray; it has a 3-inch pile and is the most popular of gnome beard materials; this is high quality
Below, I'm going to answer the most common questions I get about using fur to make gnome beards.
What Is the Gray and White Fur Called?
The 3-inch, long-pile of Mongolian fur is my favorite – you will see it used ALL.THE.TIME. in my gnome-making and many others' Scandinavian gnomes. I do venture out with other styles and colors, but everyone loves this one.
Where Do I Buy Fur for Gnome beards?
If you buy on Amazon (I do), I recommend the fur here. If you want to buy a small amount, I recommend this Etsy seller (watch the sizes; the pricing is better on Amazon). The Mongolian is hard to find at craft stores (like Joann's), though can be found at fabric stores (check the home decor and rug section).
When buying fur, I recommend starting with more than less. There are so many projects here on Ruffles and Rain Boots (and other sites) in which you can use fur (check out these pompom pets, for example). That said, be sure that you measure enough so that you can cut the width and length with the pile of fur going the right way.
When you buy small, partial cuts, this isn't always the case and I would hate for you to waste your money.
How Do I Cut Faux Fur?
So many people waste fur and y'all, it breaks my heart. Learn how to properly cut faux fur here. It's a short video and is so much better than parting it and trying to cut with scissors.
Can I Color Fur to make a custom gnome beard?
A lot of people tell me they can only find fur in white (on the fabric bolt) most of the year. The good news is that you can color faux fur. You can use synthetic fabric dye (like this) or you can get creative with these ways to color fur for gnome beards.
Gnome Beard Pattern
I am going to be brutally honest here and say you do not need a gnome beard pattern. I know, I know – people want to sell you a "gnome beard pattern," but honestly, if you learn how to cut fur correctly, you can create your own "pattern."
Note: I include a beard pattern shape in the gnome patterns in my shop here but that is to fit that particular gnome. If you are designing your own, have faith and follow this simple tip. Use a marker on the BACK of the fur and write out a "U" or "V" shape. Cut that shape out (with the pile pointing down) and you're good.
Now, how do you know how big or wide to make it?
How to Measure Your Gnome for a Beard or Braids
If you checked out that video above on how to cut faux fur to make a gnome beard, you've likely gleaned the first tip: when you cut fur, keep in mind that the bottom of the fur backing is not the bottom of the beard.
The beard will hang over (some will be short, some longer depending on the fur or other materials you use). Keep this in mind and measure the height under the nose to the bottom of the material (not the backing).
The width of your fur or material will depend on whether you want a skinny beard, a beard and mustache, a robust beard, or a full wrap-around beard. Be sure to place the material ON the gnome body and measure or use a fabric measuring tape (the soft kind like this).
How to Make Gnome Braids: Materials and Tips
I love girl gnomes but they are cause for some debate in the gnome-making world… I know, it's silly but it is what it is.
Some gnome makers believe female gnomes should have beards like this one, some believe braids or pigtails. Some like the bangs (like on this lady gnome here) and some do without.
The best part is that you can decide what YOU WANT. And here is a question I am asked all the time: "Can I use fur to make braids? How do I get it to lay flat?" My answer: you most definitely CAN use faux fur to make gnome beards and I show you how to make gnome braids in this tutorial on YouTube.
Gnome Beards: What Can I Use in Place of Fur?
If you do not have any fur or can't find any online, the possibilities to make gnome beards are still endless! I'll go into this in a bit more detail later, but wanted to give you a few ideas now.
Here are a few materials I use for gnome beards:
What Can I Make with Fur Scraps?
Oh friends, heed my advice: never, never, never toss those faux fur scrap pieces! I have a ton of gnome projects you can make with fur scraps. Here are a few:
The "How to Make a Gnome" Series
Because I'm asked this next question quite a few times a week, I'm going to say your next step should be to check out all of the ways to turn the simple sock gnome into an amazing presentation!
Please Share This to Facebook or Save to Pinterest
Are you in a gnome group on Facebook? Be sure to share this gnome making resource with others – just hit that blue Facebook button and you're good to go. If you'd rather share this on Pinterest, I'd be just as grateful. Your shares are how this site grows and you have my sincerest thanks.