Elfin Gnome Pattern and Gnome Ideas
Let's make this elfin gnome pattern together to add a little whimsy in a few minutes. This is an easy pattern to make any style or seasonal gnome.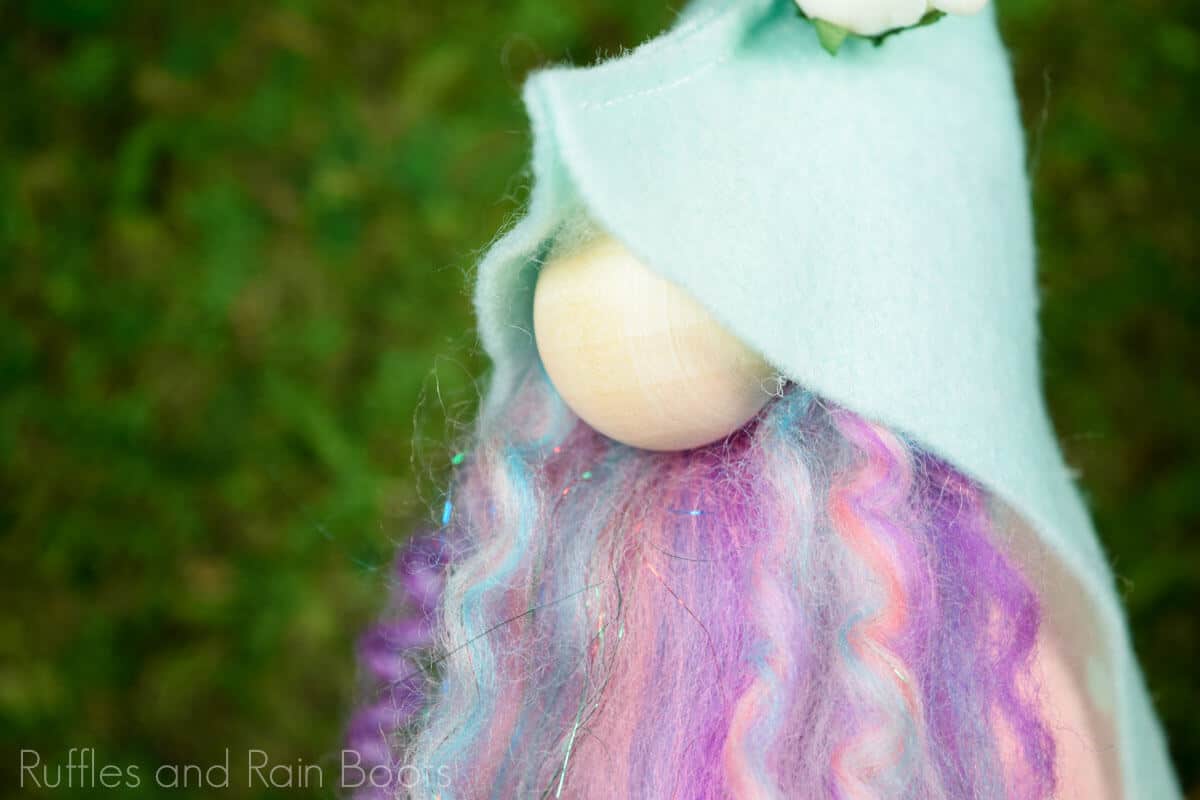 What You'll Find On This Page
Elfin Gnome with Pattern
If you've been to Ruffles and Rain Boots before, it's apparent I have a problem making gnomes. I've yet to find a support group for those who love them, so maybe I should just start my own. We could sit around and… make gnomes. ;)
If you're new here, a few of our favorite gnomes:
Christmas Gnomes: From wine toppers to decor, this is Gnome Central.
Farmhouse Gnome: This no-sew gnome is a 30-minute craft and packs A LOT of design style.
No Time to Make an Elfin Gnome Now? Pin it for Later!
If you need to grab a supply or two (check the list below) or want to make it later, just pin this to your favorite gnome board on Pinterest.
Get Secret Gnomes, Tips, & Freebies Delivered!
What is the best pattern to use when you don't want to sew? Do you know the secrets to a properly-proportioned gnome? Do you know where to get the best-priced fur?
Get all of this (and exclusive content just for you) delivered right to your inbox with the gnome-making series, free of charge. Sign up to get the once-weekly newsletter (and a jaw-dropping special offer)!
There are partner links shared in this fun DIY gnome tutorial which means I could earn from qualifying purchases.
Elfin Gnome Pattern
I normally create my own patterns, however, for this gnome, I relied on the Elfin gnome pattern from The Gnome Makers. I picked it up on Etsy and couldn't believe it – I began the gnome in 3 minutes after gathering supplies and was DONE in about 20 minutes!
The hat is what caught my eye and why I bought the pattern – just look at the detail in the curves. You can tell this was crafted with care (and lots of love for gnomes). It was simple to cut and sew. I used a machine, but you can also sew it by hand and it will come out perfectly.
Love Gnomes? Let's Stay in Touch!
If you can't tell by the abnormally large amount of gnomes on this site, I love gnomes. If you do too, sign up for the once-weekly newsletter. I'll deliver you the crafty inspiration without any selling or stuff – just fun, creative crafts!
Supplies to Make This Gnome
The Gnome Makers' pattern details what you'll need, however, I'm going to share what I've learned after making it.
You can use regular faux fur, Mongolian fur (my favorite), or the beautiful colored Merino fiber we used in this Spring gnome. I curled some of it – let me know if you'd like a tutorial on this.
The pattern calls for rice, however, I find poly beads are better to get a nice, even bottom.
If you replace the felt body with fabric, you won't have any issues. If you replace the hat, however, the fabric should have a bit of weight to it or be lined with interfacing.
Usually, I'll use a clay gnome nose I make, however, the hat overhang buried it. I opted for a 1-inch wooden bead to make sure the nose wasn't lost under the hat's shadow.
How Do I Make This Adorable Gnome?
I'm so glad you asked! The Gnome Makers' pattern details the steps, however, I want to share a couple of notes.
Don't fret if your felt doesn't stay lined up perfectly. A quick trim will finish it off and makes the hat look amazing.
The inside curve of the hat should be sewn with care (slow down). She gives great tips in her pattern's instructions for this.
Turning the body is a bit tight when using a high-quality, thick felt, so take care not to pull any stitches. Craft felt is fine.

Spring Gnome Pattern
Beard: I used the most colorful Merino blend I could find (I got it on Amazon here).
Body: Pink craft felt with white polka dots from the craft store made me think of Spring.
Hat: The pale teal craft felt was perfect with the beard colors.
Nose: My normal noses are too small for this whimsical gnome pattern, so I used a 1-inch wooden bead.
Fairy Gnome Pattern
Braids: I used the same colorful Merino blend I could find (I got it on Amazon here).
Body: Gray craft felt.
Hat: White craft felt with silver polka dots.
Nose: A 1-inch wooden bead works perfectly with this size gnome hat.
Wings: I made a wire frame using thin floral wire, placed it inside two pieces of sheer fabric, and sewed it. To make it look a bit more finished, I trimmed the edge of the wings close to the wire.
4th of July Gnome Pattern
Beard: This is long-pile faux fur in white. Note: this is not craft fur and can be purchased at a fabric store on bolts.
Body: Red craft felt was on hand so I used it, but a red and white striped fabric would be adorable!
Hat: For the hat, I cut the two pattern pieces and, before sewing them together, hand-stitched on small x-shapes.
Nose: 1-inch wooden bead.
Fall Gnome Pattern and Instructions
Beard: This is a very inexpensive craft fur (sold in the doll section of craft stores for about $5). I added a mustache about 3/4 of an inch thick and split it in the middle, pulling up the endpoints into a very pronounced mustache.
Body: I used an inexpensive craft felt in a dark brown but before I sewed it, I hand-stitched on a maroon and neutral patch or two near the bottom.
Hat: High-quality (thick) craft felt in a natural tone with hand-stitched patches in maroon and brown.
Nose: This gnome, because of the mustache, only got a 1/2 inch wooden bead as a nose. There was a lot going on so I thought the smaller nose was perfect.
HALLOWEEN Gnome Pattern and Instructions
Beard: This is my favorite faux fur (get it here from Amazon) and features only a beard (no mustache).
Body: I used an inexpensive craft felt in a fun orange – plain, but my daughter wanted to add those little plastic spiders, so less was more in this case.
Hat: This gnome hat pattern is my favorite and so is Buffalo check! I used an inexpensive flannel purchased at a craft store. To display, my daughter hung a tiny plastic spider off the end of the hat using a small amount of fishing line.
No-Sew Gnome Patterns
I have a sewing machine and have gotten okay-ish at sewing a straight line. :) If you're unsure of your skill, trust me when I say this is a beginner pattern.
Not sure you want to sew? No problem! Check out these no-sew gnome styles here on Ruffles and Rain Boots:
farmhouse gnome – This little guy might be my favorite and he's done in about 20-minutes!
bunny sock gnome – He's the perfect addition to any Spring decor – look at that hat.
Please Save This to Pinterest
Pick up The Gnome Maker's pattern here and join me on Facebook to share your images! Your shares are how this site grows and I am sincerely grateful. Please share on Facebook or save this to Pinterest.