Come to the Dark Side and Make This Stormtrooper Sleep Mask!
You are going to love making this Stormtrooper sleep mask. Not only is it easy and fun, but the resulting Disney cruise fish extender gift idea or father's day gift idea is out of this world!
Stormtrooper Sleep Mask
Here at Ruffles and Rain Boots, we are all about Star Wars crafts lately. So, it made perfect sense that I needed to make a fun Stormtrooper sleep mask for a Disney cruise fish extender gift idea. It's cool, fun, and I might even have to make one for my husband for Father's day because he's been eyeballing this one pretty hard.
RELATED READING: EASY DISNEY SLEEP MASKS – 9 WAYS!
But, honestly, this is such a simple Disney craft idea, it was a perfect idea to make with vinyl scraps and a plain eye mask. If you're ready to dream of the dark side, let's get started.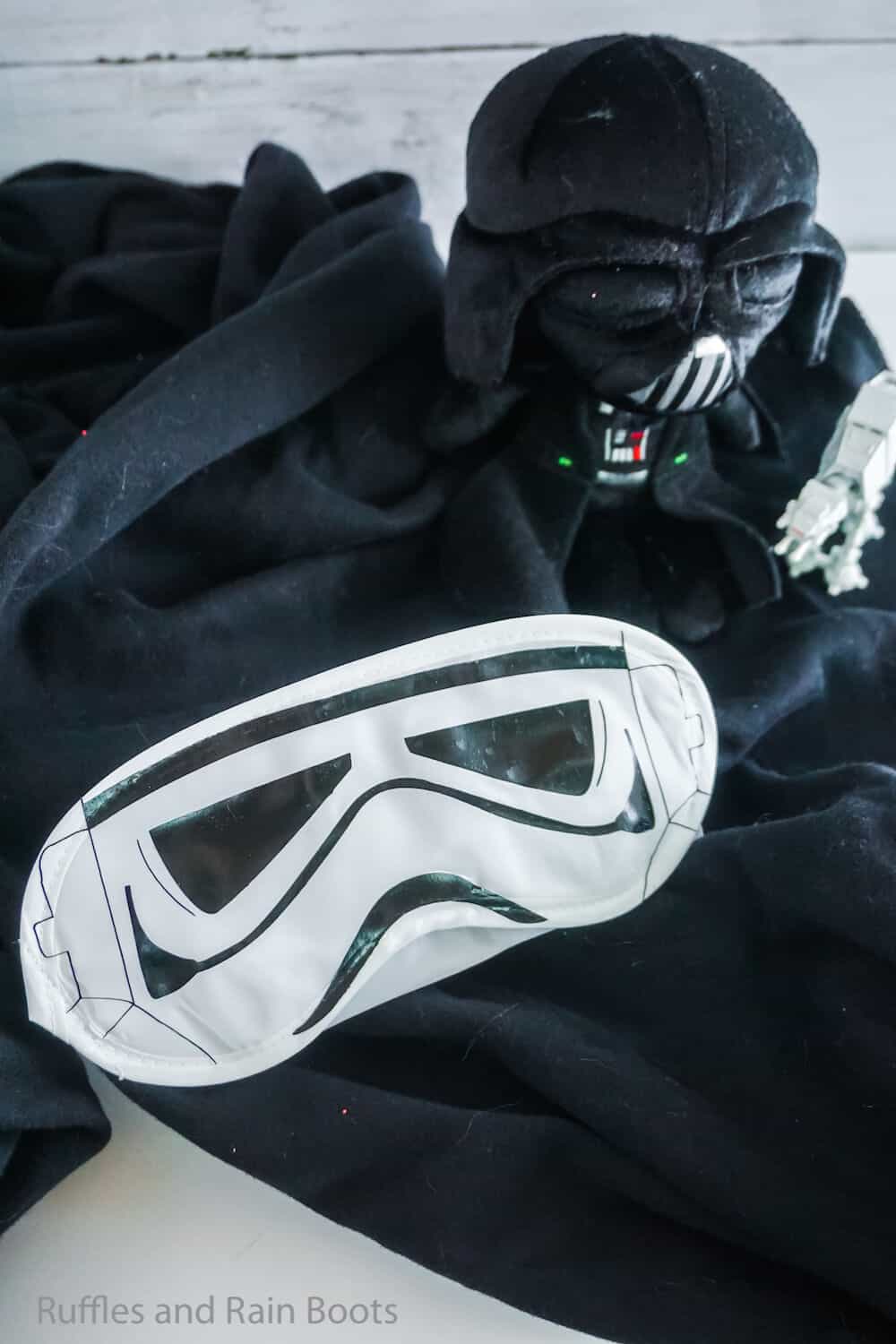 No Time to Make This Now? Pin it for Later
You're busy, I get it. Pin this to your favorite Star Wars crafts board on Pinterest and it'll be here for when you're ready.
As an Amazon Associate, I can earn from qualifying purchases.
Tips to Make a Stormtrooper Eye Mask
Start by clicking here to get the epic and easy Stormtrooper helmet sleep mask cut file set.
Then grab some awesome sleep masks like these to use as your blanks. Now, if you only plan on making one Stormtrooper eye mask, just get one, but you're probably going to want several different colors because I have multiple cool designs in the works. Go ahead and check out the sleep mask designs I've made so far:
If you're anything like me and you keep all of your black vinyl scraps in a little bag near your Cricut, well, get ready to break those scraps out–this is the project for them!
Definitely remember to make this easier for yourself and click the little button for the attach function in Design Space. Yeah, this might waste some vinyl, but it's going to make placing each of the little individual pieces so much simpler, but if you've decided to be cutting with scraps, then you can discard that excess vinyl knowing it was worth a very good cause.
It really helped me to take a few minutes to iron each of the eye mask before I started. The super thin satin fabric got fairly wrinkled when it's shipped, so by ironing it out that made sure the vinyl was ironed-on evenly.
If I'm going to recommend a heat transfer vinyl for this sleep mask, it's going to be the Siser EasyWeed you can find here that I used. Because the cuts are such small pieces, it's just so much more convenient to not have to deal with the whole separate transfer sheet thing.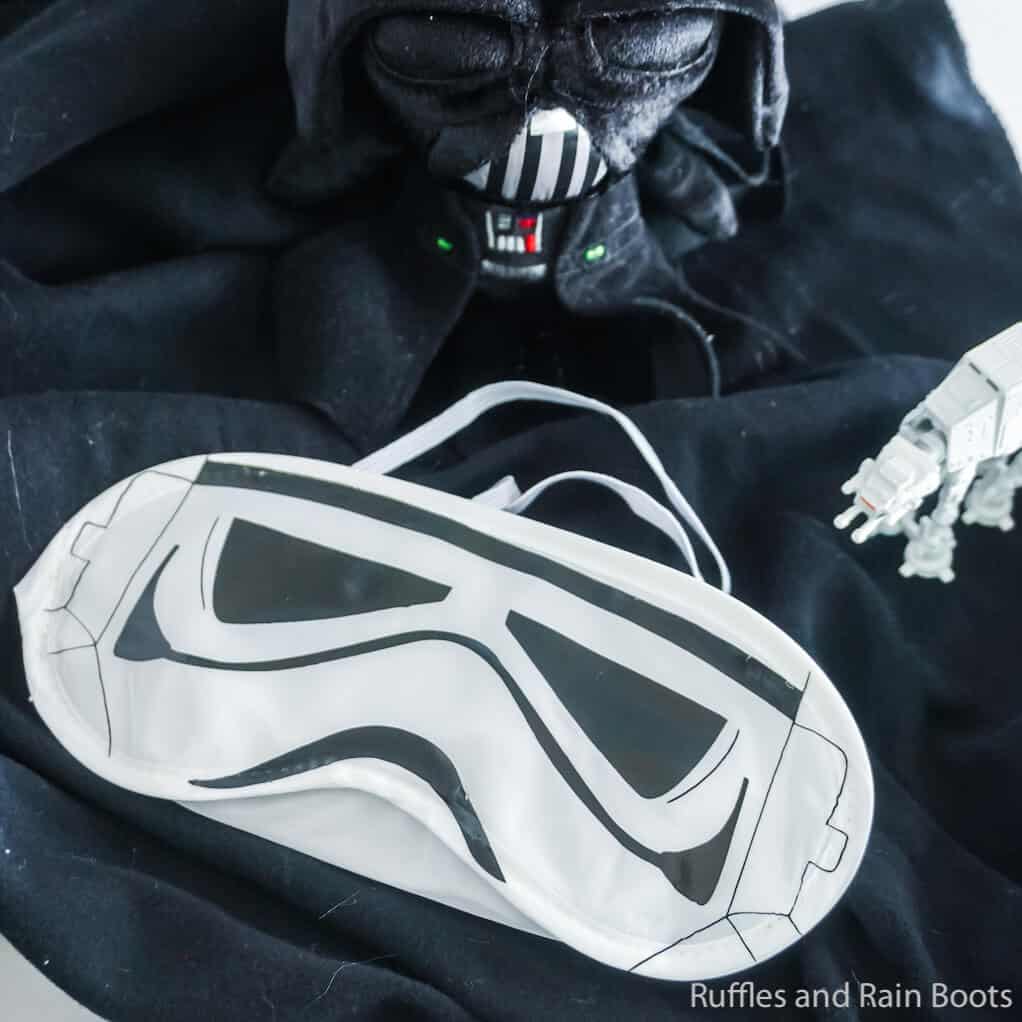 How Do I Make this Stormtrooper Sleep Mask?
I'm so glad you asked. Below is our written tutorial.
Creativity, Delivered
Would you like inspiration delivered right to you each week? Sign up for the once-weekly Ruffles and Rain Boots newsletter and you'll get that and more! Get access to the exclusive libraries full of free SVGs, hand lettering practice, and so much more.
More Easy Disney Crafts You Might Like
Death Star Mickey Ears – These are some of the funnest Mickey ears I've ever made–they're sparkly, fun and oh so dark side.
Free Disney SVG Files – All the most awesome free Disney SVG files I've made over the years all compiled in one spot for the taking!
Easy Disney Dole Whip Recipe – Yum-yum in my tum-tum is what you're getting into when you make this awesome and easy dole whip that's just like the park's.
Please Save This to Pinterest
Your shares are how this site grows and I am sincerely grateful. Know a friend who'd like this? Please share it on Facebook or save it to your favorite Disney craft ideas board on Pinterest.