This Delicious Maple Bourbon Cupcake Recipe Will WOW!
This maple bourbon cupcake recipe is a MUST have in your dessert recipe box. This is an easy cupcake recipe to make and the flavor will have you craving "just one more."
This boozy cupcake dessert idea features sweet maple frosting topped with chunks of bacon and pecans. You can leave off the nuts or choose to just add the tiniest little dusting. Either way, I recommend trying this one – it's a crowd-pleasing grown up cupcake for any occasion.
RELATED READING: MAPLE BACON CUPCAKE RECIPE
Maple Bourbon Cupcake Recipe
Here at Ruffles and Rain Boots, I have shared hundreds of cupcake recipes because I honestly believe they are one of the universally best desserts for all ages and occasions. In our house, my family will test any flavor I hand them.
They're the best, sure, but this post isn't about my family, it's about this amazing cupcake. The whiskey adds just the right amount of depth to this recipe. This is an adult cupcake recipe that has a delicious sweet and savory combination.
If you are hesitant about using the bourbon, I have a yummy maple bacon cupcake recipe here that is easy to prepare).
No Time to Make This Now? Save or Share for Later
Need to gather up some ingredients? Save this to your favorite dessert pin board or to your timeline on Facebook. Either way will make this easy to find when you're ready to start.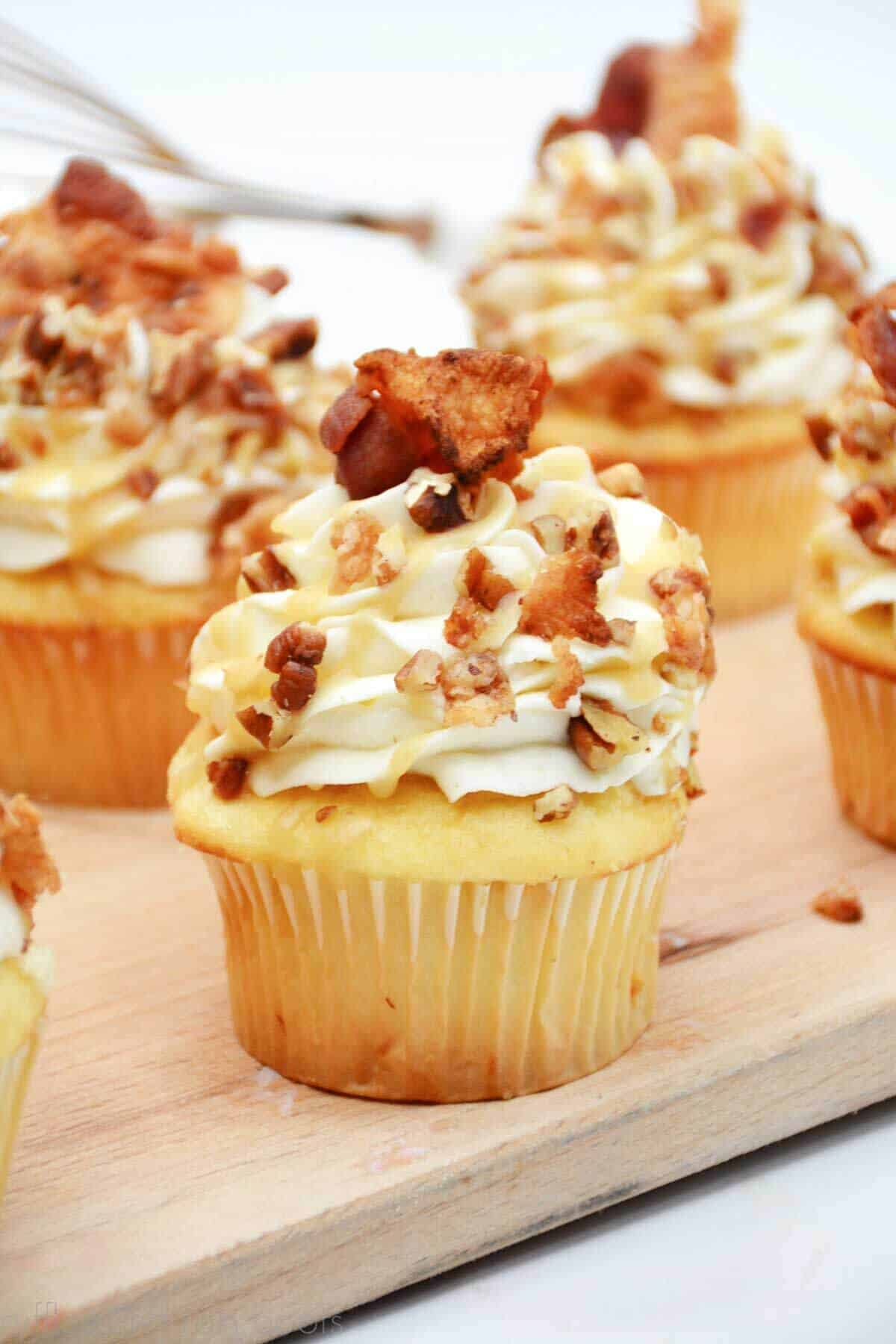 As an Amazon Associate, I can earn from qualifying purchases. There could be affiliate links within this article.
RELATED READING: PUMPKIN EGGNOG CUPCAKES
Tips for Making These Maple Whiskey Bourbon Cupcakes
Start with a prepared cake mix as I did or whip up any cupcake recipe that has substance like my "Lazy Girl's Easy Vanilla Cupcake Recipe." Do not use something like Angel Food Cake mix, for instance.
Try not to over mix the cupcake batter. Working the flour too much could result in too much air added or extra gluten and that does not make a good texture.
The trifecta of maple, bourbon, and and bacon are staples and combining them makes a lot of sense, even in desserts. This is a classic flavor combination that will appease all ages.
If you're timid about the bourbon, don't worry, you're not taking a shot of the stuff. That said, I won't judge you if you do. I mean, you're making cupcakes for everyone, you can have it.
Change up the cake mix to change up the flavor of the cake. I like vanilla cake mix, but this would totally be good with a chocolate cake mix, too.
RELATED READING: DELECTABLE TIRAMISU CUPCAKE RECIPE
How to Make Maple Whiskey Cupcakes with Bacon and Pecans
Below is the written and printable cupcake recipe. If you cannot find the particular brand of whiskey I used, try to find a substitute.
How to Store These Maple Bacon Cupcakes
If you're lucky enough to have leftovers, I store them in an airtight container and keep them in the refrigerator. Buttercream frosting is fine on the counter, but the bacon should be kept cool.
Additionally, you can create the cupcake up to the chopped pecans and store them on the counter. When ready to serve, remove the cooked bacon from the fridge and add them to the frosting.
More Cupcake Recipes You Light Like
Please Share or Save This Boozy Cupcake for Later
Your shares are how this site grows and I am sincerely grateful. Please save this to a yummy cupcakes pin board or share it to a recipe group on Facebook.