How to Make a Sock Gnome in Just 3 Steps!
Learn how to make a sock gnome with just a few simple supplies. Get tips, fun examples, and make your own gnome in just a few minutes.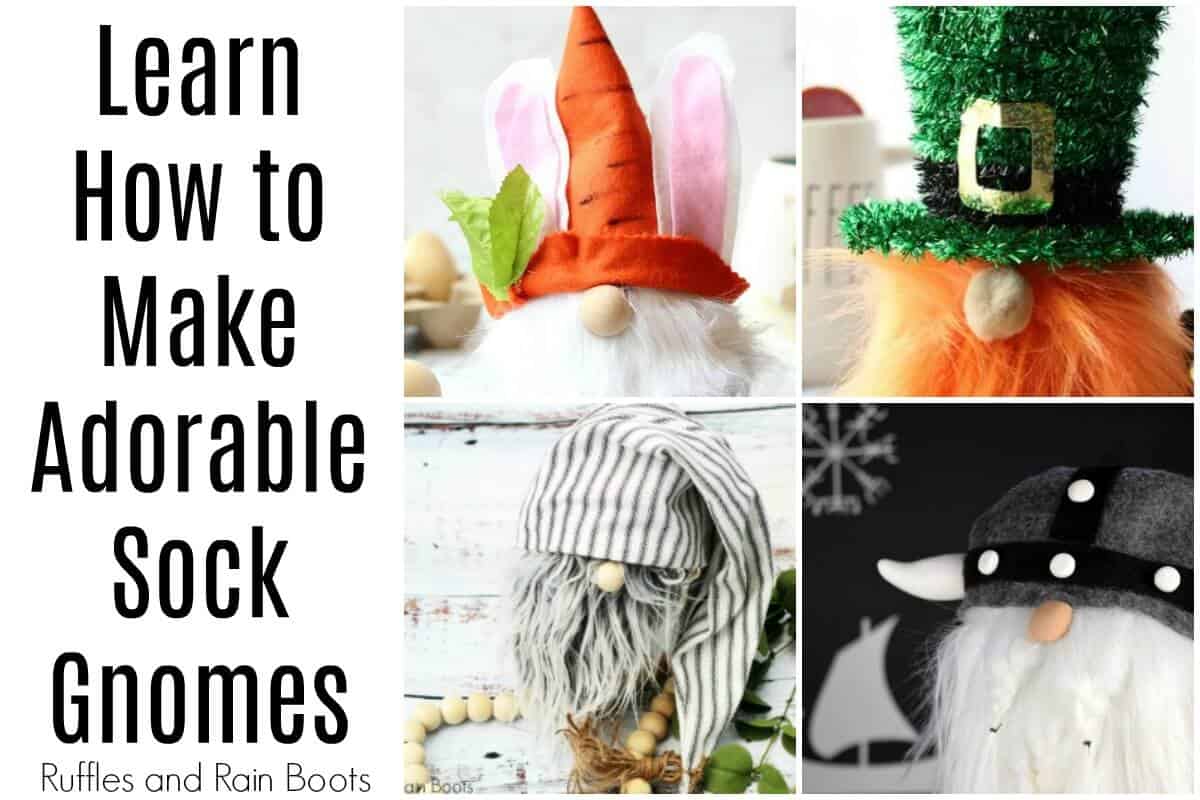 How to Make a Sock Gnome
Here at Ruffles and Rain Boots, I love to share the gnomes I make. From easy gnome ornaments to adorable holiday decor, coming up with new ways to make them is a fun hobby.
One of my favorite ways to put together a DIY gnome is by making a sock gnome. They are easy, do not require any sewing skills, and the sky is the limit when customizing them. Let's get started.
No Time to Make One Now? Save This for Later
If you're busy or want to save this fun DIY gnome tutorial for later, just share this to your favorite crafting group on Facebook or to a pin board. Pssst: be sure to follow along on YouTube for the quick, to-the-point gnome tutorials – link below.
Get Secret Gnomes, Tips, & Freebies Delivered!
What is the best pattern to use when you don't want to sew? Do you know the secrets to a properly-proportioned gnome? Do you know where to get the best-priced fur?
Get all of this (and exclusive content just for you) delivered right to your inbox with the gnome-making series, free of charge. Sign up to get the once-weekly newsletter (and a jaw-dropping special offer)!
As an Amazon Associate, I could earn from qualifying purchases.
Sock Gnome Tutorials on Ruffles and Rain Boots
Before you get started making sock gnomes, here are some top resources we have for you:
Like to Sock Gnome Tutorial Videos Instead?
I've been sharing sock gnomes, no sew gnomes, and gnome sewing patterns on YouTube for years. Be sure to subscribe to the YouTube channel here and check out this how to make a sock gnome video playlist.
This Guide (and So Much More) Is Now Available in a Book!
Want to learn how to make sock gnomes from Sarah with Ruffles and Rain Boots? Cited thousands of times by major publications, I'll share my tips and tricks learned after years of making gnomes.
Included in the new, highly-rated how to make a sock gnome ebook is everything in this article and so much more. I've put together the definitive guide on sock gnomes with arms, legs, and the most amazing details.
Learn how to:
make wow-worthy, high-end gnomes without sewing a thing
full tutorials (video and print) for best-selling and VIRAL gnomes
create gnomes with arms and legs for which people will pay top dollar
learn tricks to reduce your time building so you can spend more time decorating (or marketing, if you sell gnomes)
What Supplies Do I Need to Make a Sock Gnome?
Most of these supplies are available at any craft store and some can be sourced from a dollar store, as well. I'm going to detail your options for creating gnome beards, braids, and hair below, but first…
Socks to Make Easy Gnomes
You can use any sock, any color, and any material to make sock gnomes. Go to the dollar store or get socks on clearance or order some from Amazon (I LOVE these rainbow socks for the hats). For bodies, I prefer men's ankle socks because I can make the bodies as short or as tall as I want without cutting off too much material.
Depending on the style you want, you can use just one or a pair. You can make just the gnome body from a single sock or use a pair or coordinating socks for the body and hat.
For hats, I prefer the tighter weave and added length of leg warmers and knee socks.
Filler for Gnome Body
There are two types of filler when making a sock gnome. The first is something heavy and can be dry beans, uncooked rice, or plastic beads (suggested if selling or storing). Use anything which gives the gnome some stability.
The second type of filler is polyfill fiber used for making stuffed animals and shaped pillows. You can get it on Amazon here or at any craft store.
After making quite a few of these DIY gnomes, I prefer the plastic pellets to weigh the sock down and fill the rest with polyfill fiber. That way, I don't worry about anything wanting to snack on my gnomes while they're in storage.
Suggestions for Gnome Noses
As with any creative, you may use whatever you'd like for your gnome nose. My preferred option is usually a polymer clay nose made from a nude-colored clay or wooden beads and rounds. You can get them from my gnome-making supplies list here.
For most of my gnomes 6 to 12 inches tall, I form about a half-inch to one-inch clay nose or use the three-quarter wood bead or round. These tend to showcase the beard to hat transition well.
When I design ornaments or garlands, I use a smaller nose – usually a half-inch or smaller clay or wood nose. For some gnome ornaments like these, I've used pony beads. And for very light cork gnomes or felted wool ball gnomes, I have used seed beads (very, very small).

With all of that having been said, I've designed many gnomes with adorable, over-sized noses! I've used ping pong balls, small holiday ornaments, or fabric circles sewn with a running stitch, stuffed, and pulled tight.
Other ideas for noses are pompoms, characterized styles (like a witch's nose made from colored polymer clay like hers), or air dry creations that can be carved and made to appear rough and weathered.
Gnome Beards, Braids, and Hair
Mongolian Fur
Whether you're making a gnome with a beard or one with braids, you'll need some type of fiber. My favorite beard fiber is a high-quality fiber called Mongolian fur (get it here on Amazon). It's rich, plush, and can be combed and styled without falling apart.
Faux Fur (Craft Fur)
Faux fur is sold at craft stores (JoAnn's, Michael's, Hobby Lobby, etc.) and here on Amazon. It is a piece of fur sold in a rectangle shape and can be used for gnome beards or braids. It's lower quality than the Mongolian, however, I've used on many DIY gnomes.
Merino Wool (and Combinations)
Another option for gnome beards and braids I would recommend is Merino wool fiber. It's available on Etsy and here on Amazon (both handmade and general stock). The best part about this is that it comes in a HUGE variety, so you have many design options. I'm even curling it!
Yarn
The final option for gnome braids and beards is yarn. I've brushed out and felted yarn (green braids). Not all yarn will perform the same, so look for one which has high wool content if you want to felt it. If using acrylic-based yarn, look for very thick strands.
Gnome Cards, Gift Tags, and Other Custom Gnome Gifts
I'm often asked about how to gift gnomes people make for others. Additionally, because I talk openly about my gnome donations for charity fundraising work, many others have inquired about customizing the packaging or wrapping when doing the same.
I've put together a really fun, comprehensive list of Gnome Sayings and Gnome Puns for Any Occasion. Read through the list, find one that resonates, and create a gift tag, card, or thank you note to make it custom.
How Do I Make a Sock Gnome? 
I'm so glad you asked! This is a fun and quick DIY so let's get started. If you are a visual learner, here is our DIY sock gnome video tutorial.
More Gnomes on Ruffles and Rain Boots
The sock gnome isn't the only style of gnome I make… I really, really like making gnomes. Here are a few more gnomes in very different styles:
Swedish Rice Gnome – Made in just minutes with scrap supplies, this cutie started it all for me.

Lavender Sachet Gnome

– This one is made to allow the gnome to both decorate and smell great.
Scandinavian Gnomes – These gnomes are made using a paper mache cone (and are very easy). If you'd like to see the mini style, here are some Valentine's Day gnomes to give you an idea.
Gnome Ornaments – I have two styles for you – a wood slice gnome ornament (SUPER easy and VERY popular) and a wine cork ornament.
Please Save This to Pinterest
Your shares are how this site grows and I am sincerely grateful. If you found this to be a helpful resource, please save it to a Pinterest board or share on Facebook.