Dollar Tree Pool Noodle Pumpkins
These Dollar Tree pool noodle pumpkins are so easy to make and they're adorable. This fall craft project is fun, festive, and super cheap.
With just a few simple materials from the dollar store and your craft bin, you can pull together each of these pumpkins in just about 5 minutes.
RELATED READING: High End Terra Cotta Pumpkin DIY (Pottery Barn Dupe)
What You'll Find On This Page
DIY Pool Noodle Pumpkins
Here at Ruffles and Rain Boots, we are all about saving time and money while still having fun. I don't know about you, but our summer and fall seasons are usually so packed, we don't have a ton of time to work on lengthy projects. That's why we are always creating these fun and time-saving projects for you and your family.
These DIY pool noodle pumpkins are just what you have been looking for and didn't realize you needed them in your life. Aren't they the cutest thing?
You can make them any size you like and you can get several pumpkins from one pool noodle. You get a lot of bang for your buck with this cute fall craft.
If you need time to gather the supplies for this craft project, bookmark this page to make it easy when you are ready to make these pool noodle pumpkins.
As an Amazon Associate, I could earn from qualifying purchases. There may be affiliate links within this article.
RELATED READING: Dollar Tree Pumpkin Craft Ideas
Why These DIY Pool Noodles are the Perfect Fall Craft
They are mostly kid friendly. A tween, teen, or grown-up will need to help with the cutting of the pool noodles, but otherwise, kids of any age can whip these up without much help.
While you are at the dollar store, be sure to stock up on supplies so you can make some of our other pool noodle crafts using these summer staples. We have several of these fun projects you and the little ones can work on together.
These are so inexpensive to make. The pool noodles are a $1.25 each and you can use scraps of fabric and felt. There isn't any reason not to share these with anyone who loves to decorate for the fall. They are such pretty decor to make for one of your fun fall farmhouse crafts.
They are reusable. If you don't glue the stem into the fabric, you can rotate in other fabric colors and patterns to give you a ton of flexibility with your decorating.
They offer a teachable opportunity for the kids. Using a ruler helps with knowing about measuring in inches or centimeters. You can also teach the kids about fractions and adding and subtracting.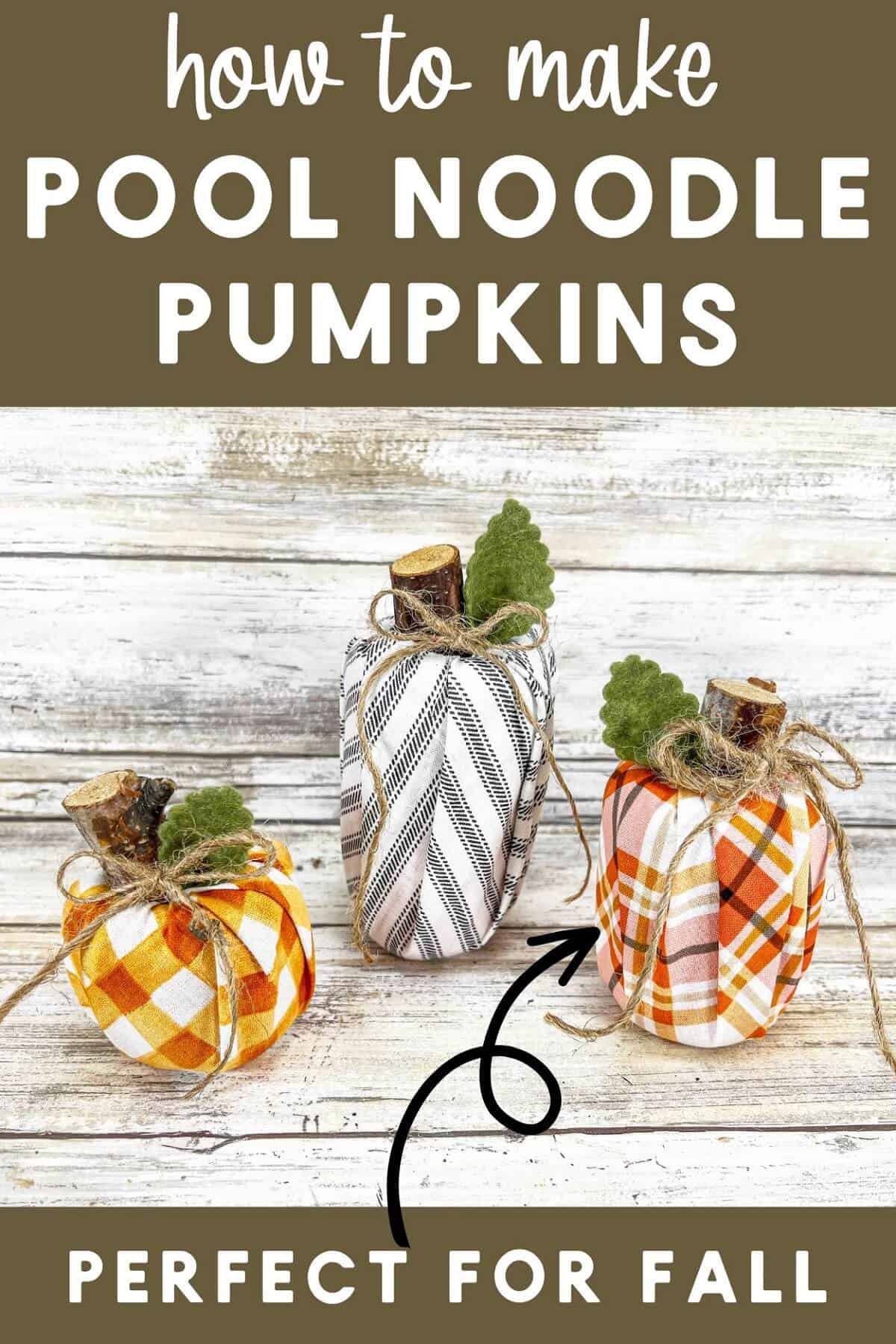 RELATED READING: DIY Wood Bead Pumpkin (Dollar Tree Beaded Pumpkin)
Tips for Making Pool Noodle Pumpkins
Although you can use a standard knife for this farmhouse DIY for fall, I recommend using a serrated knife to cut the pool noodles. That edge cuts through the material easily. I also prefer to shape the pumpkins with this style of knife as well.
The pinking shears makes the fall leaves have a fun texture on the edges. You can always use standard scissors if you don't have these scissors on hand.
We used the blunt end of a chopstick to tuck in the fabric so it is nice and snug and pushed down as far as it would go. This will make the pumpkin look neater when it is complete.
Supplies For Making Dollar Store Pool Noodle Pumpkins
Below are the supplies I used to make these Dollar Store pool noodle pumpkins. Before you head to the store, check your craft and sewing stash to see what supplies you have on hand. For information on cutting and shaping the pool noodles, read the tips above.
Pool Noodle
Assorted Fabric Fat Quarters or Scraps
Natural Jute Twine
Wooden Stems
Olive Green Craft Felt
Scissors
Pinking Shears
Serrated Kitchen Knife
Ruler
Glue Gun and Glue Sticks
How to Make a Dollar Store Pool Noodle Pumpkin
Each step for this Dollar Store craft is detailed below so it's easy to follow. Keep this page open while you are creating a DIY pool noodle craft. If you would rather have a printable how-to, just scroll down and select the print button.
Measure and then using a serrated kitchen knife, cut the pool noodle into three lengths: 2", 2 ½", and 3".
To give the pumpkins their shape, using scissors or a serrated knife, trim around the top and bottom of each length of the pool noodle, rounding the edges.
Measure and cut the fabric into three squares: 8", 10", and 12".
Place the fabric square upside (print side) down on your table/work surface. Starting in one corner, tuck the fabric into the hole at the top of the pool noodle.
Fold and tuck in the next section of fabric. Then continue to fold and tuck the fabric around the entire pool noodle.
Tuck the last corner of the fabric into the hole at the top of the pool noodle.
Make sure you push the fabric all the way into the hole of the pool noodle, so the stem will fit properly.
Grab three wooden stems that will fit snugly into the top of each pool noodle pumpkin. If desired, secure it in place with a hot glue gun.
Cut 2 leaf shapes for each pumpkin from olive green craft felt using pinking shears or standard scissors. Place a small line of glue at the base of the leaves and fold it in half. Hold until the glue dries. Measure and cut 8" lengths of natural jute twine and tie them into bows.
Attach the felt leaves to one side of the wooden stems using a hot glue gun. Finish by attaching a bow in the center created from jute twine. Trim bows as needed.
Display the pool noodle pumpkins and enjoy your handiwork!
Notes for Making Pool Noodle Pumpkins
If you can't find the wooden stems for your Dollar Tree fall crafts, use a recycled wine cork or grab a stick from the yard. You can also make your own by rolling a small piece of natural or brown-colored burlap.
Don't have any twine for the bow? That's not a problem. For a more sophisticated rather than rustic look, chose a color-coordinated ribbon from the sewing box. For a more laid back design, choose natural colored raffia.
If you don't have any fall fabric on hand, go through the closet for old flannel shirts, plaid shirts, or even a sweater. If you aren't wearing them any longer, consider up-cycling the fabric for this project.
More Fall Crafts and Recipes
Please Save or Share
Your shares are how this site grows and I sincerely appreciate it. Please save this Dollar Tree pool noodle craft to your favorite fall craft pin board or share it on Facebook.