10 Minutes Makes This Tomato Cage Gnome a Giant Porch Gnome!
I wanted a new porch gnome this fall and came up with this fun and easy tomato cage gnome. In just 10 minutes, I had a giant gnome at the ready!
Tomato Cage Gnome
Here at Ruffles and Rain Boots, we love decorating the porch to go along with all the fun farmhouse touches on the inside of the house. I mean, coming home to the fun inside is made even better when there's a gnome to greet you at the porch! So, when I found this old sweater when I was cleaning out a closet, I knew exactly what I was going to do with it!
RELATED READING: THE BEST GNOME MAKING SUPPLIES
Isn't that just fantastic to take an old, otherwise undesirable sweater and upcycle it into a gnome that you genuinely love?! Projects like this just energize me to make more! So, grab an old tomato cage from the garden and let's get started.
Get Secret Gnomes, Tips, & Freebies Delivered!
What is the best pattern to use when you don't want to sew? Do you know the secrets to a properly-proportioned gnome? Do you know where to get the best-priced fur?
Get all of this (and exclusive content just for you) delivered right to your inbox with the gnome-making series, free of charge. Sign up to get the once-weekly newsletter (and a jaw-dropping special offer)!
DIY Christmas Gnome Tutorials
If you're looking for the best DIY Christmas gnome tutorials, you have come to the right place. Check out all of my favorite tomte tutorials for the holidays!
No Time to Make This Now? Pin it for Later
You're busy, I get it. Pin this to your favorite holiday crafts board on Pinterest and it'll be here for when you're ready.
As an Amazon Associate, I can earn from qualifying purchases.
Tips to Make this Porch GNome Using a Tomato Cage
There's no particular pattern to make this porch gnome because every tomato cage is different and your sweaters will be different…everything will be different. But you don't need a pattern. This easy gnome comes together so quick.
When you're making the nose for this gnome, I chose to make the felt ball pom pom with hot glue. But, if you have a needle and thread, this can be done with a running stitch so much faster and easier. I just ended up doing this to make sure the whole project could be done no-sew. So, it's up to you!
You can use traditional beard materials for this gnome's beard. But I wanted to try something new, something I'd never tried before but had always intrigued me: loop yarn. It was definitely fun, but it took a lot more yarn than I anticipated. So keep that in mind.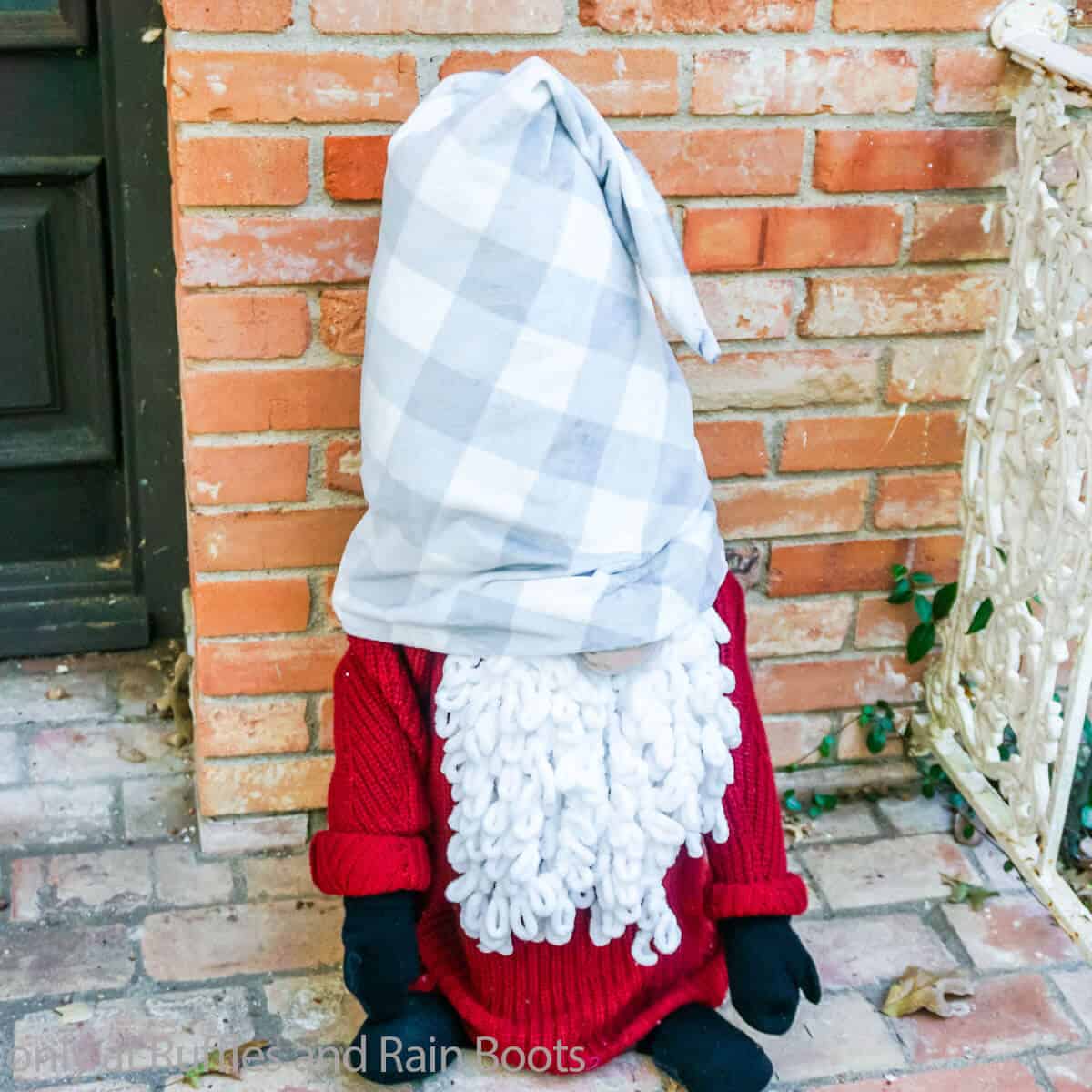 How Do I Make this Tomato Cage Gnome?
I'm so glad you asked. Below is our written tutorial. If you're a visual learner, check our full tomato cage gnome video tutorial here on YouTube.
More Porch Gnome Tutorials You Might Like
Please Save This to Pinterest
Your shares are how this site grows and I am sincerely grateful. Know a friend who'd like this? Please share it on Facebook or save it to your favorite easy DIY gnomes board on Pinterest.