Cupcakes for Two – A Really Small Batch Cupcake Recipe
What if you could make your favorite cupcake–but in a super small batch? This small batch cupcakes recipe is PERFECT for bringing the flavor with smaller effort.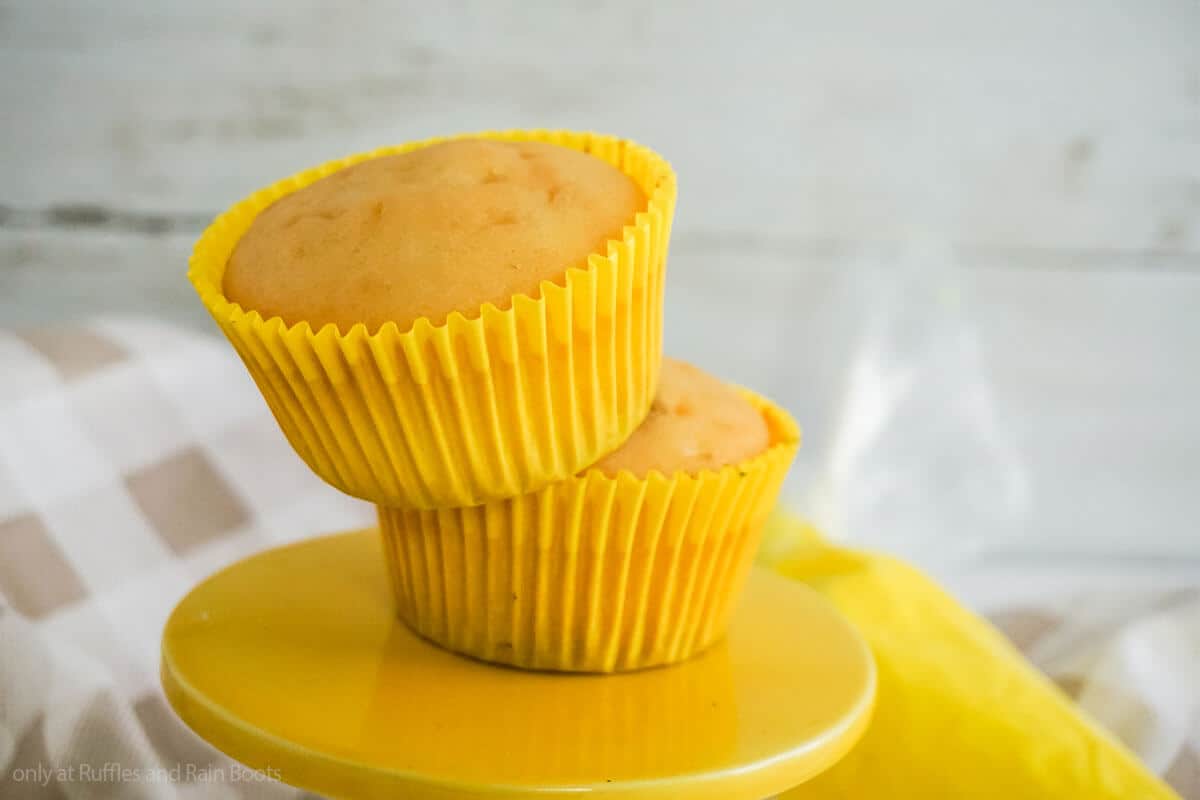 Cupcakes for Two – A Really Small Batch Cupcake Recipe
Here at Ruffles and Rain Boots, I've gotten a lot of fun baking in. To make it even more fun, I decided to start making tiny batches of cupcakes so I can make fewer cupcakes with more variations. This week, I put my mind to solving the age-old question: how can I make just two cupcakes?
Doesn't everyone ask themselves that?
RELATED READING: EPIC LARGE BATCH CUPCAKES
In all seriousness, I made this because we really don't need a full batch of cupcakes every time someone's sweet tooth goes wild.
But making 3-4 cupcakes? That is the perfect size for our appetites and small family. If you're ready make some cupcakes just the right size for a smaller group, let's get started.
No Time to Make This Now? Pin it for Later
You're busy, I get it. Pin this to your favorite easy dessert recipes board on Pinterest and it'll be here for when you're ready.
As an Amazon Associate, I can earn from qualifying purchases.
What You Need To Know: NO-FAIL Small BATCH CUPCAKES
You absolutely do not need a ton of supplies, ingredients, or even more than just the basic culinary experience to make a super tasty cupcake in a small batch. However, if you want a nice crumb, there are a few tricks to keep in mind.
Flour
Cake Flour – For the best high-rise and fluffy cupcakes, use cake flour. Tip: you can make your own cake flour with a little cornstarch if you don't have any boxed cake flour on hand. Or…
All-Purpose Flour – Want that high-rise look to the cupcakes with regular flour? Just fill each cupcake tin with 1/4 cup of cupcake batter. Believe me, you won't be overfilling. It'll get you that supper fluffy cupcake top you want.
Common Cupcake Mistakes
Ugly Cupcakes – Do not worry if your cupcakes aren't high-rise…it's ok. Buttercream is this magical material that's really the whole point of cupcakes anyway.
Frosting covers all of your cupcake foibles right up. Cracked tops? Covered. Lumpy top? Covered. Droopy center? Covered. Under-filled? Covered. Pretty much any visual problem that make an "ugly cupcake" can be covered with plenty of buttercream.
Browned Edges or Tops – Remember: buttercream is magical at covering everything, unless you've burned the cupcakes. If burned, there's not much more you can do. Toss that batch and try again.
Oven temperatures can and do vary sometimes and altitude can throw everything off. Maybe your little one helped and the measurements were off. Sometimes, trying again is the best idea.
Frosting a cupcake
Frosting Recipe – I recommend that you find a great buttercream recipe you really enjoy. Then, make it and practice all the different the technique(s) of how to decorate with that icing in your favorite style(s). Practice makes perfect, seriously.
Soft Frosting – If you've ever tried to frost a cupcake with semi-soft icing, you know it doesn't go well. Add a little powdered sugar (not too much to change the taste) to stiffen it up. Even if you're using canned frosting, add more powdered sugar.
If you're looking for some great inspiration for frosting cupcakes, start watching this cupcake decorating video at 4:30 – it shows you how to pipe some super impressive swirls. If you're just starting out, though, watch this basic cupcake frosting techniques video.
See More Cupcake Ideas
We love to share cupcake recipes here on Ruffles and Rain Boots. Check out some of our favorites that would be PERFECT in a small batch:
How to Make Cupcakes for Two (Small Batch Cupcake Recipe)
I'm so glad you asked. Below is the easy written and printable recipe. Try this or add variations like flavorings, fruit, chocolate chips – anything you'd like!
More Cupcake Recipes You Might Like
Easy Beauty and the Beast Cupcakes – I love how fun these cupcakes are and making them in a small batch is kind of the best idea ever!
Fun Cappuccino Cupcakes – You can't help but want to eat the entire batch of these cupcakes made with cappuccino flavoring. So, making them in a small batch is a win. LOL!
Epic Sherbert Cupcakes – So much deliciousness in this amazing cupcake that you seriously don't want to miss it. Small batch or no.
Please Save This to Pinterest
Your shares are how this site grows and I am sincerely grateful. Know a friend who'd like this? Please share it on Facebook or save it to your favorite easy cupcake recipes board on Pinterest.