Easy Strawberry Shortcake Cupcakes are the Best Summer Treat!
Imagine a hot day, a cold glass of tea and one of these perfect little strawberry shortcake cupcakes on your porch? Perfect summer party, right there.
Strawberry Shortcake Cupcakes
Here at Ruffles and Rain Boots, we adore the summer. So hot, but the time spent outside and the opportunities to have the perfect cupcake in hand with a cold glass of tea? That really just sounds fine right about now. I mean, not like Texas summers or anything–those are a bit hot. But the summers here…that's perfect.
RELATED READING: DELICIOUSLY FUN CUPCAKE RECIPES
And these cupcakes are perfect for just that (even you, Texas–just enjoy yours inside). All the strawberry flavor I could pack into one cupcake with that distinctive cake flavor that makes a thing strawberry shortcake yummy. If you're ready to make a sweet treat for summer, let's get started.
No Time to Make This Now? Pin it for Later
You're busy, I get it. Pin this to your favorite easy cupcake decorating ideas board on Pinterest and it'll be here for when you're ready.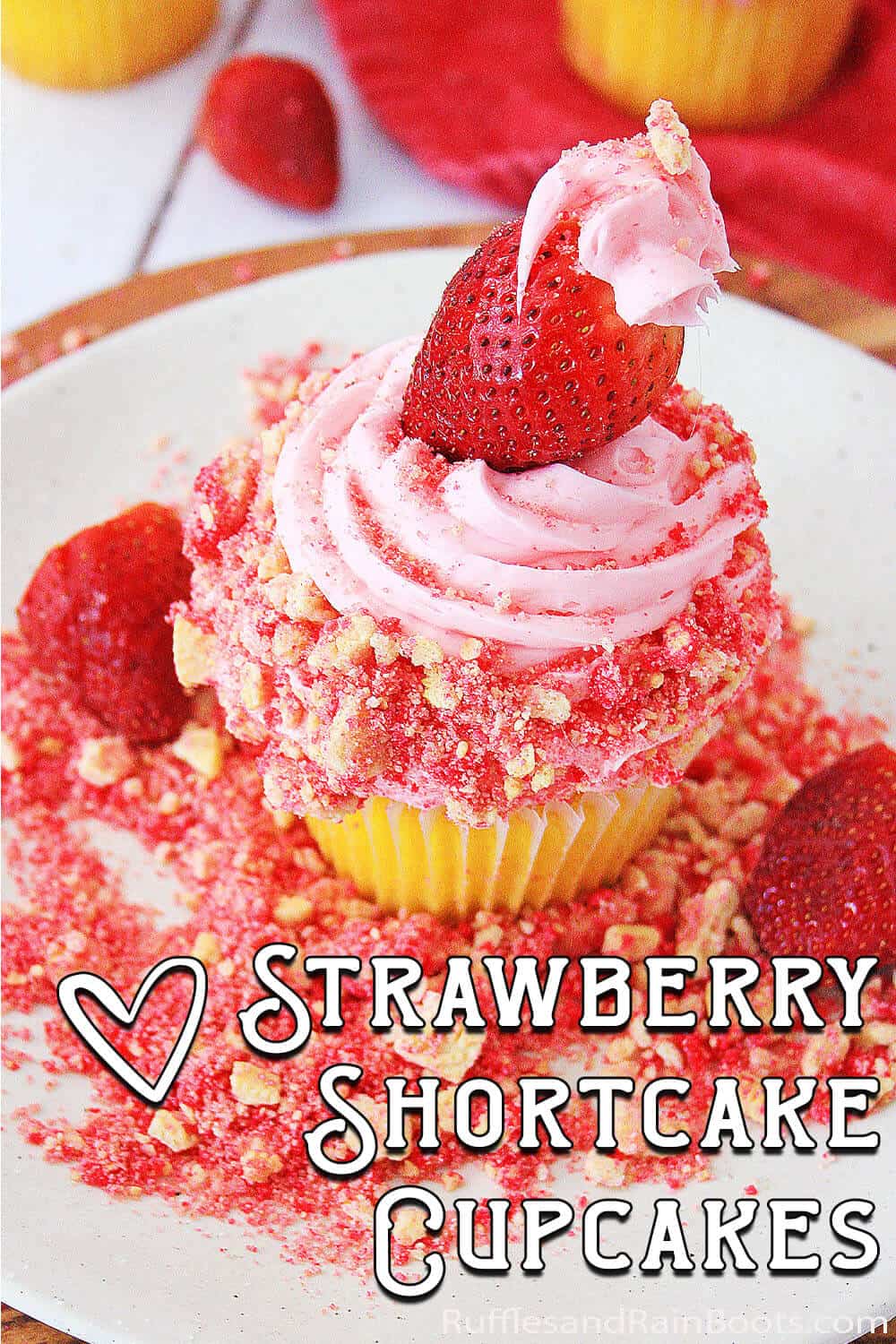 As an Amazon Associate, I can earn from qualifying purchases.
Tips to Make Strawberry Cupcakes
I like to start with my favorite easy vanilla cupcake recipe. It's soft, moist, fluffy and just the perfect base for strawberry shortcake cupcakes.
Now, cream cheese frosting would be ok in this recipe, it really would, but then it would be more like a strawberry cheesecake cupcake instead of a strawberry shortcake cupcake. So, if you want to stay true to the shortcake flavor and also, if you want to be lazy like I was, go with canned strawberry frosting. Because, let's be honest, that's where we're at in life now, right?!
Never ever frost your cupcakes until they've cooled completely. Seriously–warm cupcake is yummy. And icing is yummy. But mix warm cupcake and icing and you get this icky mess. Just be patient and let 'em cool!
How to Make Strawberry Shortcake Cupcakes
Below is the written and printable tutorial for this fun cupcake decorating idea. Use the comments section below if you have any questions.
More Easy Summer Cupcake Decorating Ideas You Might Like
Campfire Cupcakes - Super fun and definitely reminiscent of a campfire, these cupcakes are the perfect backyard campout cupcake!
Lemonade Cupcakes - Oh so much sweet lemon flavor with yummy cupcake and just everything awesome you might find at a lemonade stand.
Dragonfruit Cupcakes - Ok. If the title doesn't pull you in, think about this: pink icing, real dragonfruit and moist crumb you're going to love.
Please Save This to Pinterest
Your shares are how this site grows and I am sincerely grateful. Know a friend who'd like this? Please share it on Facebook or save it to your favorite summer desserts board on Pinterest.