Make These No-Fail Large Batch Cupcakes for an Epic Party!
I keep seeing these cupcake cakes with a ton of cupcakes, so I decided I needed a recipe for no-fail large batch cupcakes so I could make my own massively fun cupcake cake!
No-Fail Large Batch Cupcakes
Here at Ruffles and Rain Boots, we have the best time making cupcakes and all the fun things you can do decorating one. But sometimes, you want to break out of the mold of making 10 or 12 to make a massive batch of 36 for a big 'ole cupcake cake or other insane reason.
RELATED READING: BEST CUPCAKE RECIPES KIDS CAN HELP MAKE
To be honest, I really just want to make a cupcake cake–and I wanted a recipe for no-fail large batch cupcakes that I knew would provide. So, if you're ready to make more cupcakes than is sane (but totally logical if you need it), let's get started.
No Time to Make This Now? Pin it for Later
You're busy, I get it. Pin this to your favorite cupcake recipe board on Pinterest and it'll be here for when you're ready.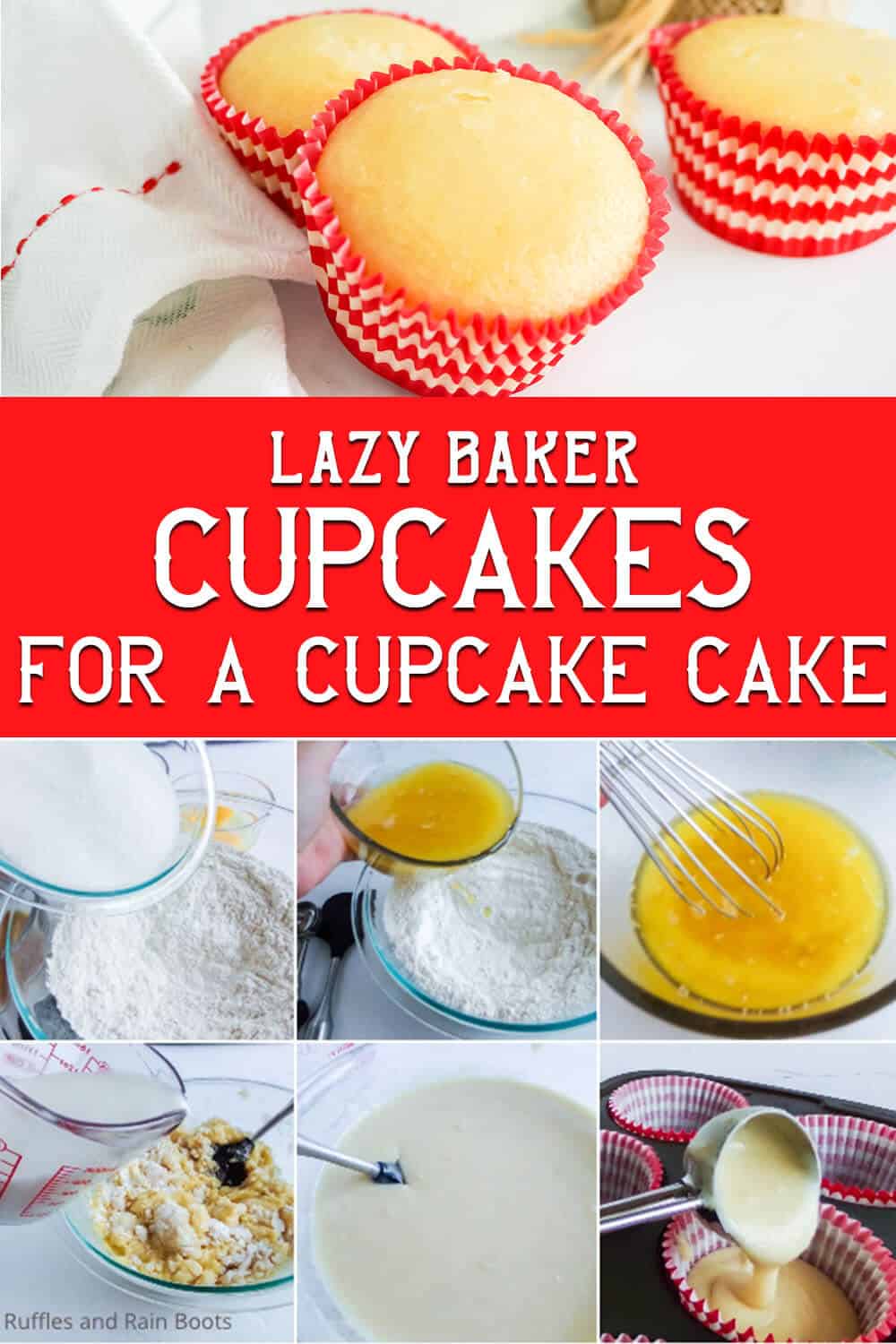 As an Amazon Associate, I can earn from qualifying purchases.
What You Need To Know: NO-FAIL BIG BATCH CUPCAKES
Don't feel like you need a ton of supplies, ingredients, or even a lot of culinary experience to make a big batch vanilla cupcake recipe. However, there are a few things important to know, if you want a nice crumb on so many cupcakes.
Flour
Cake Flour – No matter how many cupcakes your recipe can make, if you want your cupcakes to be high-rise and fluffy, use cake flour. If you don't keep cake flour in the pantry, though, you can make your own cake flour with a little cornstarch. Or…
All-Purpose Flour – There's a trick to getting that high-rise look in your cupcakes with regular flour that cake flour doesn't want you to know: fill each cupcake liner with 1/4 cup of batter. It might seem like you're overfilling a bit, but trust me. It'll get you that puff top you're looking for.
Mistakes
Ugly Cupcakes – Oh, don't freak if your cupcakes didn't get a high-rise…it's ok. Buttercream is magic–covers all that right up. Even covers up if you've got cracked tops. Pretty much anything that you can call a "ugly cupcake".
Browned Edges or Tops – See the easy remedy above (buttercream is magical). That is, unless you've burned them. If you've burned your cupcakes, give up. Seriously, toss them and try again. Oven temperatures can vary, altitude can throw everything off–or sometimes you think you measured something and you kind of duplicated it or whatever. Trying again might just be the best idea.
Frosting
Frosting Recipe – Definitely find a great buttercream recipe that you really love. Then, make it and learn the technique(s) of how to decorate in your favorite style. And keep in mind that not all buttercream recipes are created equally. You can always tweak them easily with a little more milk or a little more powdered sugar.
Soft Frosting – If you've ever frosted cupcakes with soft buttercream, you know what I'm going to say. Stop–add more powdered sugar. Nothing makes for a sad and sloppy-looking cupcake than frosting that's soft. So, go for thick–just soft enough that it will work through the piping tip, but no softer.
For a wow-worthy effect, start watching this cupcake decorating video at 4:30 – it shows you how to pipe really impressive swirls. If you have a lot of cupcakes to make, need to pack them up in boxes, or want to extend your buttercream the farthest it can go, watch this basic cupcake frosting techniques video.
See More Cupcake Ideas
We've shared many cupcake recipes here on Ruffles and Rain Boots. Here are a few of our favorites :
Make This No-Fail Large Batch Cupcakes Recipe
Below is our written and printable tutorial for this fun cupcake decorating idea. Use the comments section below if you have any questions.
More Cupcakes You Might Like
Lazy Girl Vanilla Cupcakes - The perfect recipe for cupcakes in the more sane batch size of "about 12". Perfect as the base for any cupcake decorating idea!
Vegan Cupcake Recipe - I needed a reliable vegan recipe for a friend and this resulting recipe turned out to be so awesome, I kind of love it.
No-Fail Gluten-Free Cupcakes - If you're going gluten-free, don't cut out the cupcakes...make some yummy ones you'll love instead!
Please Save This to Pinterest
Your shares are how this site grows and I am sincerely grateful. Know a friend who'd like this? Please share it on Facebook or save it to your favorite easy desserts board on Pinterest.