Flamingo Cupcakes for an Easy-Peasy Summer Vibe
These flamingo cupcakes with swirl batter are perfect for summer or a luau party. It's easy to bring a bit of the fun flamingo party food to your table, so let's get started.
There are affiliate links in this article which means, at no additional cost to you, we could receive compensation for our recommendations. You can read our full disclosure policy.
What You'll Find On This Page
Tropical Vibes, Luau Parties, and Summer Party Ideas
I'm a sucker for flamingos, friends. They are oddly beautiful and I'm always drawn to them at the zoo, in design, and now, apparently with food!
These flamingo cupcakes are perfect for a tropical party, beach party, summer birthday celebration, and so much more.
A few other fun ideas if you're setting up a party:
Ingredients for Fun Flamingo Cupcakes 
First, let me say that if you're crunched for time, have a bakery make cupcakes with pink or pink and white swirled icing. There's just so much to do that it's not always feasible to make homemade cupcakes.
For the Cupcakes
1/2 cup softened butter (not melted)
1 cup granulated sugar
2 eggs
2 teaspoons vanilla extract
1 1/2 cups flour
2 teaspoons baking powder
1/2 cup milk
pink cupcake liners (or grab these two in one - no need for liners AND toppers)
flamingo icing decorations (or pick up these from Amazon if you can't find them locally)
piping bag fitted with a star tip
pink food coloring
toothpick
For the Frosting
3 cups powdered sugar
1/3 cup softened butter (not melted)
2 teaspoons vanilla extract (or coconut)
1 to 2 tablespoons milk
pink food coloring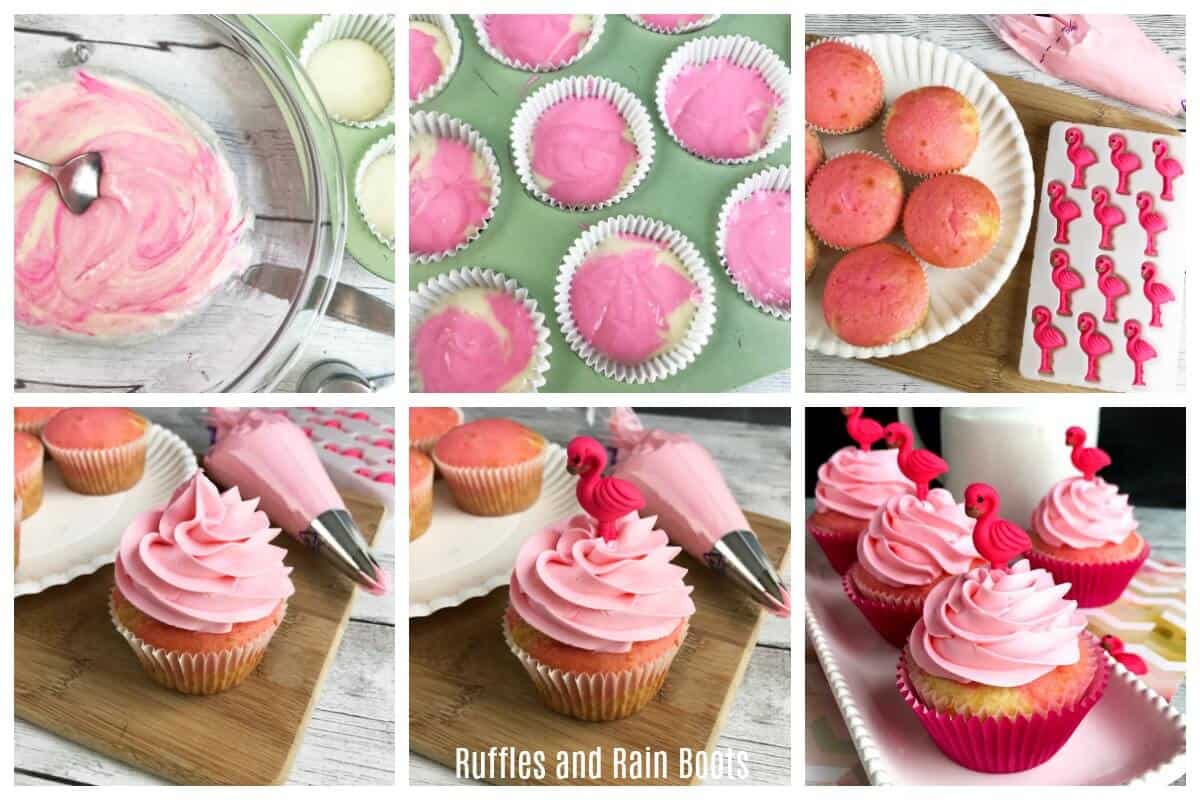 How to Make Pink Swirl Flamingo Cupcakes
Below is the written and printable tutorial for this fun cupcake decorating idea. Use the comments section below if you have any questions.
Over to You
What is your favorite cupcake flavor? I'm going to bore you and say it's between two classics for me: red velvet and plain 'ol vanilla.
Please Share This on Facebook and Pinterest