Natural Honey Sugar Scrub Bars
I am ready to ditch sweaters and long sleeves from my winter wardrobe. Before pulling out the warm weather clothes, I need to exfoliate my skin and made these natural honey sugar scrub bars.
The cost of sugar scrub bars at the bath and body boutiques are high; some are outrageously high. I prefer to save my money and make my own and use the cash for a few more craft supplies.
RELATED READING: Sugar Scrubs You'll Want to Make
Easy Honey Sugar Scrub Bars
Here at Ruffles and Rain Boots, we love making DIY bath and beauty recipes that are simple yet luxurious. These easy Honey Sugar Scrub Bars are quick to make and will leave your dry skin feeling soft and smooth.
I love adding new recipes to my skincare supply and making something with my hands that I can immediately put to use. Psst: saving tons of money doesn't hurt either!
RELATED READING: The Internet's MOST Popular Lemon Sugar Scrub Cubes
No Time to Make This Now? Save or Share
Are you waiting for your powdered honey and silicone mold to arrive so you can make your sugar scrub bars? No problem! Just save this to your favorite health and beauty or craft pin board or share it on Facebook.
As an Amazon Associate, I could earn from qualifying purchases. There may be affiliate links within this article.
RELATED READING: Rose Gold Sugar Scrub Bar Recipe – They Look and Smell Amazing
Tips for Making Sugar Scrub Bars
If you don't have any melt-and-pour soap on hand for your sugar scrub bars, you can use a bar of soap. Just grate or cut the bar into smaller pieces before melting it.
If you prefer a finer grit of sugar, use caster sugar, which has a smaller gritty texture. You can also use brown sugar from your pantry. They will help exfoliate and moisturize.
You can store your sugar scrub bars in a cool and dry area for up to a year. Then you can enjoy your favorite easy sugar scrub recipe all year round!
Supplies for Honey Sugar Scrub Bars
Sugar
Sweet almond oil
Microwave-safe measuring cup
Wooden craft stick or spoon for stirring
Each step of this DIY skincare project is detailed below so it's easy to follow. Keep this page open while you create your natural sugar scrub bars. If you would rather have a printed tutorial, scroll down and select the print button.
Add the cubes of soap to the measuring cup.
Melt soap cubes in the microwave, careful not to overdo it.
Mix in the sugar slowly and completely.
Mix in the powdered honey – this stuff is great in DIY bath products.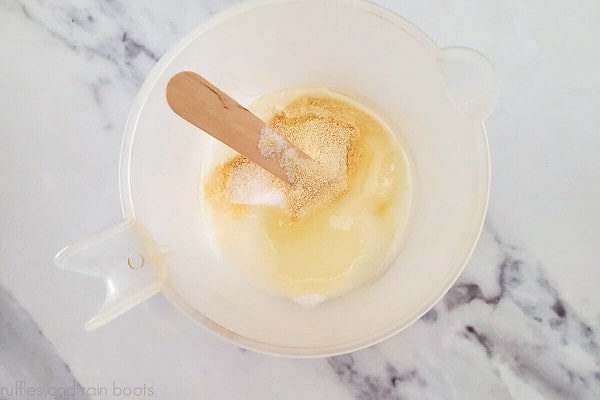 Mix in the sweet almond oil. If you want a scent, you can add one of your favorite essential oils.
Pour the mixture into the mold, taking care not to overfill.
Allow to harden for 1 or 2 hours. Then you can pop out your solid sugar scrub bar.
Notes For Making Your Homemade Sugar Scrub Bars
Although you can use any style mold, including plastic, we recommend silicone as they are easy to work with and you can pop your sugar scrub bars out with ease.
If you use fragrance oil and color in your sugar scrub bars, look at the ingredients and check if it contains vanillin. If so, your colors may bleed or turn brown. To avoid this, use a color stabilizer and you'll have no issues.
Unless you have water as one of the ingredients in your sugar scrub bars, you do not need a preservative like Phenonip and Germaben II E.
More Skincare Recipes You May Like
Please Save or Share
Your shares are how this site grows and I sincerely appreciate it. Please save this homemade skincare tutorial to your favorite beauty or craft or sugar body scrubs pin board or share it on Facebook.