How to Dye Fur – Effective Ways to Color Fur
Can you dye faux fur different colors? Yes, but there are some things you should know before you begin.
This article will share the different ways to color faux fur fabrics, the results, and even if you can wash it once it has been colored. I'll also share a very effective way to create patterns in faux fur without worrying about color transfer.
Changing the Color of Fur – The Truth Is… Complicated
Here at Ruffles and Rain Boots, I'm known for working with a LOT of faux fur. I create DIY gnomes, gnome ornaments, and even gnome pets, so again – a lot of fur.
One question I'm asked frequently is how to dye fur. The answer is complicated.
Below, I'll walk you through some ways to color fur, but I want to be very clear – you are NOT going to change the color of faux fur. Instead, the color will sit atop the fur fibers. It can be somewhat water-safe but might not look the same. Faux fur is a synthetic material and it doesn't absorb the color like hair or real fur.
Please Save or Share This Resource
Your shares are how this site grows and I am sincerely grateful. Please use the sharing buttons to save this to a DIY pin board or share it with a crafty group on Facebook.
Get Secret Gnomes, Tips, & Freebies Delivered!
What is the best pattern to use when you don't want to sew? Do you know the secrets to a properly-proportioned gnome? Do you know where to get the best-priced fur?
Get all of this (and exclusive content just for you) delivered right to your inbox with the gnome-making series, free of charge. Sign up to get the once-weekly newsletter (and a jaw-dropping special offer)!
As an Amazon Associate, I could earn from qualifying purchases. There could be affilate links within this article.
Ways to Color Faux Fur or Change Fur Color
As I mentioned above, there are ways to color fur for use in gnome making, crafts, and costumes. Each of these has benefits and drawbacks, so let's talk about the ones I've tested. I would love to hear about your experience, as well.
Acrylic Paint to Dye Fur
One of the easiest (and least messy) ways to change the color of fur is to use acrylic paint. The colors can be lightly or deeply saturated, you are unlimited by the colors available, and you can even paint realistic patterns into the fur.
After working through this method on how to color faux fur with acrylic paint (video tutorial), I learned a few things:
You do not have to dilute the paint but it makes it easier to brush it on.
Brush the fur while you're painting to really get the paint through it.
Avoid using heat or use it sparingly and at a distance. Let the painted fur dry on its own because even a small amount of heat can fray the fibers.
The fur will be stiff when it dries. Use a brush or comb and go slowly to separate the fibers without pulling them out. Note: small flecks of dried paint can be brushed off, so protect the work surface.
The drawbacks to using acrylic paint on fur are like many other methods: it is not permanent and the color can transfer. Colors will transfer when dry and pressed or rubbing against something. And the color will transfer when wet, even when just damp. This makes it "iffy" for anything considered wearable because of sweat or moisture in the storage method.
Paint Markers (Water-Based or Acrylic Paint Pens)
These are an easy way to color faux fur in small amounts or to create patterns. It would be a tedious undertaking for large projects, however, it does work well for smaller projects or accent pieces. This method is not the best for blending but is great for pops of color that need to stand out.
To create colored fur using paint pens (either water-based like Tombows or acrylic-based like Poscas):
Brush all of the fur in one direction.
Draw the paint pen over the fur in the direction the fur is going. You will have to repeat this process in order to get an opaque coverage.
Let the paint dry and brush out the fur. Note: there could be small flecks of paint that dislodge, so protect your work surface.
Note: to create patterns, section off and protect areas you do not wish to color and keep in mind the paint will spread.
Alcohol Inks to Dye Faux Fur
As you might guess, using alcohol inks to dye fur is very effective. They are a combination of dye and alcohol, allowing you to easily deposit the color. Alcohol inks can be painted on, used in pens, and one can even dip fur into them.
Much like acrylic paint, it sits atop the fur fibers, so it is semi-permanent and can transfer. That said, you can use very deep colors and, without washing, they stay that way. Expect them to lighten when hand washed in cold water with a gentle detergent.
I recommend watching this video on how to use alcohol inks to color faux fur.
Pastels (Soft Pastels) for Coloring Fur
Surprisingly, this method works great to transfer color. It's easily accessible to all and the steps are simple. If you need to blend pastel colors into an ombré or with graduations of color, this is the fur coloring method I would recommend.
Brush the fur pile down.
Color the fur by running the soft pastel over the fur in the direction of the pile.
Once covered, gently brush the fur in the opposite direction and repeat with the soft pastel.
Wait a few minutes and brush it out.
You can gently wash fur colored with pastels (my suggestion is by hand) and air dry. The colors will lighten but remain intact.
Synthetic Dye for Faux Fur
Synthetic dye was the first method I used to color gnome beards and will say it is my least favorite. You must use "DyeMore" from RIT or search for "dye for synthetic fabrics" for alternatives.
This process is not easy or quick – it takes about an hour to an hour and 15 minutes. Follow the instructions on the bottle but use TWICE the amount it calls for. Unless I'm doing a large batch, I figured this wasn't the best use of my time because I can find faux fur in nearly any color nowadays.
I lost the footage of the white Mongolian fur I dyed with this process but it was certainly not as deep of a color as I wanted. I'll redo this experiment and film it again one day.
Non-Synthetic Dye on Faux Fur
I know, I know – I shouldn't use it because it isn't for synthetic fibers but it's so vibrant! If you're not worried about color transfer, washing, or anything else and just want to make some insanely vibrant colors, consider this powdered dye.
I had it on hand so of course I tried it. And look at the way it came out! Again, I don't recommend this for costumes or anything you aren't going to be storing away yourself, but it's so very pretty. Watch the tutorial on using dye to color faux fur.
Hair Dye to Color Fur
A reader suggested this method and it was my least favorite of them all. I used a lavender hair dye on a small patch of white Mongolian fur and it still looked white but, friends, I knew it wasn't the best option.
This method might work with a very pigmented color, but I won't try it again. This dye formula is for use on hair and it works by penetrating the cuticle and shaft – this is impossible with synthetic acrylic and polyester materials (which is what fur is made of). Pass on this.
How to Create Patterns in Faux Fur
As an alternative to coloring fur, you can safely create own patterns in faux fur, combining colors and even textures easily. You just need to design a pattern you want (stripes, circles, hearts, etc.), an X-Acto knife, and a hot glue gun (or sewing machine).
Watch how to create patterns in faux fur in this step by step video tutorial.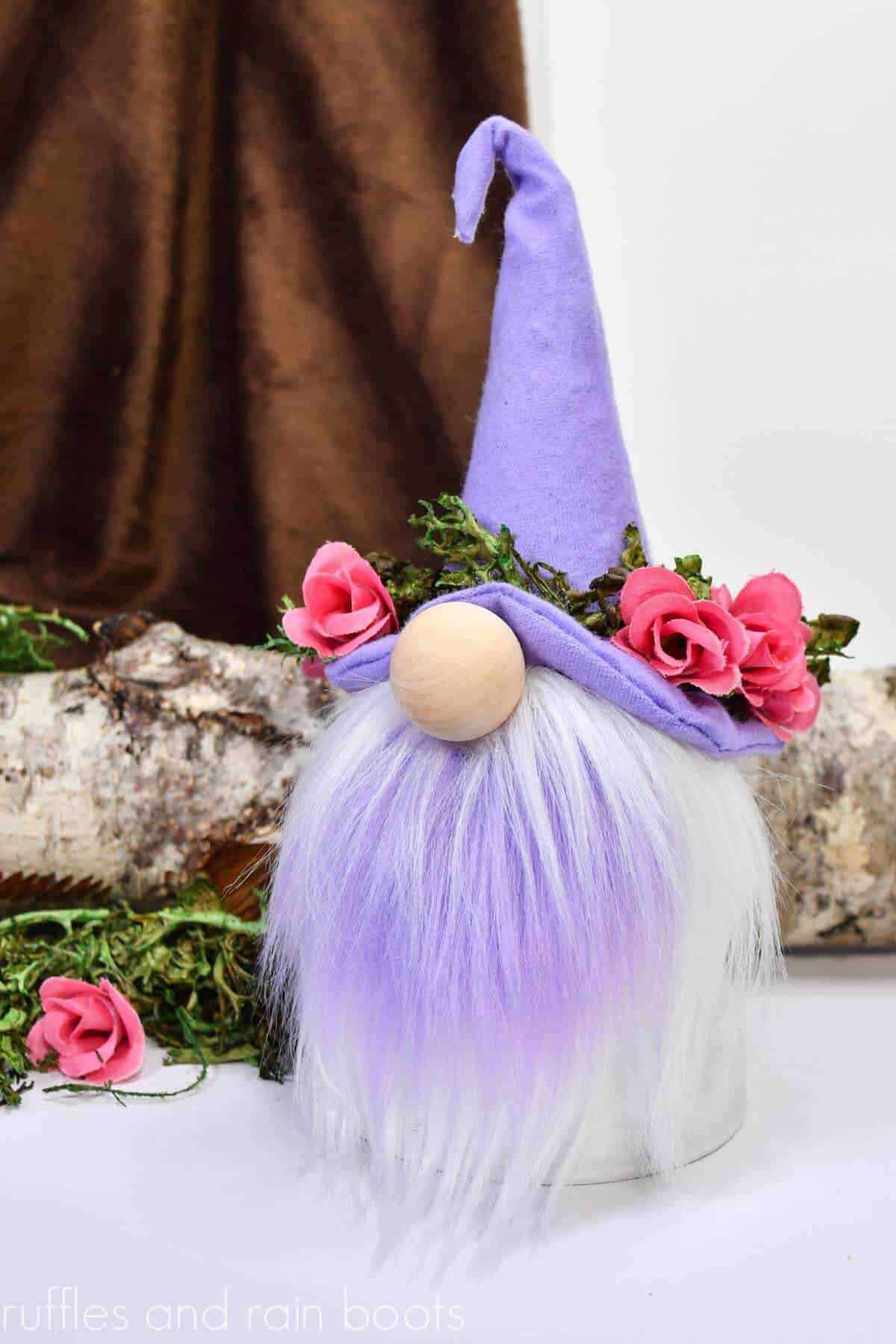 Can I Wash Colored Faux Fur?
Another question I am asked frequently is whether fur which has been painted or colored can be washed. The answer is, it depends. Some of the methods above will wash (in cold to cold-warm water) well.
Hand wash with a gentle detergent (or without) and lay them to dry. Most likely there will be some lightening of the colors because most are not permeating the fur fibers, but sort of sitting on top.
Did You Find This Helpful? Please Share