This 2-Step Mermaid Scrub is Perfect for Feet, Dry Skin, and Lips
One session with this mermaid foot scrub and you'll want summer to get here in a hurry. This mermaid sugar scrub will have your heels ready for sandals, your body ready for the sun, and your lips ready for, well…
Mermaid Foot Scrub
Here at Ruffles and Rain Boots, we are all about making DIY sugar scrubs and DIY salt scrubs for the tub. That silky feeling when you get done rubbing your feet with a nice, coarse mermaid foot scrub and the smell…oh, that's just heaven. Put me in a tub with a mermaid bath bomb and mermaid foot scrub and I'm in heaven. And don't get me started on lemon exfoliating cubes…you just go ahead and lock me in that bathroom, I'll be just fine.
RELATED READING: HOMEMADE FOOT SCRUBS and DIY SUGAR SCRUB RECIPES
But, this mermaid foot scrub is definitely a must, even if I'm doing a minimalist shower before heading out to my summer sandals. The reason? How the mermaid sugar scrub makes my heels look fab. Let's get started.
All Mermaid sugar scrubs, Bath Bombs, and Fizzies
Before we get started, you might want to check out all of my mermaid bath bombs and sugar scrubs here.
No Time to Make This sugar Scrub now? Pin it for Later
You're busy, I get it. Pin this to your favorite DIY sugar scrubs board on Pinterest and it'll be here for when you're ready.
How to Store and Gift Homemade Mermaid Foot Scrub
Store the mermaid sugar scrub in an airtight container for up to the life of the oil you use (coconut oil is about 24 months).
Sugar scrubs are best when packaged in single-use containers. If water enters the scrub, mold or bacteria can develop.
Storing sugar scrubs away from the shower is best, and outside of the bathroom is even better. Hermetic jars (with the seal) are best for scrub storage.
Storing a sugar scrub in the refrigerator can be refreshing on tired feet, but it won't extend the life of the scrub.
If gifting, add a tag or sticker which has tips on use and storage.
Vary the essential oils to the mixture to turn your mermaid sugar scrub into a calming, aromatherapy enriched experience for any occasion.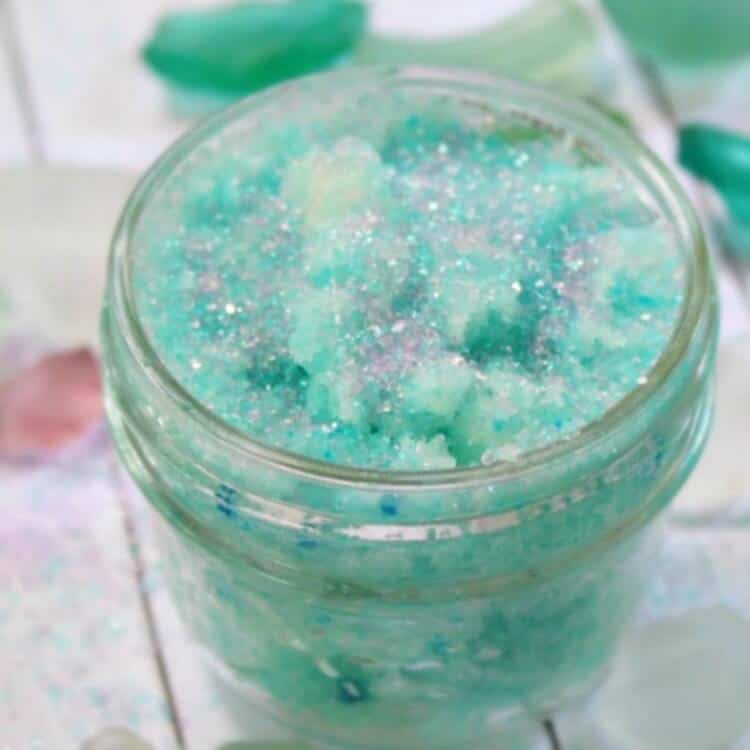 How Do I Make this Mermaid Scrub?
I'm so glad you asked. Below is our written tutorial and if you have any questions, just ask them in the comments below. Note: all items are safe to be used on the skin, feet, and lips and should be packaged in an air-tight container.
More Soothing Bath Recipes You Might Like
Please Save This to Pinterest
Your shares are how this site grows and I am sincerely grateful. Know a friend who'd like this? Please share it on Facebook or save it to your favorite bath and beauty board on Pinterest.