Italian Meat Pinwheel Sandwiches
The flavor of these Italian Meat pinwheel sandwiches will have everyone grabbing for more. Perfect for a simple appetizer, easy make-ahead lunch, or a delicious and easy dinner.
These are customizable to your family's tastes, but I will tell you mine gobble these up every time we make them. And, because these tortilla roll ups are so easy, get the kids in the kitchen to help prepare them!
Be sure to check out how to make my Kid-Approved Vegetable Pizza Pinwheels Recipe. You can never have too many easy recipes.
Italian Meat Pinwheels
Pinwheels are a the best type of recipe for the summer because you don't have to turn on the oven. Since there are three different types of meat on these pinwheels, you can rest easy knowing all the flavors are going to be present in every single bite.
We love to whip these up for movie night or a simple meal at home. Can cut them thick or thin and add in whatever vegetables you think everyone will love. I often sneak in quite a few.
RELATED READING: The Yummiest and Best Pinwheel Sandwiches
No Time to Make This Now? Save or Share This
Stumbled upon this recipe but don't have time to make it right now? Make it easy to find it later by saving it to a quick recipe ideas pin board or share it on Facebook.
As an Amazon Associate, I can earn from qualifying purchases. There could be affiliate links within this article.
Tips for Making Italian Tortilla Roll Up Sandwiches
Make sure to keep these stored in the fridge until you're ready to serve. They need to be kept chilled or cooled at all times.
If you want to serve these at an outdoor BBQ or other event, lay the serving dish on a casserole dish filled with ice. They'll keep chilled for quite a while.
You can save leftovers for later (if you're lucky enough to have some) by storing them in an airtight container in the refrigerator for up to 2 days.
Mix and match the ingredients and let the little ones help layering this meal idea.
I used Romaine lettuce in this recipe, but spinach is a great match for the flavors, too.
The cream cheese mixture is easily adapted. Be sure to skip the pepperocini if your family thinks they're too 'spicy' like my daughter does.
RELATED READING: Bacon Ranch Pinwheels are an Instant Crowd Pleaser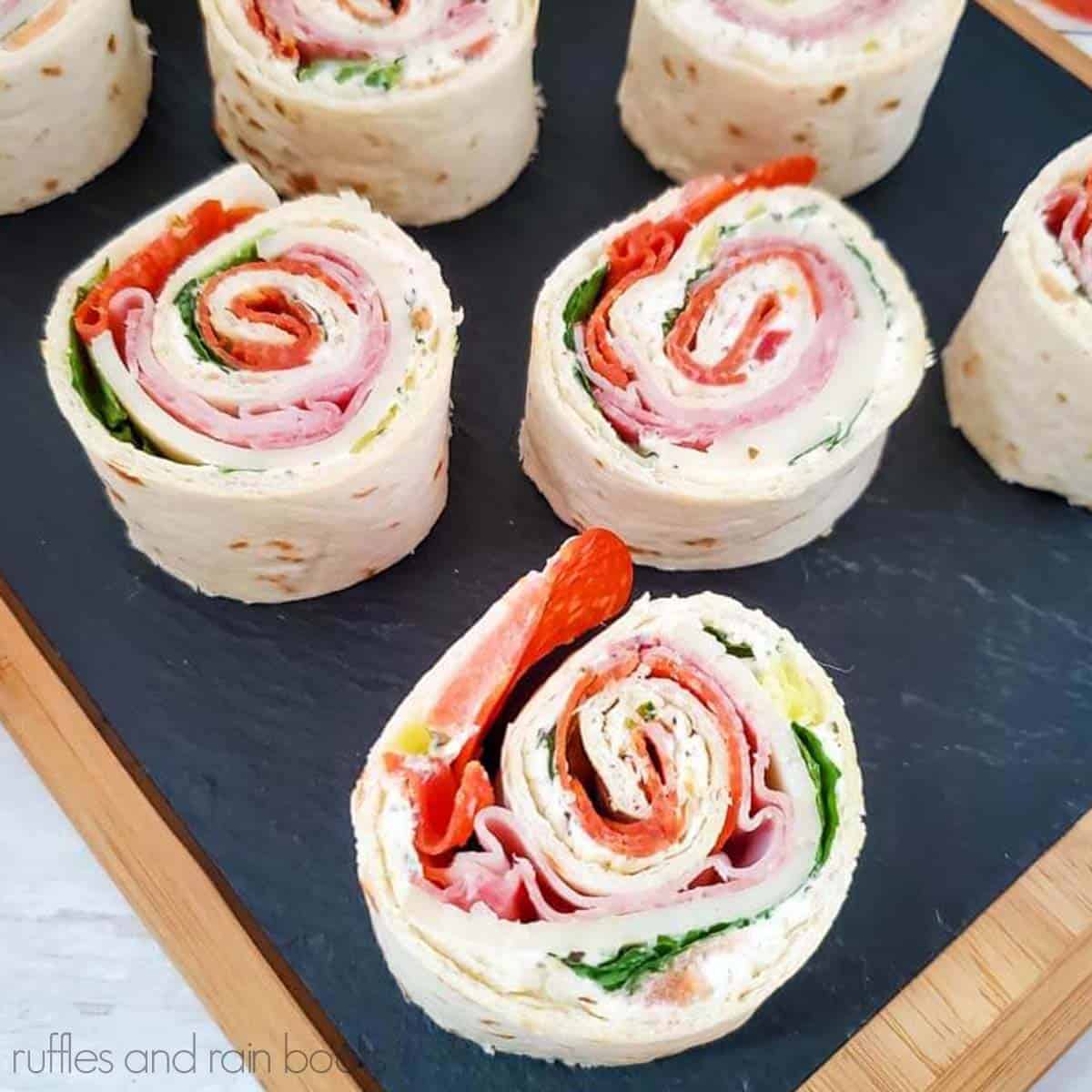 Italian Pinwheel Sandwich Recipe
These are best when served the same day you make them to avoid the tortilla getting soggy. Tuck in a few pieces of spinach and the little mouths will still gobble them up.
If you are new to making pinwheel sandwiches, tightly roll the tortilla in some plastic wrap. It takes a time or two in order to get comfortable with it, but it's an easy technique to master.
More Pinwheel Sandwich Recipes You Might Like
Please Save and Share for This Easy Recipe for Later
Your shares are how this site grows and I am sincerely grateful. Please save this to an easy recipe pin board or share it with a recipe group on Facebook.