Butter Rum Cupcakes Recipe with a Surprise
Wait until you try this mouth-watering butter rum cupcakes recipe that come with a surprise! Have you ever had a hot rum toddy? These cupcakes remind me of that classic drink.
The surprise in our cupcakes is a dark spiced rum. We mixed a bit of rum into the cake batter, the buttercream frosting, and topped it off with a small pipette filled with a bit of rum for added flavor. These visually stunning cupcakes will surely wow!
RELATED READING: This Maple Bourbon Cupcakes Recipe is Perfection!
What You'll Find On This Page
Buttered Rum Cupcakes Recipe
Here at Ruffles and Rain Boots, we are cupcake connoisseurs. We have made a ton of mouth-watering cupcakes over the years, ranging from our classic and "Internet-famous" easy vanilla cupcake recipe to this today's confectionary delight. The punch of rum flavor is like nothing we've ever tasted in a cupcake before.
This cupcake is pretty versatile. Although we used spiced rum for the infusion of flavor throughout this recipe, you could use just about any liquor you choose. A flavored vodka, whiskey, or a flavored liqueur like Amaretto would be amazing with a dark chocolate.
The possibilities of boozy cupcakes is never ending!
No Time to Make This Now? Save or Share
If you need to make a run to the store to grab some ingredients, save this to your favorite cupcake pin board or share it on Facebook. Using the sharing buttons makes it easy when you are ready to begin making this delicious dessert.
As an Amazon Associate, I could earn from qualifying purchases. There may be affiliate links within this article.
Tips for Making Buttered Rum Cupcakes with Pipettes
The pipettes are inexpensive but not all are the same quality. I've tested a couple of brands and I use these mini pipettes – they work to suction up the alcohol and squeeze it out easily.
When baking with alcohol, start off with a small amount and then taste. You can always add a bit more for a stronger taste but taking it away is harder.
If you prefer not to use alcohol in this recipe, you can substitute a rum extract in the batter and the frosting. Use a smaller amount in the pipette as the extract can have a strong flavor.
Traditional cupcakes are usually cooled for between 15-20 minutes. If you are baking with alcohol, cool them for 45-60 minutes to remove the harshness of the alcohol. This will give your cupcake a smoother flavor.
Although we used a pre-made buttercream recipe for this cupcake, we encourage you to try your hand at our delicious easy buttercream recipe from scratch. It has only 4 ingredients and it is so simple to make.
Ingredients for Buttered Rum Cake Mix Cupcakes
Below are the ingredients I used, but check your pantry, fridge, and bar cart to see what items you have on hand. If you want to make this spiced rum cupcakes recipe without alcohol, read the tips above.
Golden Butter Cake Mix
Butter Softened
Water
Spiced Rum
Eggs
Buttercream Frosting
Cinnamon
How to Make This Easy Boozy Cupcake Recipe
Each step for this recipe is detailed below so it's easy to follow. Keep this page open while you are creating your butter rum cupcakes recipe. If you would rather have a printable recipe, just scroll down and select the print button.
Pour the yellow butter boxed cake mix into a large mixing bowl.
Add the water and rum or rum extract to the mixing bowl.
Drop the softened butter into the mixture.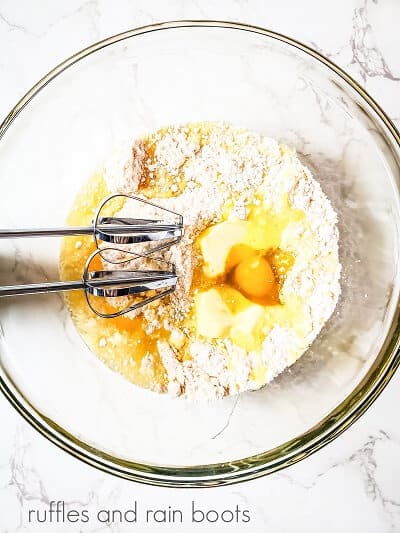 Add in the room-temperature eggs. Using an electric hand or stand mixer, beat for about 1-2 minutes or until well combined and has a smooth texture.
Using an ice cream scoop (it makes it so much easier), fill each cavity of the cupcake pan 2/3 full. Bake for 18-20 minutes or until a toothpick comes out clean or the cake springs back when you touch the middle with your finger. Place on a cooling rack for 60 minutes.
Add rum or the rum extract to the buttercream frosting and beat with an electric mixer for 1-2 minutes.
Using a piping bag fitted with a large round frosting tip or a plastic zip top bag with the corner cut, frost the cupcakes.
Sprinkle each cupcake with cinnamon and add a pipette of rum or rum extract in the middle of the cupcake for added flavor. Enjoy these amazingly flavorful cupcakes.
Notes for Making The Perfect Cupcake
Using room-temperature eggs in a cake mix will give your cake or cupcakes a better rise, making them fluffier.
Use an oven thermometer before you begin baking your cupcake recipe. This will ensure you reach the proper temperature for a perfectly baked snack.
Always measure your ingredients. Baking is a science, so you need to make sure you don't guess the amounts of any of your additives.
Most ingredients in a cupcake recipe, like eggs, fats, and oils, can be substituted for another item. For instance, you can substitute applesauce or yogurt for the eggs. Just do a quick internet search to find the proper swap for a delicious bake.
More Cupcake Recipes You May Like
Perfectly Patriotic Red, White, and Blue Cupcakes: These stunning cupcakes are so easy to make and look like they were made by a professional (you have to see them)!
Donut Minnie Cupcakes: This fun Disney-themed dessert recipe combines two ideas; breakfast food and a cupcake. I bet you wouldn't believe these were inspired by my little girl…
Milk and Cookies Cupcake Recipe: I just love to dunk my cookies into a big glass of cold milk, especially on a hot summer day. This recipe combines those two favorites into one unique recipe.
Please Save or Share
Your shares are how this site grows and I sincerely appreciate it. Please save or share this boozy cupcake idea on your favorite cupcake pin board or share it on Facebook.