Unicorn Toast for a Special Birthday Breakfast
This unicorn toast is the perfect start to any birthday breakfast! Plus, it's crazy simple to make as well. Ready to get started? You'll love this unicorn recipe!
Unicorn Toast for a Special Birthday Breakfast
What child doesn't like waking up on their birthday with a special breakfast waiting just for them? (Honestly – I wouldn't turn this down as an adult now…) The great part about creating this adorable unicorn toast is that its crazy simple to make and so much fun to eat!
It's no surprise that we'd have an awesome birthday idea involving unicorns somehow…right? And if you're looking for more, make certain to check out some of our other unicorn food items as well!
RELATED READING: Check out this mermaid toast – the scales are amazing!
No Time for Unicorn Toast Now? Pin this for Later!
I get it, your child's birthday may not even be for several more months…no need in making it right now! BUT, if you can pin it for later, then you can come back to it when you need to.
How to Make Unicorn Toast for a Fun Unicorn Birthday
With just a few simple steps, this unicorn toast will be ready in no time at all. One tip: when you add your coloring to your shredded coconut flakes, that you shake really, really well. Those colors need to be bright to pull off the unicorn rainbow look.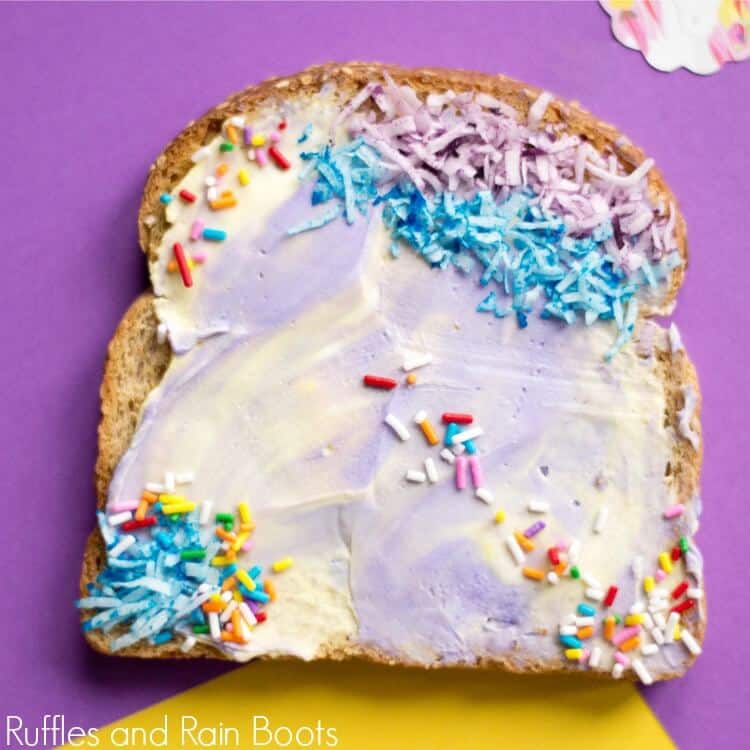 Check Out These Fun Unicorn Crafts and Party Ideas
Stay in Touch for More Crafty Fun
If you love our crafts and food ideas, we can send them to your email every single week. By signing up to our once-weekly newsletter, I promise there will be no spamming, selling or pressure…just really fun crafts!
Please Save This to Pinterest
If you liked our unicorn toast, will you please share it with friends on Facebook or save it to your favorite unicorn board on Pinterest? Your shares are how this site grows and I am sincerely grateful.