This Pumpkin Gnome is so Cute – I want to Make a Pie from Him!
If you love tomte and don't have one, make this fall pumpkin gnome. He is just perfect for Halloween, Thanksgiving, or to embrace Autumn fully.
Pumpkin Gnome
Here at Ruffles and Rain Boots, we absolutely adore making gnomes. They are one of my favorite ways to add little accents to tiered trays, mantles, and wreaths. And I love giving them as gifts. I've made it a goal this year to have at least one gnome for each holiday, large or small. Aaaaaand that morphed into making a gnome for each season, not just each holiday.
RELATED READING: THE BEST CHRISTMAS GNOME TUTORIALS AND VIDEOS
That's why I made this ridiculously cute pumpkin gnome. Not only is he a pumpkin-shaped gnome, but he's also got this adorable little vine twist dangling from his hat! I can't get over this fall gnome and if you're ready to bring a so-cute-I-want-to-take-a-bite-out-of-it gnome, well, let's get started.
No Time to Make This Now? Pin it for Later
You're busy, I get it. Pin this to your favorite DIY gnomes board on Pinterest and it'll be here for when you're ready.
Get Secret Gnomes, Tips, & Freebies Delivered!
What is the best pattern to use when you don't want to sew? Do you know the secrets to a properly-proportioned gnome? Do you know where to get the best-priced fur?
Get all of this (and exclusive content just for you) delivered right to your inbox with the gnome-making series, free of charge. Sign up to get the once-weekly newsletter (and a jaw-dropping special offer)!
If you use gMail or Yahoo, please check the spam or "promotional" folders. Whitelist my email address or reply to the email to ensure delivery of all files. Happy Holidays! - Sarah
Tips to Make This Fall Gnome
Click here to download the free nisse pattern for this adorable fall gnome. You could probably do it yourself without a pattern, but why try?!
Be careful using a high-temp hot glue gun to make this fall gnome as it will melt the foam ball. If you can, use a low-temp one or craft glue.
If you think the hat is too small, don't panic. It's supposed to sit ON TOP of the pumpkin, not over the edges. I know this is kind of unusual, but because of the shape of the pumpkin, and the tomte body being so much wider than his little "head," I went off-script for how to make gnomes and tomten.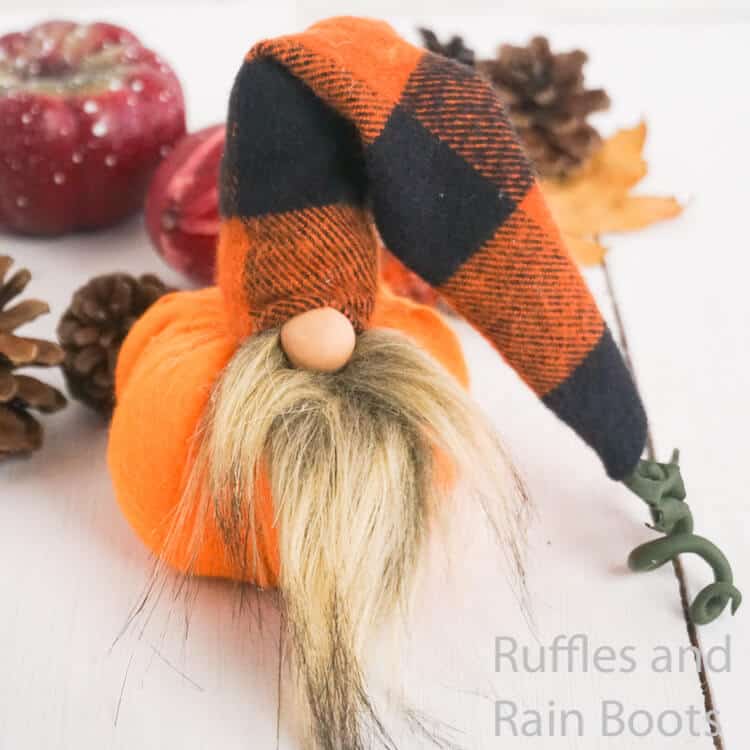 How Do I Make this Pumpkin Gnome?
I'm so glad you asked. Below is our written tutorial and if you have any questions, please ask them in the comments section below.
More DIY Gnomes You Might Like
Wooden Nesting Gnomes – These are literally the coolest little gnomes. They REALLY STACK! I love them so much. I want to make a million.
DIY Farmhouse Gnome – I love this gnome so much that I dress him up in different hats. I'm bad.
Fall Gnome Rock Painting – You can bring your gnome-obsession into kid's crafts by introducing the gnomes to rocks. LOL!
Please Save This to Pinterest
Your shares are how this site grows and I am sincerely grateful. Know a friend who'd like this? Please share it on Facebook or save it to your favorite DIY gnomes board on Pinterest.