Paper Dragon Puppets – A Fun Paper Puppet Craft
Paper puppets are fun and inexpensive but paper dragon puppets are the best! Whether you want to set up a 10 minute, nearly no-mess craft, educate little ones about Chinese New Year, or you just want to incorporate more pretend play into the day, these quick dragon puppets fit the bill.
What You'll Find On This Page
The Perfect Craft for Dragon Fans and Chinese New Year
Here at Ruffles and Rain Boots, we have stacks-o-plenty of construction paper. After the little one saw the movie, "How to Train Your Dragon," we "needed" a Toothless in our home and 53 of his closest dragon friends.
What I'm saying is that over the past week, we have made a ton of dragon puppets, dragon crafts, and even dragon desserts. It's complete happenstance (not awesome planning, mind you) that it only takes 10-minutes to whip out a few of these, including variations to this dragon craft for kids.
As an Amazon Associate, I could earn from qualifying purchases. There could be affiliate links within this article.
Chinese New Year – Year of the Dragon Craft for Kids
This is dragon paper puppet craft is also a wonderful craft to facilitate discussion about Chinese culture or even Chinese New Year. This year, we are using these dragons to also talk about the dragon for the festivals in Chinese culture.
If you like to join crafts with great books, pick up Tikki Tikki Tembo – it is actually one of my favorite books because it's so much stinkin' fun to say the older brother's name 100 times. As a refresher… The legend is that Chinese parents used to give their first born son a great long name. Second sons "were given hardly any name at all."
Firstborn son: Tikki tikki tembo-no sa rembo-chari bari ruchi-pip peri pembo. Second son: Chang.
Supplies for DIY Paper Dragon Puppets Tutorial
Pretty simple supplies for this paper puppet craft:
construction paper
tape and glue stick
googly eyes (optional)
That's right. No printable templates necessary. Just a fun dragon hand puppet your kids can make. Although, if you're looking for a printable dragon puppet, you can check out our other dragon puppet printable craft I put together recently that would make a fun Chinese New Year craft.
Paper Puppet Craft Instructions
The first set of pictures represents toddler or young child sized paper dragon puppets – it fits their smaller hands better. Tri-fold the paper and remove one section on the long edge.
For a large version, lightly fold the paper in half to find the center. Then fold each edge into the center and secure with tape. Continue folding the body as in step 2 of the image below.
Fold a piece of paper into thirds lengthwise and cut off one of the sections. Fold the paper back in half lengthwise and fold on the width of the paper. Take it just more than halfway and fold it back. Flip it over and do the same thing. Tape up the long side folds (1 piece of tape per section is fine).
Paper Puppet Wings
Using the leftover strip from making the body, make a set of wings by folding the strip in half and cutting a shape. Unfold and cut down the center to get two wings. Attach to the back side of the head with glue and tape. They are going to take a beating, so I recommend both.
Fold up the wing a little so they stand up and can be seen easily. Trim the wings so that your child can stick their hand in the puppet comfortably, but don't toss those pieces – you can make a nose piece, eyebrows, or a center nose ridge.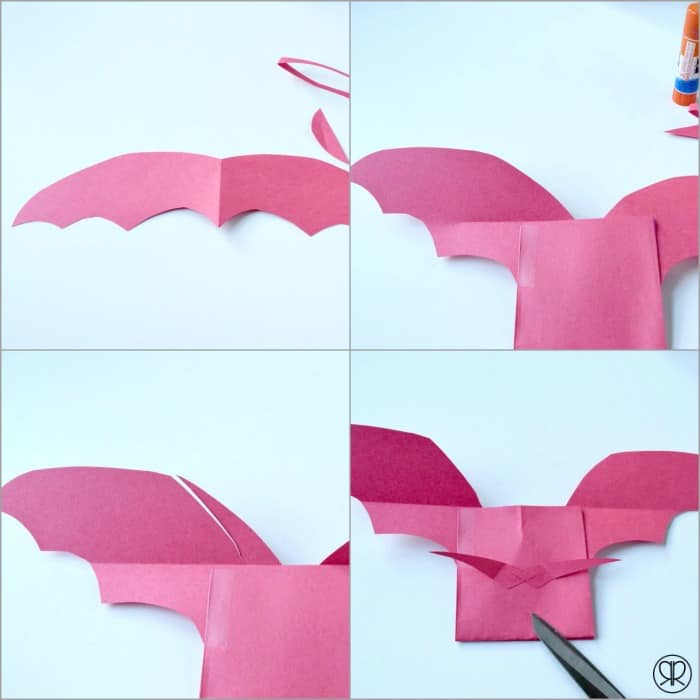 Paper dragon Puppet Features (and Tips)
Make nostrils, teeth, tongue, fire, eyes, and any other embellishments for your paper dragon puppets. The only rule is to make sure you leave enough room for a tab of sorts – you are going to fold over a small tab so that each piece is made 3 dimensional. Cool, right?
Make the eyes first so they have time to set up and dry a little. You can add everything in any order you'd like, but I recommend leaving the eyes for last, especially if you're using googly eyes. For the teeth, be sure to cut slits in the sides so that the teeth fold around the mouth. You are going to want to glue and tape the teeth down, same as the eyes.
More Fun Dragon Craft Ideas
Dragon Mask and Coloring Sheet – This free printable has a couple of crafts and one thing is certain: they're going to love it!
Dragon Blower Craft – One paper roll will make for an entire afternoon of fun (and check that that fire-breathing dragon)!
Printable Unicorn Mask – In case you have a little unicorn lover in your dragon fan's midst, this unicorn mask is a perfect craft to print off.
Save or Share This for Later
What do you think of our dragon family? It's ever-growing and they are named, so they must be part of our family now. If you think this was a fun and quick craft for a fun afternoon activity, please save it to your favorite pin board or share to on Facebook.