Mexican Fiesta Pinwheel Sandwiches
An easy-to-make meal, especially on a busy day, is always a favorite in our home. These Mexican fiesta pinwheel sandwiches are packed full of flavor and are like a party in your mouth!
With Cinco de Mayo around the corner, I thought about what festive recipe to serve. Our Mexican tortilla roll ups sandwiches are perfect for this holiday, or any other day of the week if you want a simple, yet delicious meal.
RELATED READING: The Best Pinwheel Sandwich Recipes for the Whole Family
Mexican Pinwheel Sandwiches
Here at Ruffles and Rain Boots, we love to cook, but relish those recipes that we can put together in a short time. Our easy Mexican pinwheel sandwich recipe is a great appetizer for Taco Tuesday, or for your fiesta-themed party, potluck, or tea.
With spring upon us and the warm summer months coming soon, any recipe that keeps us from a hot kitchen is preferable in our book. This portable finger food cold sandwich is a favorite recipe that you can whip up in just minutes.
No Time to Make This Now? Save or Share
If you need to run to the market for fresh veggies before making this Mexican appetizer recipe, no worries! Just save this to your favorite sandwich or food pin board or share it on Facebook.
As an Amazon Associate, I may earn from qualifying purchases. There may be affiliate links within this article.
RELATED READING: Delicious Buffalo Chicken Pinwheel Sandwich Recipe (So Easy)
Tips for Making Fiesta Pinwheel Sandwiches
If you have a picky eater who doesn't eat the crust, a pinwheel sandwich is just the thing for them! Leave off any spices for those finicky eaters.
Be sure to cut the pinwheel sandwiches into 1-inch pieces. They are perfect for smaller hands.
Pinwheel sandwiches are so versatile, you can fill them with just about any ingredients you can think of.
Ingredients for Mexican Fiesta Tortilla Roll Ups
If you have young children, consider mashing the beans before adding them into the sandwich. This recipe works with and without the jalepeño, so leave it off if the spice is too much.
Cream cheese
Sour cream
Shredded chicken
Mexican blend cheese
Black beans
Red pepper
Green onion
Jalapeno
Taco seasoning
Garlic powder
Flour tortillas
How to Make Mexican Fiesta Pinwheel Sandwiches
Each step for this sandwich recipe is detailed below so it's easy to follow. Keep this page open while you are creating your Mexican Fiesta Pinwheel Sandwiches. If you prefer a printable recipe, scroll down and select print.
Wash and chop the red peppers. Smaller pieces are more palatable.
Next, wash and chop the green jalapeño peppers, if using.
Add the cream cheese and sour cream to a bowl and mix in the taco seasoning.
Add the garlic powder to a bowl and stir well to combine. I like to use a fork to mash and combine the ingredients.
Spread ¼ of the cream cheese mixture onto each of the tortillas.
Add ¼ of the shredded chicken onto each of the tortillas.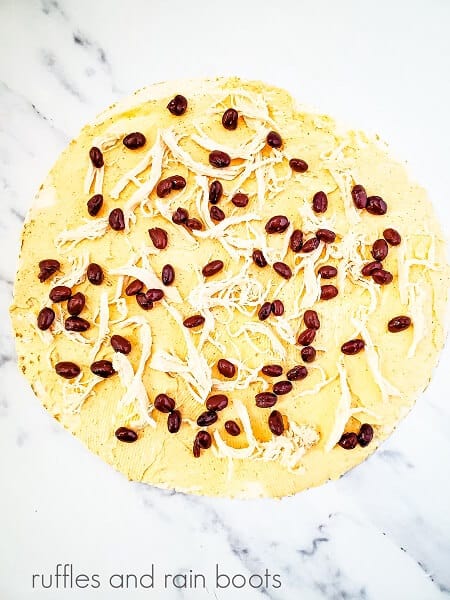 Add ¼ of the black beans onto each of the tortillas. Note: mash the beans if small children will be eating.
Add ¼ of the bell peppers onto each of the tortillas.
Add ¼ of the Mexican cheese onto each of the tortillas.
Starting at one end, roll the tortilla tightly. Place the roll into the refrigerator to set or until ready to serve.
Using a serrated knife, cut the roll into 1-inch slices.
Notes for Making Fiesta Pinwheel Sandwiches
To add more veggies to your pinwheel sandwich, corn, green chilies or tomatoes would be perfect additions.
For a morning treat, consider adding eggs to your Mexican pinwheel sandwiches. This recipe makes a GREAT breakfast burrito.
Pinwheel sandwiches tend to be soggy after sitting a long time, so it is best to serve them as soon as possible after cutting.
More Pinwheel Sandwich Recipes You May Like
S'mores Pinwheels for a Fun Summer Snack: For a fun and easy summer snack (to keep the kid from complaining), these s'mores pinwheels are a fast recipe everyone will love.
Bacon Ranch Pinwheels: With just five ingredients, this bacon ranch pinwheel recipe is the best for lunch or dinner. Everyone will gobble them up so make sure to grab a few for your plate!
Pizza Pinwheels: These pizza pinwheels are as fun to make as they are to eat. Whether for a back-to-school lunch idea or a weeknight dinner, these pinwheel sandwiches are easy!
Please Save or Share
Your shares are how this site grows and I sincerely appreciate it. Please save this recipe to your favorite sandwich or appetizer pin board or share it on Facebook.