Make This Fun Looped Ribbon Mickey Topiary for Disney DIY Decor!
This beautiful and fun looped ribbon Mickey topiary is a great afternoon craft that you can make to add to your Disney DIY decor!
Looped Ribbon Mickey Topiary
Here at Ruffles and Rain Boots, we really love making all the Disney crafts. All of them. So, when I decided I needed a larger piece to add to my DIY Disney decor elements, well, I couldn't get the idea of a looped ribbon topiary of Mickey Mouse! Easy and fun to make, this is definitely a statement piece!
RELATED READING: DIY MICKEY GNOME
I love the squishy, fluffy look of the rolled ribbon bits and the unique style is just too fun. If you're ready to make a cool Mickey topiary you're going to love, let's get started.
No Time to Make This Now? Pin it for Later
You're busy, I get it. Pin this to your favorite Disney crafts board on Pinterest and it'll be here when you're ready.
As an Amazon Associate, I can earn from qualifying purchases.
Tips to Make this DIY Disney topiary
I love working with foam balls, they're perfect for projects like this. But one thing I DON'T like about working with foam is that hot glue burns right through it. So, if this annoys you, keep in mind that you can use an ultra low-temp hot glue gun like this one to keep that melting from happening.
Don't feel constrained by the color scheme I went with. I mean, I know this is the traditional Mickey color arrangement, but you can also go for a solid monochromatic look in whites or silvers for winter, add some sprigs of greenery for spring, or go for all orange with a stem for Halloween!
This particular craft requires a LOT of pins. Once I was done with this project, I had literally had no pins left to do any sewing projects and was loathe to take apart my Mickey topiary to use them. So, be a little smarter than I was and grab a few extra sewing pins here to keep yourself from getting in that bind.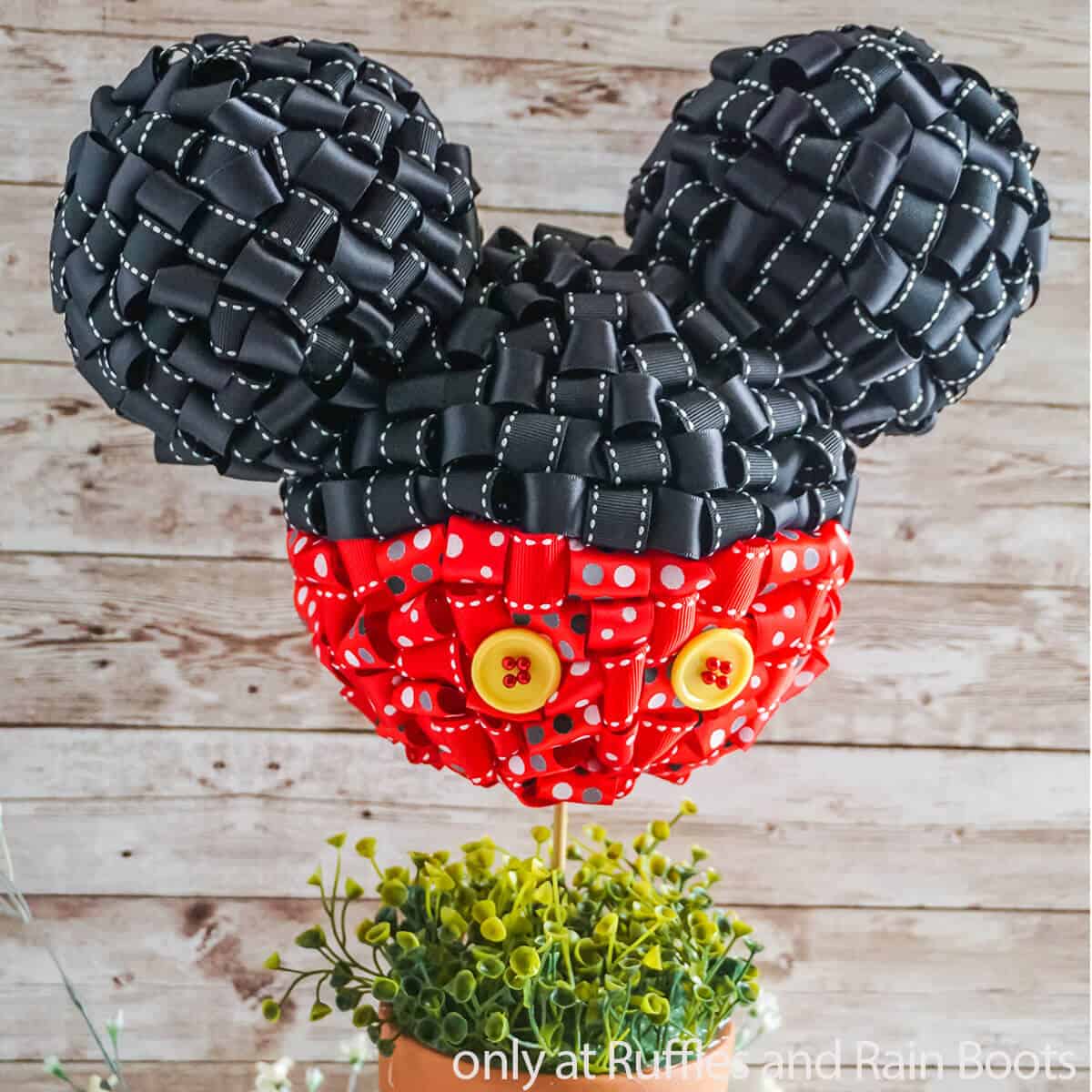 How Do I Make this Looped Ribbon Mickey Topiary?
I'm so glad you asked. Below is our written tutorial.
More DIY Disney Crafts You Might Like
DIY Disney Makeup Bags – I loved making little pouches for various things – pencil bags, make-up, gifts and more!
Mickey Notebooks – A quick and fun way to make a Mickey craft that the kids are going to love having for back to school.
Mickey & Minnie Photo Frames – Want a fun way to display your Disney vacation photos? This quick and fun DIY is where it's at!
Please Save This to Pinterest
Your shares are how this site grows and I am sincerely grateful. Know a friend who'd like this? Please share it on Facebook or save it to your favorite DIY Disney ideas board on Pinterest.