Hot Cocoa Mug Gift Idea – It's Easy and Downright Adorable!
This hot cocoa mug gift is ready in just minutes and you get to "paint" marshmallows! Let's get started with this easy holiday gift idea.
Hot Cocoa Mug Gift Idea
It never fails – I always forget someone on my holiday list. My hair stylist, the UPS driver – my memory loss has no bounds.
This year, however, I'm prepared to give out inexpensive, quick gift ideas. Preparing them in advance isn't needed because, like this hot cocoa mug gift idea, I only need a few minutes and a smile. Let's get started making these adorable painted snowman marshmallows and a fun cocoa gift.
RELATED READING: Hot Cocoa Ornament – Yes, You Can Really Drink It!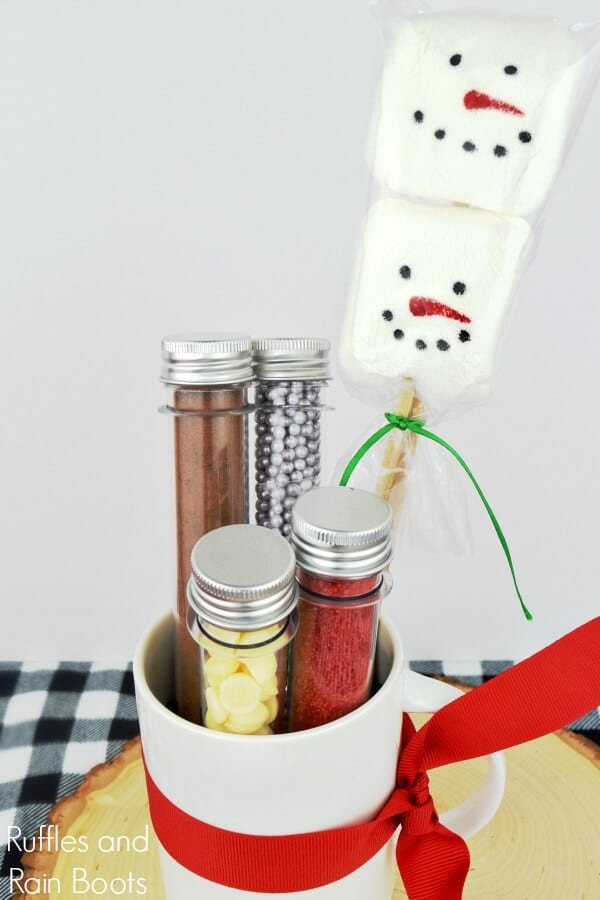 Supplies and Ingredients for Our Hot Cocoa Mug Gift 
You might have absolutely everything you need on hand for this quick Christmas gift idea. The test tube and the food markers are really all you might need to pick up (we got both at Amazon).
There are affiliate links in this article which means, at no additional cost to you, we could receive compensation for our recommendations. You can read our full disclosure policy.
Marshmallows (square or regular) and bamboo skewers or lollipop sticks
Clear gift bag and ribbon
Mug and decorative ribbon
Hot cocoa mix and extras (we chose colored sugar, white chocolate chips, and silver pearls)
Plastic test tubes with a secure screw-top lid
RELATED READING: Reindeer Mason Jar – The Surprise Inside is Hot Chocolate!
How to Assemble This Easy Hot Cocoa Mug Gift Idea
There isn't any real limit to what you can do with this easy hot cocoa mug gift, friends. If you wanted to make Harry Potter marshmallows instead of snowman marshmallows, well go right ahead!
RELATED READING: The Easiest Mason Jar Hot Chocolate Gift Ever (Free Tag!)
Other Hot Cocoa Gift Ideas
If you have the mix or are preparing it yourself, why not make some more hot cocoa gift ideas. We have fun for kids AND adults with fun flavors and styling.
Be Sure To Follow Along with Ruffles and Rain Boots 
We love making crafts here at the 'Boots and would love to share them with you. Sign up to receive our weekly newsletter and you'll get access to the Hand Lettering Library (full of free practice sheets and instructions) and the Exclusive Library (full of free cut files for cutting machines, tips on our favorite craft mediums, and all things crafty and fun)!
Please Save This to Pinterest or Share on Facebook
Your shares are how this site grows and I am sincerely grateful.