Free Mother's Day Cards – Printable Cards for Mom
No matter why you need it, these free Mother's Day cards are perfect to give to mom anytime of year. From florals to bold statements, I think I've made a few designs everyone can use.
There is no sign up required: just download, print, cut, and give one or all of these cards to mom. I've even included a few last-minute gift ideas in case you want to make something special.
What You'll Find On This Page
Free Cards for Mother's Day
Here at Ruffles and Rain Boots, I am never still. Honestly, unless it's after 9 pm and I've decided to read or watch a show, I am constantly doing something, cleaning something, or doodling something.
And well, doodling was how the ideas and sketches for these free cards for Moms were born. I started sketching these out on my iPad and quickly popped into Illustrator to finish them off, find the right colors, and pop them into my card templates.
Below, you'll find four free Mother's Day printable cards and how to get them all ready for Mom. Before we begin…
Will You Please Share This?
I love designing free resources and would love to continue doing so. Before you download these printable cards, can you please share or save this? Save it to a Mother's Day or crafty pin board or share it on Facebook – I'm sure some others would love them.
RELATED READING: Mother's Day Foot Soaks Make a Great Gift
How to Print and Prepare These Cards
The link to all of the cards is below, however, I want to make sure everyone can print and prepare them easily. Please only click on the download link below after you read through this section.
Supplies You Need
card stock (white or light cream)
scissors
a rule (or other straight edge)
printer and ink
How to Assemble
Once printed, cut along the outside edge indicated on the printout. The attribution and instructions will be cut off, so do not worry those are there.
Fold in the center (indicated on the print out). Tuck it in an envelope with some hug coupons or any of the ideas below and gift it to mom!
More Mother's Day's Crafts and DIY Projects Ideas
Four Free Mother's Day Cards to Print
All of the cards you've seen in this post are in the download folder. I've created four free cards for mom in various styles – there should be something for everyone. All of the printable cards can be found here and have both a 4×6 inch and 5×7 inch version.
MOM with Watercolor Florals
This is an elegant, understated card for mom and it's available in two sizes for any envelope. Download the file called, "MOM with Florals."
A Mother's Hug Card
The watercolor flowers and metallics in this beautiful Mother's Day card printable are an elegant option. Download the file called, "A Mother's Hug Card."
MOTHER Spelled Out Design
A mother is many things, but she is all of these things. Does that make sense? I just love this modern design and if you do, too, download the file called, "MOTHER Spelled Out."
You're the Berry Best
If you are looking for a printable card for Mother's Day kids can give to mom, this is it. Greens and pinks paired with black made this good for both boys and girls to write or draw in and make their own. Click here download the file titled, "You're the Berry Best."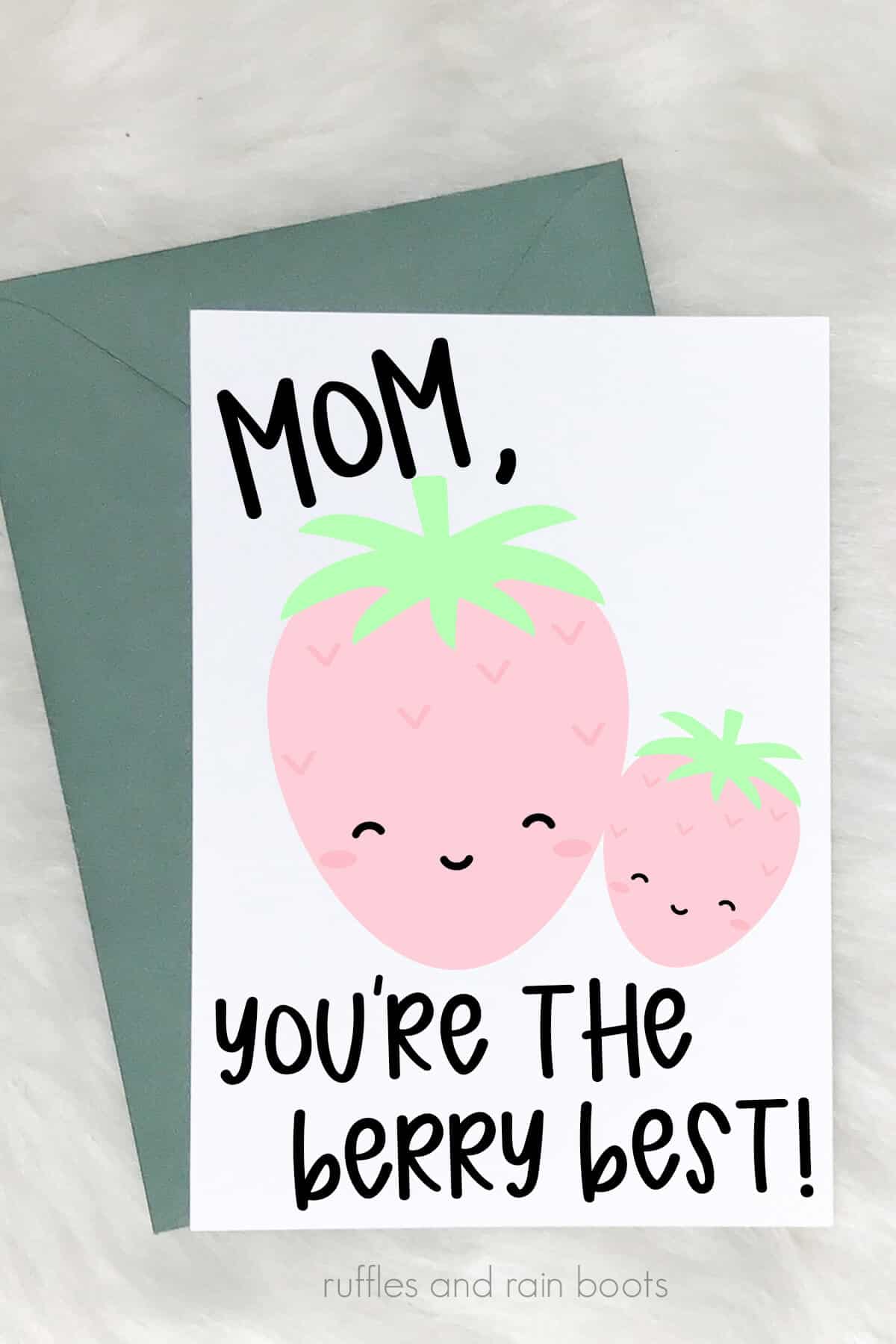 As A Reminder
Thank you for being here today. Before you go, I would love to thank you for sharing – it's how this site grows and I am sincerely grateful.