These Farmhouse Truck Christmas Cookies are Amazing!
I just love how quick and easy these farmhouse truck Christmas cookies were–but how fabulous they look! They're just an all-around amazing Christmas cookie recipe you'll love.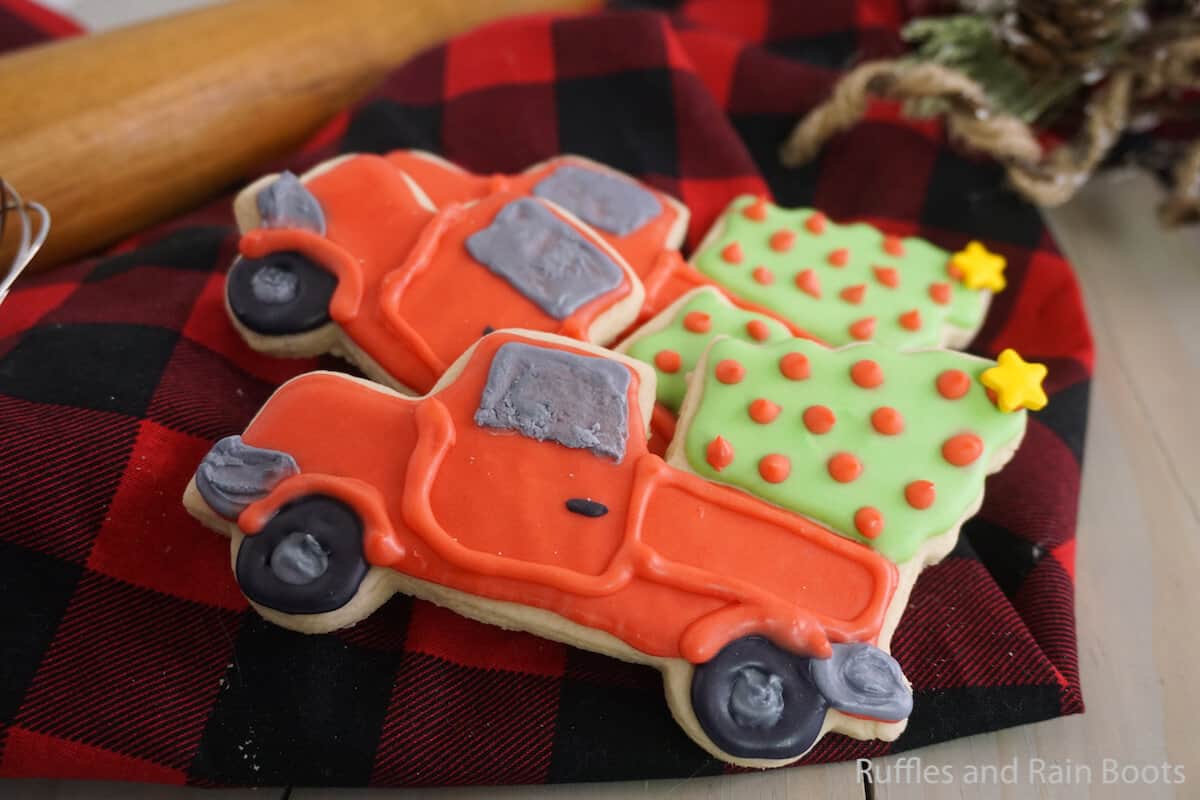 Farmhouse Truck Christmas Cookies
Here at Ruffles and Rain Boots, we love the holiday season. There's nothing that I don't just love about the lights, the sparkle and wrapping paper. But, definitely one of the best things about Christmas is the melt in your mouth treats likes peanut butter balls and, oh, right, the amazing Christmas cookies.
RELATED READING: THE BEST CHRISTMAS CUPCAKE IDEAS
One of my VERY favorite cookie decorating ideas for Christmas is this so cute Christmas truck cookie. I mean, who doesn't love a farmhouse cookie?! Seriously, if you're ready to bring some farmhouse charm to your Christmas cookies, let's get started.
No Time to Make This Now? Pin it for Later
You're busy, I get it. Pin this to your favorite Christmas recipes board on Pinterest and it'll be here for when you're ready.
As an Amazon Associate, I can earn from qualifying purchases.
Tips to Make Christmas Farm Truck Cookies
You're going to need this adorable truck cookie cutter set, to start with. Basically, you can't make these awesome Christmas truck cookies without that unless you're way more skilled with a knife than I am! LOL!
Instead of using icing to make the details, if you want, you can melt some chocolate chips or use chocolate coating discs. Just be aware that if you do that, it will harden as it cools, so work fast.
I always recommend pulling the excess dough away from cut out cookies like gingerbread men or these Christmas farmtruck cookies. Don't try to scrape up your cut cookies–just roll out your dough on your parchment paper and cut them there, pull the excess cookie dough away and then bake.
Make sure each layer of icing is dry before putting on the next. If you don't, for example, when you put the decorations on your Christmas tree, the dots will basically melt into the green of the tree and won't be as vivid.
How Do I Make this Farmhouse Truck Christmas Cookies?
I'm so glad you asked. Below is our written tutorial.
Creativity, Delivered
Would you like inspiration delivered right to you each week? Sign up for the once-weekly Ruffles and Rain Boots newsletter and you'll get that and more! Get access to the exclusive libraries full of free SVGs, hand lettering practice, and so much more.
More Easy Christmas Cookies You Might Like
Please Save This to Pinterest
Your shares are how this site grows and I am sincerely grateful. Know a friend who'd like this? Please share it on Facebook or save it to your favorite Christmas recipes board on Pinterest.