Bee Sublimation Pillowcase Craft Tutorial
When I figured out how to make a sublimation pillowcase, I knew a bee design would be first on my list. This is an easy beginner project for sublimation if you're new to the medium.
You will need a few basic sublimation supplies (or buy a transfer) in order to complete this craft. If you are without those, use a photo transfer kit – they work, too.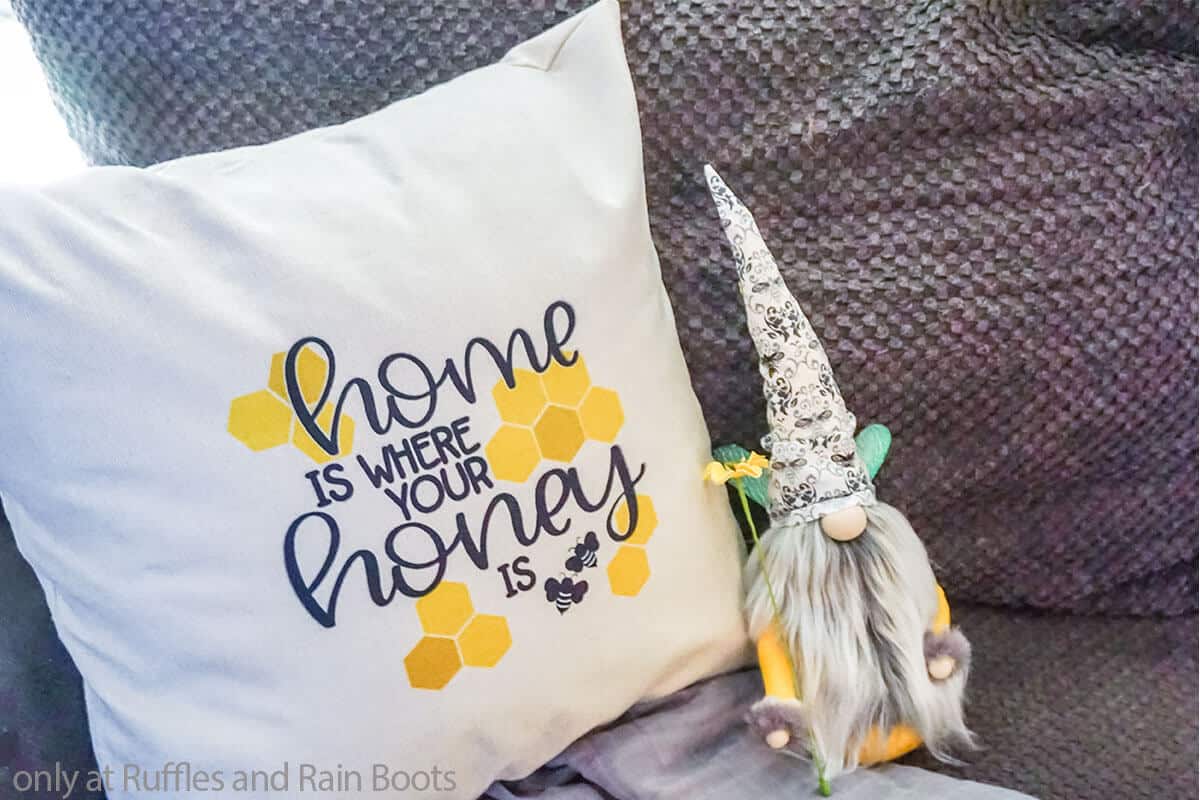 What You'll Find On This Page
DIY Farmhouse Bee Pillow
Here at Ruffles and Rain Boots, we LOVE the bee crafts this year. For whatever reason, I've been stung with the desire to make all things yellow and black striped.
So, when I discovered recently how to make sublimation projects, I had a whole list of fun ideas that came to mind. But one of the first was definitely this epically easy and fun farmhouse bee pillow.
Get Exclusive Free SVGs, Discounts, and More!
I'm giving away free SVG files to help you create for friends, family, and your home. Get all of these (and more) along with the weekly newsletter.
RELATED READING: ADORABLE ELEGANT BEE GNOME PATTERN
I've written-up a simple tutorial for how to make a sublimation pillowcase, but it's more than just that, too. I've included a trick to get you doing sublimation, even without a special printer, the magic paper and the ink that brings it all together. So, grab your favorite bee sublimation design and let's get started.
No Time to Make This Now? Save or Share It for Later
If you need to gather up some supplies or you're just scrolling for ideas, save this to a summer crafts pin board or share it to Facebook. Using the sharing buttons will make it easy to find when you're ready to begin.
As an Amazon Associate, I can earn from qualifying purchases. There could be affiliate links within this article.
RELATED READING: DIY Dollar Tree Beehives – So Simple and So Fun!
How to Do Sublimation Crafts WITHOUT a Sublimation Printer
If you have never made sublimation projects before and you're not sure where to start, you DO NOT have to start by purchasing a printer and the special ink and all that. That isn't the most cost-effective thing to do…
The easiest and least expensive way to try sublimation is by ordering a sublimation print, just to test it. That way, you know you want to invest in this craft medium.
Guess what? That's exactly what I did. I ordered a couple of prints here of my favorite designs, then just heat-pressed them onto a blank. I loved it so much, I'm now doing my own printing and pressing at home.
Tips to Make a Sublimation Pillowcase
Get the print-friendly home is where your honey is sublimation file. To make the sublimation project, you only need to have a PNG or JPG file in order to make the craft, but you'll get the full set regardless.
I used one of these prepared sublimation blank pillowcases for this bee craft. A simple enough thing to find, polyester pillowcases are a great project to test out sublimation on, but these were noted as made for sublimation, so I felt like I was starting on the right foot.
Farmhouse Sublimation Idea – Spring Pillow
Below is the written tutorial for this beginner sublimation project idea. Leave this page open, follow the steps, and use the comments box for any questions.
More Easy Bee Crafts You Might Like
Please Save or Share This Sublimation Pillow Craft
Your shares are how this site grows and I am sincerely grateful. Please share this with a crafty group on Facebook or save it to your favorite sublimation crafts pin board.