DIY Faux Fur Trees – 5-Minute Craft Made 3 Ways!
If you have 5 minutes, you have more than enough time to make these DIY faux fur trees that are the perfect fur Christmas trees this holiday season!
DIY Faux Fur Trees
Here at Ruffles and Rain Boots, we are really enjoying the kind of "early" holiday spirit around here and I've decided to just jump right into making my DIY holiday decor. Honestly, I don't know what was holding me back, or if anything really was, but making a set of Scandinavian Christmas trees from felt and then making these awesomely lush DIY faux fur Christmas trees? Now I feel like Christmas is coming on.
RELATED READING: CHRISTMAS TREE FARMHOUSE CENTERPIECE
It's more than just that, though. The weather is finally turning and my DIY holiday decor is really coming together, so it's just all these things. Christmas time is here. Ha! If you're ready to bring a touch of Christmas to your house with some DIY faux fur trees, let's get started.
No Time to Make This Now? Pin it for Later
You're busy, I get it. Pin this to your favorite DIY holiday decor board on Pinterest and it'll be here for when you're ready.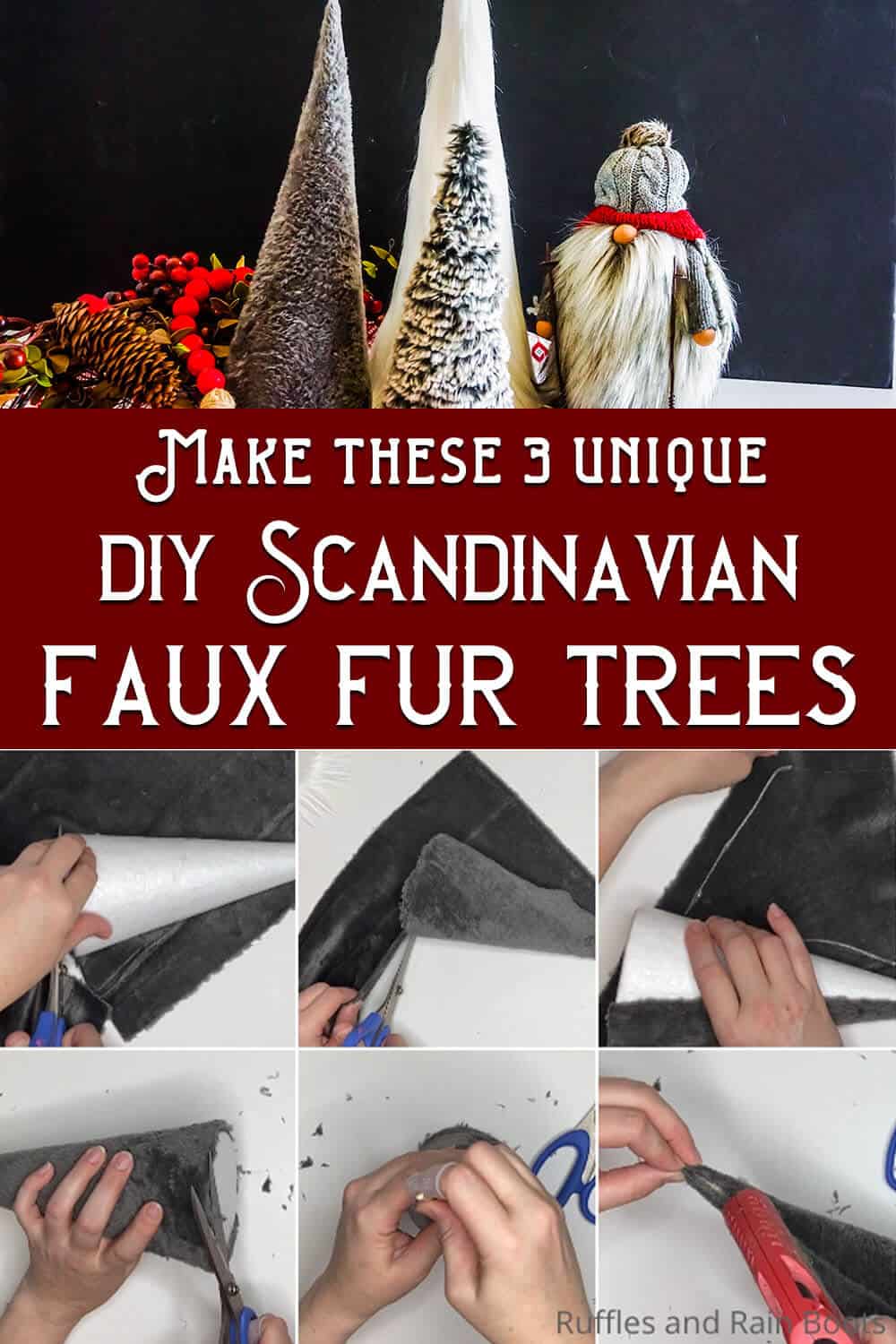 As an Amazon Associate, I can earn from qualifying purchases.
Tips to Make DIY Fur Trees
With all 3 methods to make DIY faux fur trees, you want to have a nice cone base for the tree. I prefer styrofoam cones for this because you can add a little height with a tiny dowel and really get that tip pointy. But also, they have a nice weight, but aren't heavy. So, start by grabbing a little variety pack of cones here and make all 3 trees with different sizes!
When you're making the long-pile fabric backed faux fur Christmas tree, be sure to take just a few minutes to learn how to properly cut faux fur here. It's a short video and this method works so much better than trying to part it and cut with scissors.
If you wanted to really amp-up your presentation of these fun DIY faux fur Christmas trees that I JUST thought of (can't believe I didn't think of it before) is to add a dowel on the bottom, then place that dowel into a wood round. It would add a few inches, sure, but it's going to add a nice touch, depending on your decor.
How Do I Make this DIY Faux Fur Trees?
I'm so glad you asked. Below is our written tutorial.
More DIY CHristmas Trees You Might Like
Scandinavian Felt Christmas Trees – I love how easy it was to make these fun felt trees with my Cricut and a little bit of felt!
Upcycled Christmas Tree Gnome – If you've got an old tree laying around and want a gnome for your covered porch, this tutorial shows you how to bring it all together and make it a reality!
How to Make Yarn Christmas Trees – Making fluffy yarn Christmas trees is so much fun and you can have a whole forest of them ready to go in just a few minutes!
Please Save This to Pinterest
Your shares are how this site grows and I am sincerely grateful. Know a friend who'd like this? Please share it on Facebook or save it to your favorite easy Christmas crafts board on Pinterest.