This Gorgeous Christmas Gnome Wreath is So Easy and Fun!
When I made this Christmas gnome wreath, I didn't realize how much in love with it I would be. I almost want to leave this gnome Christmas wreath up on the door year round!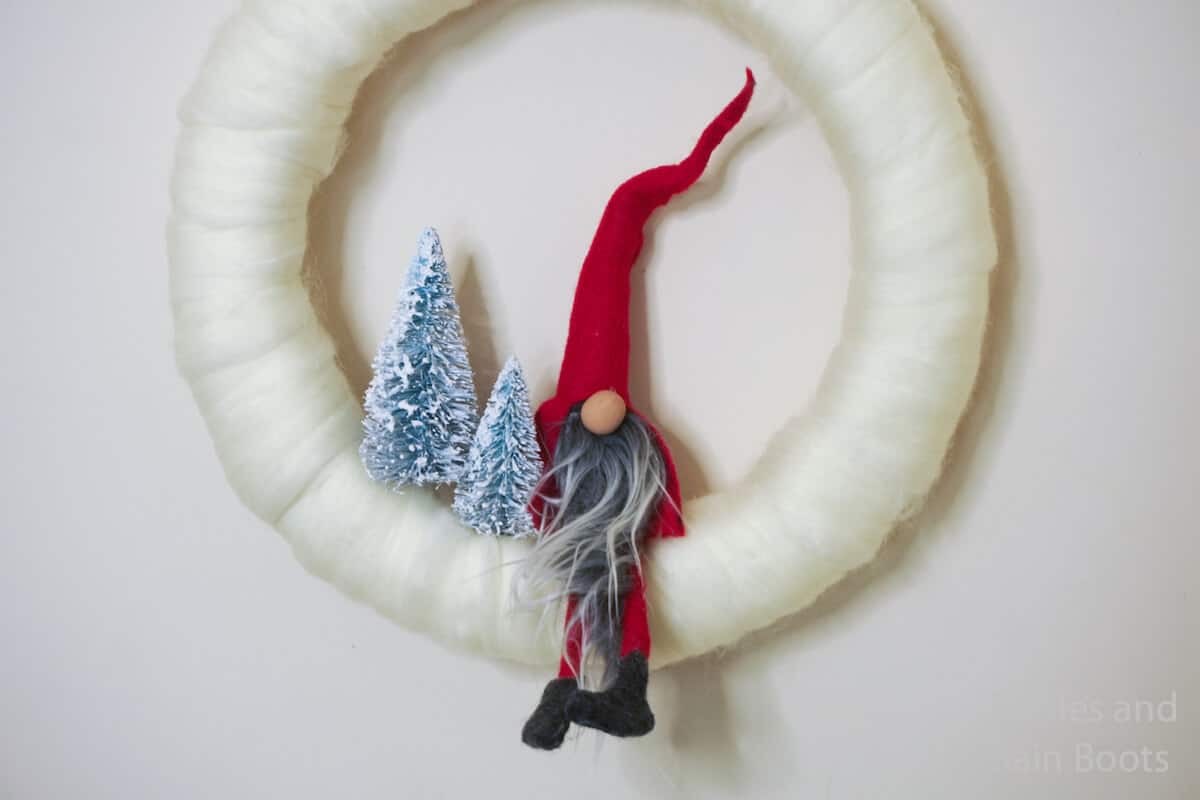 What You'll Find On This Page
Christmas Gnome Wreath
Here at Ruffles and Rain Boots, we have a thing for gnomes (in case you didn't know that already). If there's a gnome idea, I'm going to have it and it will be made. So much fun. I literally want gnomes from the top of my house to the bottom. And having this Christmas gnome wreath on the door to greet me during the holiday season? Perfection.
RELATED READING: WOODEN GNOME ORNAMENTS
Plus, this gnome Christmas wreath is so easy to make, I feel like I need to make two more, just because. But, I only have one door…so, maybe these need to become window wreaths…hmmm. If you're ready to make a fun gnome Christmas wreath (or two), let's get started.
Get Secret Gnomes, Tips, & Freebies Delivered!
What is the best pattern to use when you don't want to sew? Do you know the secrets to a properly-proportioned gnome? Do you know where to get the best-priced fur?
Get all of this (and exclusive content just for you) delivered right to your inbox with the gnome-making series, free of charge. Sign up to get the once-weekly newsletter (and a jaw-dropping special offer)!
DIY Christmas Gnome Tutorials
If you're looking for the best DIY Christmas gnome tutorials, you have come to the right place. Check out all of my favorite tomte tutorials for the holidays!
No Time to Make This Now? Pin it for Later
You're busy, I get it. Pin this to your favorite Christmas crafts board on Pinterest and it'll be here for when you're ready.
Tips to Make Gnome Christmas Wreath
Click here to get the free printable pattern for this Christmas tomte. He's so tiny and so fun, you absolutely need the pattern to get him juuuust right.
When you are wrapping the yarn, be sure to overlap it a little. You don't want your foam to peek through. But if you do have a little peek through, just tug the yarn over and cover it. If it won't stay, add a dab of hot glue to keep it in place.
If you use a regular craft hot glue gun, you're great. But if you are using the super hot industrial grade ones, you'll need to be gentle with your foam wreath form, because the hot glue will be so hot, it will melt the foam.
How Do I Make this Christmas Gnome Wreath?
I'm so glad you asked. Below is our written tutorial.
More CHristmas Gnome Ideas You Might Like
Christmas Gnome Ornaments – Seriously one of the easiest DIY gnome tutorials that you will find. And the results are a stunning ornament you'll be proud is on your tree!
The Best Gnome Tutorials You Can Find – You won't find a more comprehensive set of fun gnome tutorials for all sorts of holidays, seasons, and just for fun!
Gnome Wine Bottle Cover – This fun gnome wine bottle cover is simple and fun, and it makes a great holiday gift!
Please Save This to Pinterest
Your shares are how this site grows and I am sincerely grateful. Know a friend who'd like this? Please share it on Facebook or save it to your favorite farmhouse crafts board on Pinterest.