Candy Corn Marshmallows Are a Perfect Halloween Party Snack!
These candy corn marshmallows are the easiest Halloween party snack ever. They're also ridiculously tasty and kind of silly and the kids can help.
This ends up being a great Halloween party snack because they're perfect for all ages.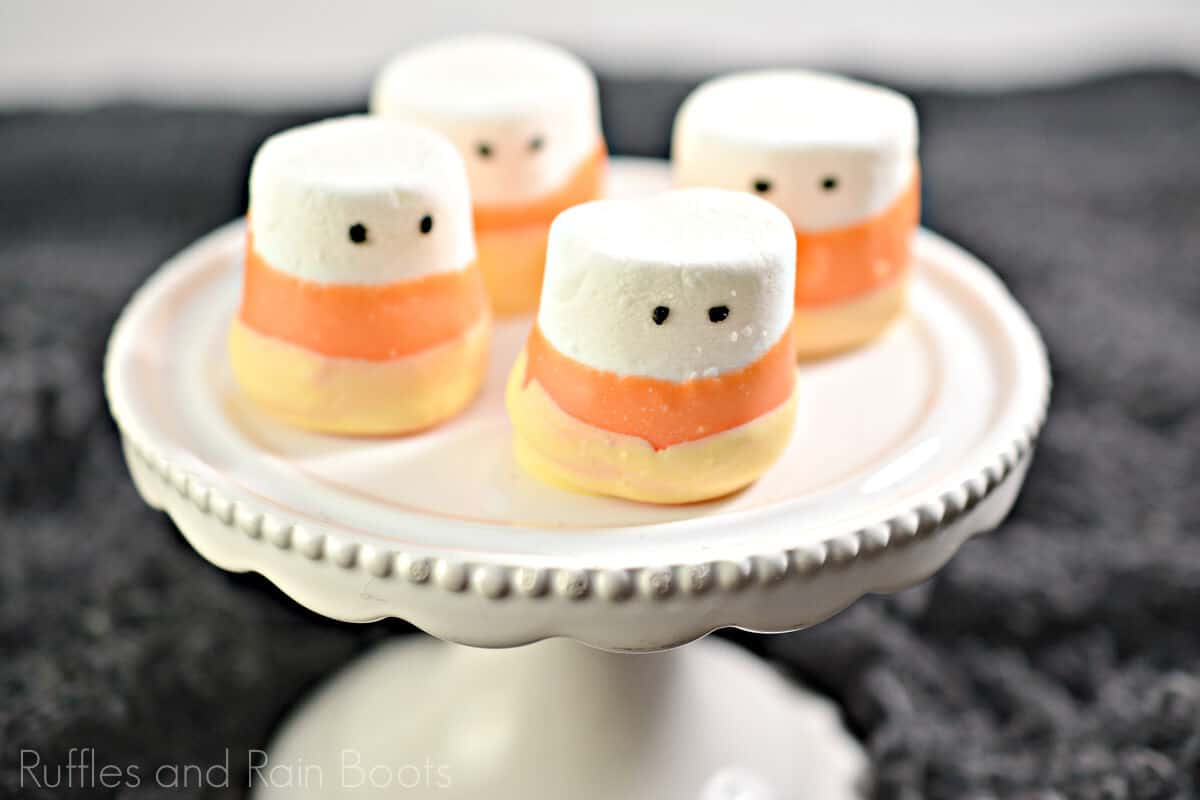 Candy Corn Marshmallows
Here at Ruffles and Rain Boots, we are absolutely die-hard Halloween fans. It's perhaps the best holiday after Christmas and, definitely, it's the funnest holiday, what with the dressing up and making all the fun candies and snacks.
Just like making this halloween dipped marshmallows recipe. It's so simple, fun and tasty. What more could you possibly want in a Halloween party dessert?!
Seriously, this is one of the best candy corn food ideas. It's just so simple. If you're ready to get some halloween dipped marshmallows read to go, let's get started.
RELATED READING: The Best Halloween Party Food
No Time to Make This Now? Save or Share for Later
If you are gathering ideas, save this to a favorite Halloween treats pin board or share it to Facebook. Either way will make it easy to find when you're ready to make them.
Tips to Make This Halloween Party Dessert
First, you definitely need to involve the kids. They're going to have so much fun making this Halloween treat idea. The candy melts aren't so super hot that they can't touch it, but if you're sincerely concerned, put the marshmallows on a bamboo skewer or toothpick.
If you wanted to turn these into Halloween marshmallow pops, you can stick a lollipop stick into them after dipping them in the yellow candy melts.
Make sure you're using a microwave safe bowl for this kid friendly snack, because the chocolate candy melts will ruin a non-microwave safe bowl.
I wouldn't call this one of those allergy-friendly halloween desserts because it does contain dairy (in the candy melts), but because it doesn't contain peanut butter or gluten, it is free of several "typical" allergens. So, if you wanted to bring this to a Halloween school party, you will likely be able to.
More Halloween Treats for School Ideas You Might Like
Bakery-Worthy Halloween Cupcakes – You can make these at home but everyone will think you bought them (psst: they're SO easy).
Easy Ghost Cupcakes – I'm not kidding when I say that these are perhaps the easiest cupcakes you'll ever make. They're simple and adorable.
Zombie Popcorn – Need a not-so-super-sweet treat (ok, it's a little sweet) to go with your Halloween party food? This is it.
Frankenstein Cupcakes – He's no zombie–just aaaLIIIIIVE with cuteness, though. Get it? LOL
Please Save or Share This Halloween Party Food Idea
Your shares are how this site grows and I am sincerely grateful. Know a friend who'd like this? Please share it on Facebook or save it to your favorite Halloween treats pin board.
How Do I Make this Candy Corn Marshmallow Recipe?
Below is the written, step by step tutorial for these Halloween dipped marshmallows. Keep this page open to follow along and use the comments for any questions or suggestions.