Frankenstein Cupcakes for Halloween – So Stinking Cute!
These Frankenstein cupcakes are an adorable, non-scary, and really easy Halloween cupcake. You can use fondant or frosting to create the face base and let the little ones go wild.
In this easy Halloween cupcake recipe idea, you will create the cupcakes (or use store-bought), the frosting, and the cutest little Frankenstein monster cupcake!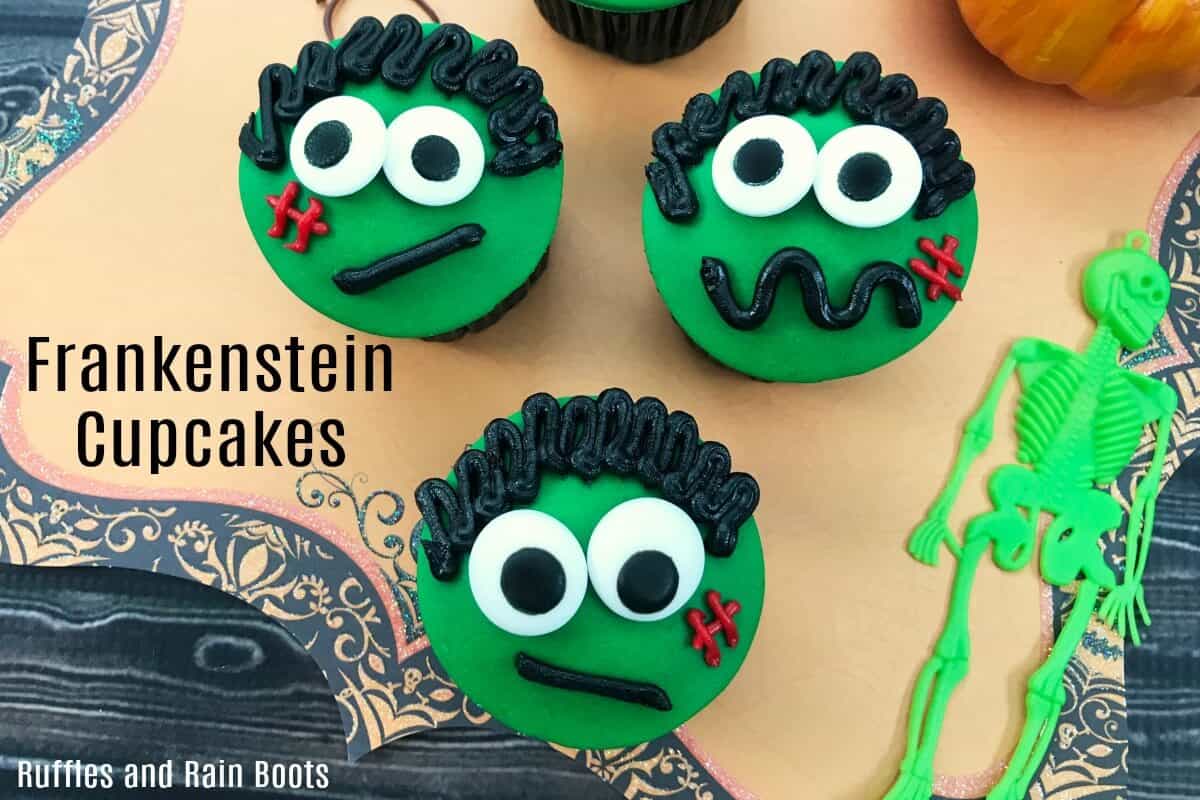 Halloween Movie Night (Non-Scary Ideas)
We love Halloween here on Ruffles and Rain Boots. Click here to see all of our Halloween crafts and food ideas.
These Frankenstein cupcakes are absolutely adorable, aren't they? I love that they are perfect for the kids who just can't do gross and scary Halloween. Speaking of a non-scary Halloween…
Non-Scary Halloween Movie Ideas
Putting together a non-scary Halloween is easy and fun. With the kid-friendly Halloween crafts we share on Pinterest, you can round out a great night. Start with:
If you're looking for a movie, a few of our favorite non-scary Halloween movies are:
Halloween Town
Frankenweenie
Hotel Transylvania
Monster House
Casper
If you're going to show the kids Casper (which is adorable, by the way), you might want to make these easy ghost cupcakes. It takes less than 10-minutes to make the decorations and icing – EASY!
But let's get back to these Frankenstein treats, shall we?
As an Amazon Associate, I could earn from qualifying purchases. There could be affiliate links within this article.
Ingredients for Frankenstein Cupcakes 
I'm starting with a boxed chocolate cake mix, but feel free to use your own recipe. This makes about 12-14 large cupcakes.
1 box chocolate cake mix (and ingredients such as eggs, oil, and water) and liners
chocolate frosting
green fondant (we got ours here) and a rolling pin
large candy eyes
black and red icing (we just used premade icing tubes like these - they make it easy!)
tips for decorating and a piping bag
2.75-inch round cookie or biscuit cutter
How to Make Frankenstein Cupcakes
Below is the written and printable tutorial for this fun cupcake decorating idea. Use the comments section below if you have any questions.
Bake the cupcakes per the package instructions and set aside to cool completely. Once cool, generously frost them with chocolate icing. :)
Roll out the green fondant to about 1/8th-inch thick (if sticky, use powdered sugar on the rolling pin and surface). Cut into circles using the round cutter and place on top of the frosted cupcakes.
Use frosting to attach the candy eyes and create hair, mouth, and a scar with icing.
Please Share on Pinterest or Facebook
Your shares are how we grow and we are sincerely grateful when you share them with others.