Dollar Tree Beehive Candle Holder
This Dollar Tree beehive candle holder is a cute and easy craft for an afternoon. It's a fun way to add a spring or summer touch to your decor using one of the most trendiest little cuties: bees!
Head to the dollar store and grab a wine glass and a few basic supplies like greenery and rope. Scroll down to get started – and be sure to check out our other Dollar Tree beehive crafts.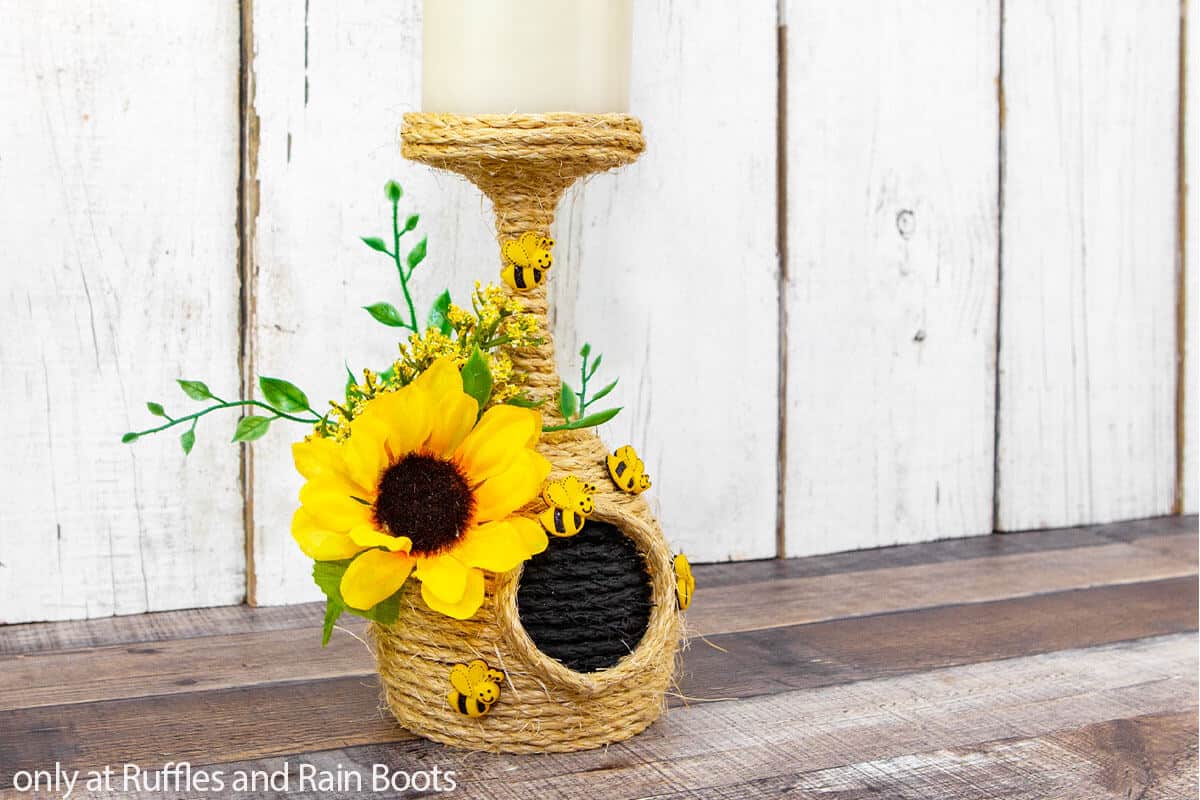 RELATED READING: DIY Bee Kissing Gnomes with Magnetic Noses
Easy Beehive Candle Holder from a Wine Glass
Here and Ruffles and Rain Boots, using dollar store finds in crafts and decor is a fun challenge. This wine glass craft was a fun afternoon DIY because it's easy to get into the groove of wrapping and gluing.
This bee craft is a fun addition to your kitchen and would look perfect sitting on a windowsill or fun addition to a shelf. It can blend into any spring or summer decor because you can use any flowers or greenery to match. If you're ready to make this beehive DIY, let's get started.
No Time to Make This Now? Save or Share This for Later
Running low on time? Save this to a Dollar Tree crafts pin board on Pinterest or share it to Facebook. Using the sharing buttons will make it easy to find when you're ready to begin.
As an Amazon Associate, I can earn from qualifying purchases. There could be affiliate links within this article.
Tips for Making a Beehive Holder Using Dollar Tree Supplies
Even though this is written to be made with wine glasses, you can really do these steps with any type of glass. The dollar stores have pilsner glasses that would work great.
Change up the color of the flower to fit your home decor! This is a fun way to make this unique and the dollar stores usually have a few sizes to give some variety.
You can easily use this as a fun bee baby shower gift idea or even decorate it as a table centerpiece for fun family gatherings.
RELATED READING: DIY Dollar Tree Beehives
How to Make an Easy Beehive Candle Holder
Find out the cute and adorable details below for this cute DIY. Leave this page open and follow along with the steps below. If you have any questions, use the comment section and I'll be here to help.
More Fun Bee Crafts To Make
Bee Mini-Canvas – This is the cutest way to add a fun bee print to any wall or space in your house and is a perfect Cricut beginner craft idea.
Bee Gnome Pattern – Find out how to make the cutest bee gnome craft and get all the oohs and ahhs from anyone who sees it.
Dollar Tree Beehive Craft – These beehives are the perfect look to add to your farmhouse decor and can be made using an upside down flower pot.
Please Save This or Share This Dollar Tree Craft Idea
Your shares are how this site grows and I am forever grateful. Please share this to a DIY dollar store craft pin board or share it with a crafty group on Facebook.