This Fun Baby Yoda Rock Painting Craft is Cute and Quick!
The kiddo wanted to create a Baby Yoda rock painting craft recently so we made these fun rocks to put in our yard. So cute, you can't help but say "This is the way."
Baby Yoda Rock Painting Craft
Here at Ruffles and Rain Boots, we often find ourselves looking for a fun craft to kill some time or just work together on a task. I'm not saying we're always on the hunt for a craft, but at least once a day, the kiddo is coming up with something to make or do together. During the week, we were talking about how we used to paint rocks all the time and the kiddo asked if we could make a more "grown up" rock painting craft – then promptly asked if we could make the new rocks Baby Yoda themed. Ha!
RELATED READING: HARRY POTTER ROCK PAINTING CRAFT
So, now that we know for sure that my kid thinks that Baby Yoda is a grown-up thing and not a kid thing, we set to sketching and finding some rocks for a pallet. The resulting Baby Yoda painted rocks are so fun, they're definitely out of this galaxy. If you're ready to make a fun Baby Yoda rock painting craft, let's get started.
No Time to Make This Now? Pin it for Later
You're busy, I get it. Pin this to your favorite easy rock painting ideas board on Pinterest and it'll be here for when you're ready.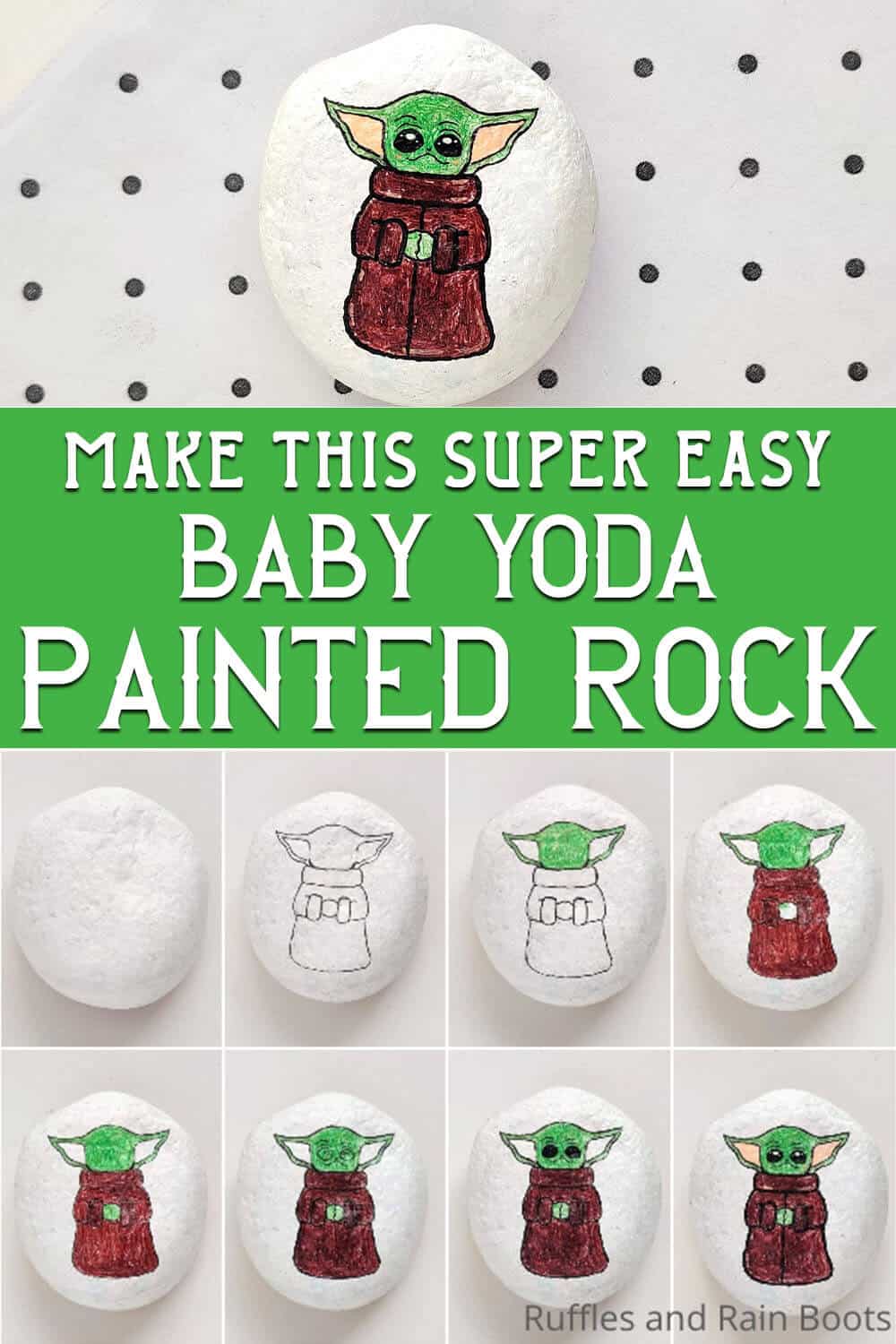 As an Amazon Associate, I can earn from qualifying purchases.
Tips to Make Baby Yoda Painted ROcks
I've taken to sketching our rocks on paper first, tracing our chosen stones onto the paper then sketching our design there. Once I've got a good idea of what we're planning to do, the kiddo and I like to transfer the paper sketch to the rock. This doesn't always work, because of the lumps and shape of the rock or the surface. But we try and that helps a lot with the designs.
To help you make your painted rock Baby Yoda, you can use the template here. That might help with your sketching, but don't feel constrained. Seriously, don't attempt to force your Baby Yoda painted rocks to look exactly like mine. Each Baby Yoda rock painting experience is unique because the rocks are different and all that. Just have fun and, if you're making these Baby Yoda rocks with your kids, just walk them through it. Allowing someone to be creative is a kindness that is going to let them grow.
If your kids are all about making these Baby Yoda kindness stones but seem reluctant to leave them in the yard (mine was kind of reluctant), you might invite them to paint a set of Baby Yoda stones to keep for themselves and a set to give as a gift. It's easy enough to work on the project just a few minutes longer to be have the chance to tell a friend (or stranger) that you value them through the gift of a painted rock.
How Do I Make this Baby Yoda Rock Painting Craft?
I'm so glad you asked. Below is our written tutorial.
More Rock Painting Tutorials You Might Like
Please Save This to Pinterest
Your shares are how this site grows and I am sincerely grateful. Know a friend who'd like this? Please share it on Facebook or save it to your favorite kids crafts board on Pinterest.