Three Easy Fox Rock Painting Ideas for Beginners
Learn how to draw and paint three fox rock painting ideas for hiding, sharing, kindness rock drives, or decorating. All three were prepped and painted on a hot summer day, which helped my paint to dry faster.
Below is a step by step video rock painting tutorial because it's easier to learn to draw when you can follow along. And because I love easy, each of these are easy rock painting ideas you can do in just minutes. 
Three Quick Fox Rock Painting Ideas
Here at Ruffles and Rain Boots, I love to share quick rock painting ideas we can all do together. These three rocks were sketched, drawn, and painted in between backyard pool sessions in about 20 minutes. They would make perfect rock painting ideas for hiding because they are a very easy set of rocks to paint and will appeal to all ages.
In the tutorial below, I share how to sketch and paint each of three fox rock painting designs:
sitting fox rock with cute sleepy eyes,
sleeping fox rock tucked into his tail, and
a peek-a-boo fox in a birch tree scene with open, curious eyes.
Let's get started with these fun painted stones!
If you're stuck at work or waiting to find the perfect rock, save this to a rock painting pin board or share it with a rock painting group on Facebook. Either will make it easy to find when you're ready to begin.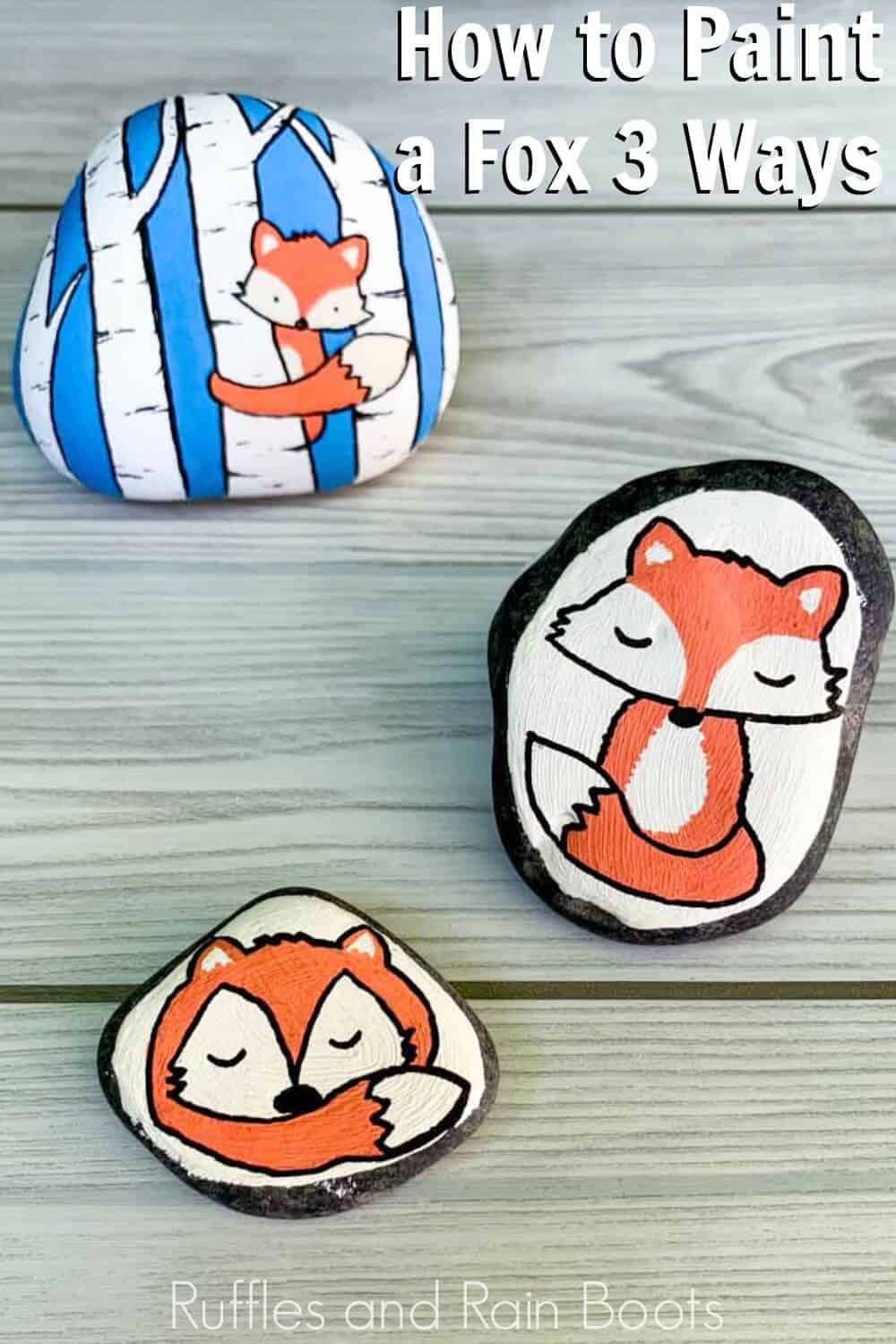 As an Amazon Associate, I could earn from qualifying purchases. There could be affiliate links within this article.
Key Supplies for These Fox Rock Paintings
If you're new to rock painting, let me spare you a lot of pain: not all supplies are created equally. If you're not new to rock painting, let me know your favorite rock painting supply in the comments. I'm always on the lookout for new ones to try.
For the base layer, do not use a watery cream paint. I used this thick cream paint (it is designed to be chunky) so that I could get the pretty cool wood grain look with just a foam brush. It's one of my favorite paints of all time, across all my DIY projects. 
My secret weapon is these paint pens because they are inexpensive and last a long time.
I recommend letting these rocks dry completely – I let my rocks cure at least 24 hours before sealing, especially when I use pens. If you're looking for a sealant, try this inexpensive one I use a lot or my favorite spray sealant – it's my favorite, but not the least expensive option. 
Fox Rock Painting Tutorial (Video)
Friends, normally I would take screenshots of the video I made for you but it's summer and well, I'd rather be in the pool. Below, please find the full-length video from my YouTube channel. If you want to follow along with the fun, subscribe to the Ruffles and Rain Boots channel here. 
Gather What You Need:
rocks (one small, one medium, one large)
parchment paint (thick) and foam brush
paint pens or paint and paintbrush (orange, white, black, blue)
pencil
sealant
More Painted Rock Ideas You Might Like 
If you love rock painting as much as I do, check out some of my other fun ideas for kindness rocks or rocks to hide. 
Your shares are how this site grows and I am sincerely grateful. Please share this in your favorite rock painting group on Facebook or save it to a an easy crafts pin board.