This Unicorn Cupcake Recipe is JAW-DROPPING!
If you're looking for a delicious treat, this unicorn cupcake is just the magic that your taste buds need. Sweet and adorable, you'll love each and every bite. Let's get started on this recipe together.
A Unicorn Cupcake That is Truly WOW Worthy!
Our unicorn cupcake is jaw-dropping, friends. From the adorable little horn and ears to the fun sprinkles, we really liked creating this fun unicorn treat. Here at Ruffles and Rain Boots, we love to share unicorn food, crafts, and printables.
We came up with a cupcake that will look like you spent hours pouring over but is so easy to make. You can enlist the help of the kids with this one, too.
RELATED READING: Paper Unicorn Wreath with Flowers – A Wow-Worthy Craft!
Can't Make This Now? Pin It for Later
Even if you can't make this unicorn cupcakes right now, it's perfect for a unicorn birthday. Save it to your favorite unicorn party board on Pinterest.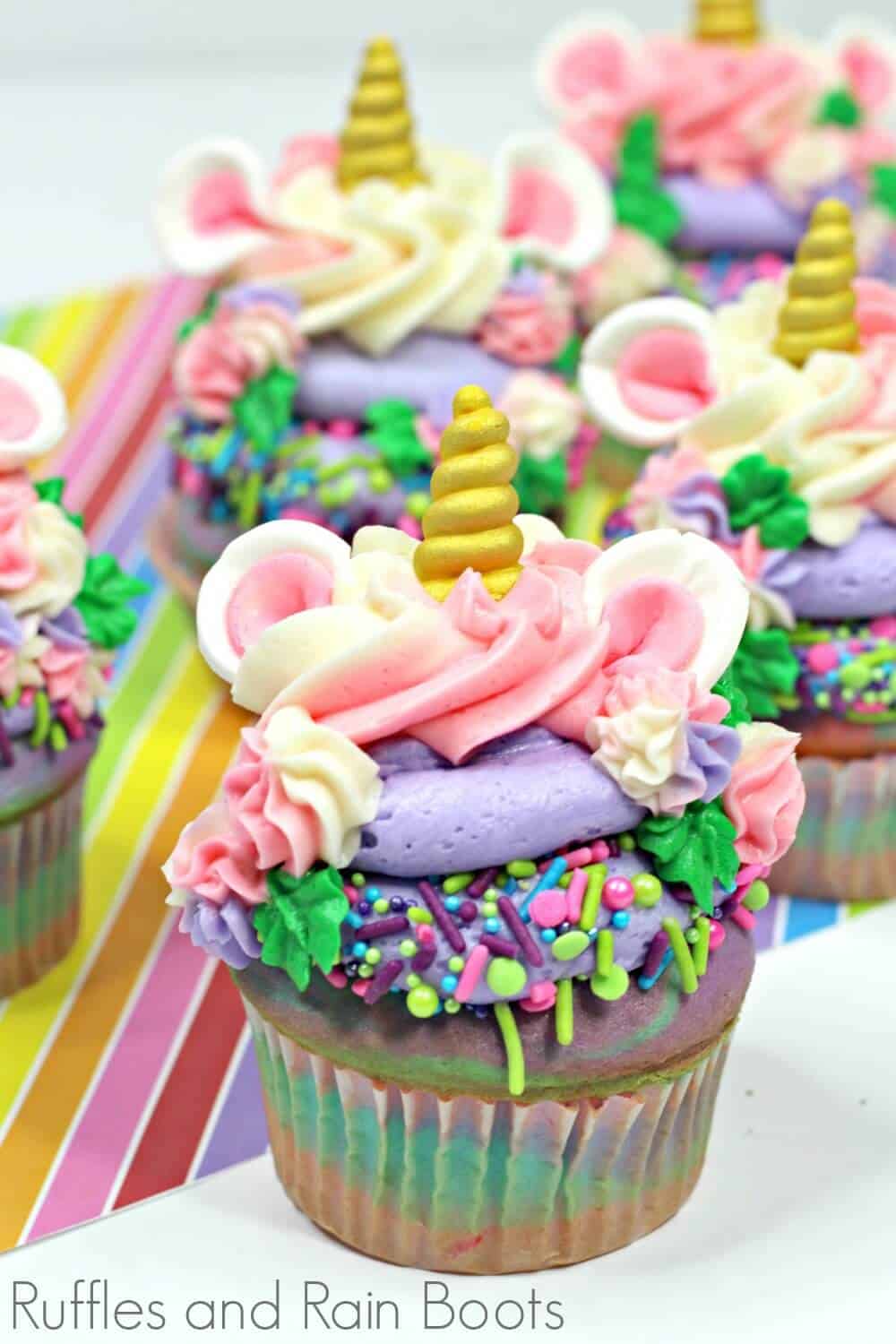 Tips for Making Unicorn Cupcakes
If you know a unicorn lover, this is the perfect recipe for them, right!? Here are a few things I learned while making them:
Each one should be a little different – don't go crazy trying to make them exactly the same
If you have time, prep the horns and ears the day before. It makes the process go faster.
Check Amazon for fun party sprinkles – it's where we get most of ours!
How to Make this Unicorn Cupcake
Below is the written and printable tutorial for this fun cupcake decorating idea. Use the comments section below if you have any questions.
More Unicorn Fun
Please Save This to Pinterest
Your shares are how this site grows and I am sincerely grateful.