Get this Sunflower SVG Set for All the Most Fun Summer Crafts!
I'm seriously in need of a sunflower-intervention. I'm making all sorts of fun sunflower crafts with this awesome sunflower SVG set and now I'm ready to share!
Sunflower SVG File SEt
Here at Ruffles and Rain Boots, we are all about sunflowers lately. I mean, summer things just in general. I don't know if it's the weather or the bright sunshine, but I'm just really wanting to bring that feeling indoors. So, of course I decided to bring some beautiful sunflowers into my digital crafting.
RELATED READING: 100+ CRICUT PROJECTS TO SELL
I love the way they turned out and there are so many fun variations! I tried to group them in the best ways possible–so you can find what you're looking for fast. If you're ready to grab these sunflower cut files, let's get started.
Get Exclusive Free SVGs, Discounts, and More!
I'm giving away free SVG files to help you create for friends, family, and your home. Get all of these (and more) along with the weekly newsletter.
How Do I Download These Sunflower SVG Files?
I'm so glad you asked!
Just scroll down and you'll see all of the sets I put together linked to our shop. While you're visiting the store, be sure to check out all of the fun free and exclusive cut files created by Ruffles and Rain Boots. There's a little bit of everything from peaches to flamingos and everything in between–and if we don't have it, you can bet it'll be coming soon, so be sure to take a moment and bookmark the shop, so you can come back to it!
All I ask is  that you share this page to Pinterest – maybe on a Cricut or Silhouette board. Your shares are how this site grows and I am sincerely grateful. 
As an Amazon Associate, I can earn from qualifying purchases.
How to Use this Set of Sunflower Cut Files for Cricut
If you do one thing with these sunflower SVGs, you've got to think about making some extra large canvas bags like these. There's nothing more fun than having a great big bag for grocery shopping that's all yours!
With all the extra walking we've been doing, the kiddo has asked for a couple new hats (apparently she would like "more than 6" but we'll see if she gets 3 or 4 maybe, depending on how many I want to make!). So we're going to make a fun sunflower hat using one of these cotton hats and her favorite of the sunflower cut files!
I am definitely making a new set of tea towels like these for summer–with the whole set of mixed sunflowers I have here. They're just too cute not to enjoy on a daily basis like that. Or maybe some infusible ink on a beach towel or two would be cute for a picnic? The possibilities are endless.
Get the Sunflower Monogram SVG Bundle Here
Click here to get the sunflower monogram SVG bundle for Cricut or Silhouette! Basically the cutest way to add your name to your summer crafts!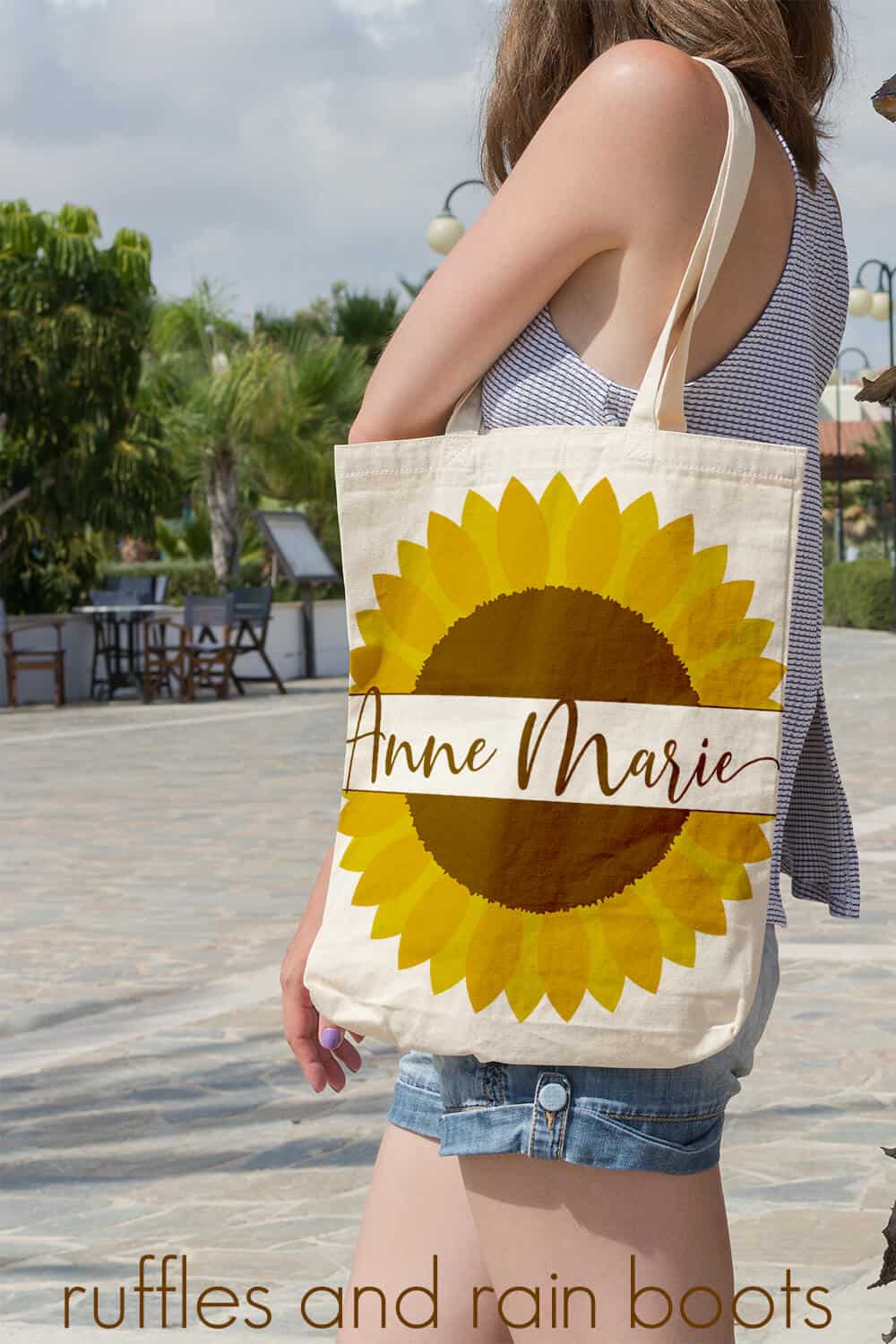 Get the Sunflower SVG Home Series Here
Click here to get the sunflower home series SVG for Cricut or Silhouette! I can't wait to get a housewarming gift made for a friend with this beautiful home series.
Get the Mixed Sunflower SVG Set Here
Click here to get the mixed sunflower SVG set for Cricut or Silhouette! This is the set that inspired all the rest–super cute, easy to weed and the most basic sunflower clipart set you'll ever need!
Get the Sunflower Sayings SVG Set Here
Click here to get the sunflower sayings SVG set for Cricut or Silhouette! I have a special sweet spot for this awesome and cute duo of sayings (they are about to each have a place in my home!).
Creativity, Delivered
Sign up for the once-weekly Ruffles and Rain Boots newsletter and you'll get everything – inspiration, notification of new SVG designs and more!
More Cricut And Silhouette…
Please Save This to Pinterest
Your shares are how this site grows and I am sincerely grateful. Know a friend who'd like this? Please share it on Facebook or save it to your favorite DIY ideas board on Pinterest.