St Patrick's Day Free SVG Files – So Many Designs
You won't get pinched if you have any of these free St Patrick's Day SVG files in your craft stash. From bold to elegant, download one or all of them.
Each design comes with a free commercial use file and four formats, so you can use these free SVG designs for Cricut, Silhouette, Brother, and other cutting machines. Let me know which one is your favorite.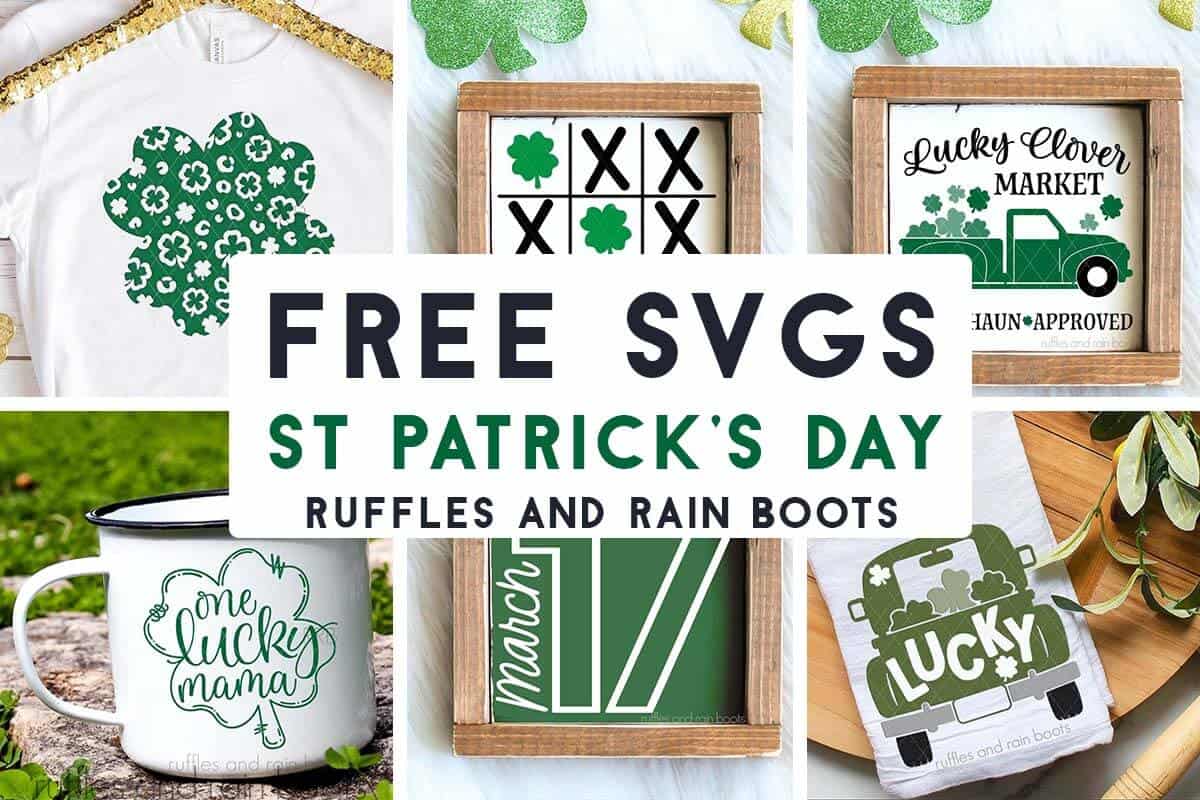 RELATED READING: St Patrick's Day SVG Files for Cricut
St Patrick's Day SVG Free Files for Cricut and Silhouette
Here at Ruffles and Rain Boots, the craft room is coming together in the new house and I'm SO excited. We have the storage on either side set up, my L-shaped desks, and some new additions that I can't wait to share.
Get Exclusive Free SVGs, Discounts, and More!
I'm giving away free SVG files to help you create for friends, family, and your home. Get all of these (and more) along with the weekly newsletter.
But with family visiting, I am working on a LOT of designing lately. My poor Apple pencil hasn't been put down all week – so much sketching! And that's good, friends, because these free cut files for St Patrick's Day are going to make quick work of your holiday crafts, decor, and gifts.
RELATED READING: Free Water Bottle SVG Bundle for Crafts, Gifts, and Laughs
Please Save or Share This Free SVG Resource
Your shares are how this site grows and I am sincerely grateful. Use the sharing buttons to save this to a free Cricut SVG pin board or share it with a crafty group on Facebook.
As an Amazon Associate, I could earn from qualifying purchases. There could be affiliate links within this article.
RELATED READING: Free Mermaid SVG Files for Crafts and Gifts
How to Download These Free St Patrick's Day Cut Files
Go to each link below and add it to your cart. Remember, all of these free SVG files come with a commercial use license. Add it to your cart and checkout with a zero balance. If you want to browse and add anything to your cart, here is a 30% off coupon for any SVG or sublimation single file or bundle: BecauseWhyNot
In fact, why not use it on this gorgeous St Patrick's Day leopard heart SVG? Isn't she lovely?
Note: even if you have the free version of Silhouette studio, you can use these files without a converter (use the DXF). That said, DXF is old technology and will be very slow cuts, so SVG is recommended.
These free design files are in a zip file. Most of the time, you will need to double click the file to open it. If that doesn't work, use a search engine and type, how to open a zip file on [your device].
RELATED READING: Free Heart SVG Files for Cricut and Silhouette
Free Lucky SVG with Farm Truck Tailgate
This lucky truck SVG for St Patrick's day is a fun design for a shelf sitter or accent piece like a dish towel. Because it's a cutout design, it's a relatively quick Cricut craft idea, too.
Free Love Shamrock SVG
The bold styling of this shamrock love SVG for Cricut and Silhouette makes it a) a quick holiday craft and b) nice for those who want to use up scraps. Tell me it's not just me who always saves every piece for vinyl scrap projects?!
Shamrock Market Truck SVG (Free)
This farm truck SVG for St Patrick's Day is a really fun way to use up some of those square or rectangle wood signs you have on hand. I always have an entire tote of these things and like to paint them white right when I get them home so they're ready for me to use.
Free Lucky Mama SVG – Includes Mom Version
If you want to get a little festive but want an elegant design, this free lucky mama SVG design is perfect. For an easy Cricut shirt idea to avoid pinches, this would look amazing in a metallic HTV on a green shirt or the reverse.
March 17 Cut File Design for Decor
Another great design for decor is this March 17 SVG free design in a bold style. Even if you have a small space (like a tiered tray sign), this will stand out.
Free Leopard Shamrock SVG
Isn't this so cute? This free leopard shamrock SVG is really easy to weed because most of the design is actually the transfer!
Shamrock Tic Tac Toe SVG Free Design
A design that everyone loves is this Tic Tac Toe SVG for St Patrick's Day. Again, use up those scraps and make a quick Cricut craft to satisfy your creative bug.
More Free SVG Designs You Might Like