Free Mermaid SVG Files, Fonts, and Graphics for Crafts and Gifts
These free mermaid SVG files, fonts, and graphics are great for crafts, DIY projects, invitations, cards, and so much more. They're perfect for Cricut, Silhouette, and any free program – click through to get your free mermaid graphics.
There are affiliate links in this article which means, at no additional cost to you, we could receive compensation for our recommendations. You can read our full disclosure policy.
Free Mermaid SVG and Cut Files for Cricut and More
I've included a wide array of fonts, SVG cut files and more to get your free mermaid crafting going. Some are commercial and some are personal. Be sure to check the licensing if you are making something for sale (I put the commercial license link next to it for you).
In addition to these free mermaid SVG files, we have also shared the following:
Get Exclusive Free SVGs, Discounts, and More!
I'm giving away free SVG files to help you create for friends, family, and your home. Get all of these (and more) along with the weekly newsletter.
Mermaid SVG Files on Ruffles and Rain Boots
I love to create cut files for myself and friends which is why I began sharing them here on Ruffles and Rain Boots. Below are some of the files I've made available to everyone. Take a look and download what you need!
What You'll Find On This Page
Mermaid SVG Free Bundle
This entire six mermaid SVB set bundle is entirely free! I created it with hand drawn elements like the mermaid tail, fun accents like bubbles and starfish, and easy to weed lettering in case the kids want to join in on the Cricut or Silhouette fun.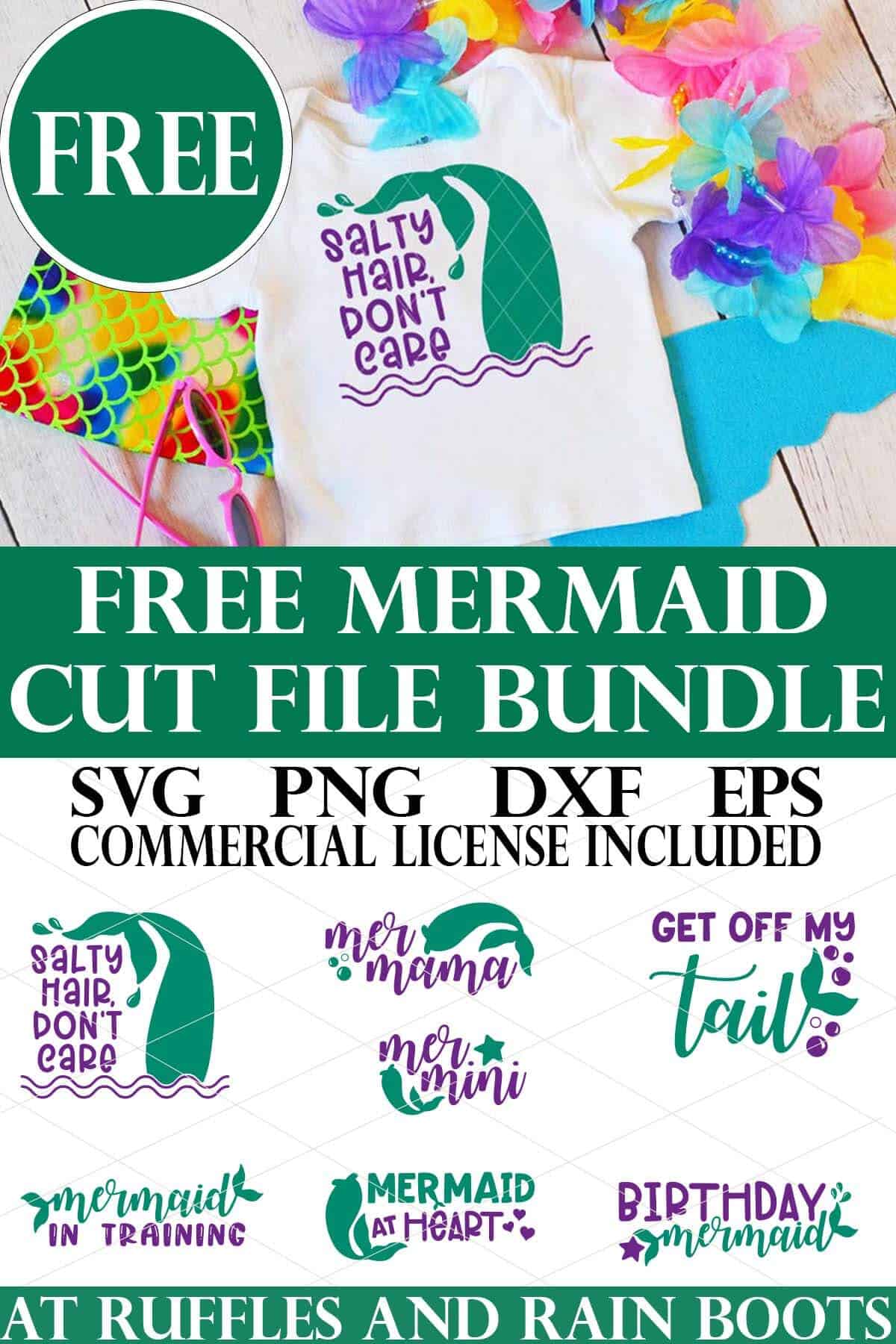 Free Salty Vibes Mermaid SVG
Using a simple and playful tail as part of the design, you can read this as Salt Vibes or Salty Vibes (the choice is up to the reader)! Either way, click here to grab your own salty vibes mermaid SVG.
Free Mermaid Squad SVG
A fun and playful style and a free shell make up this free mermaid squad SVG. You can see how we used it and download for your own crafts.
Free Dream Big, Little Mermaid Cut File Set
The sweetest little jellyfish accents this dream big, little mermaid SVG set. The Kawaii-style jelly is my daughter's favorite part of this simple, inspiring mermaid design.
Be a Mermaid in a Sea of Fish Design
If you want something different, this be a mermaid in a sea of fish SVG set has a cute little starfish. You can even add a face to it, depending on the age of the recipient.
I have more, but let's get to some around the web…
How to Download These Free Offsite Mermaid Graphics…
Below begins the curated collection of free mermaid SVGs. You must click through each item to get them as I cannot host other people's creations on my site or in my shop.
In order to download, click on the link (underlined in blue) and follow the download instructions. I have tried to group them by image but friends, click through to find so much more.
Mermaid Cut Files – Shapes, Silhouettes, Extras
Every crafter needs a few basics to keep on hand. Mermaids have a couple of distinctive features, so snag these free mermaid cut files while you can!
Mermaid Fonts
Mermaid SVG Sayings and Text (SVG, DXF, PNG, EPS…)
I'll be updating these free mermaid clipart and cut files as I come across them. Be sure to pin this to your crafting board on Pinterest to make it easy to check back.
Low-Priced SVG and Mermaid Cut Files
Sometimes to make the perfect project, you need the perfect cut files. I've included a few I've purchased below. They're all very inexpensive and can be used many times – because I'm frugal with my crafting. :)
Low-Priced Mermaid Clipart
Please Subscribe to Get Updates or Save to Pinterest
You can subscribe to our once-weekly email newsletter here to get updates on all of our digital crafting collections.