Free Funny Water Bottle SVG Bundle
Use these free funny water bottle SVG files for Cricut and Silhouette for quick project ideas. these tumblers will have everyone laughing (and will keep quite a few motivated).
Included in the bundle, are six designs that are sarcastic, snarky, or just plain funny. All come with a commercial license to make items for yourself, friends, family, or even for your small business.
RELATED READING: The Best Workout SVG Files for Cricut and Silhouette
Free Sarcastic Water Bottle SVG Free Bundle
Here at Ruffles and Rain Boots, I'm kicking off the new year with a bit of a plan: create more water bottles. Did you think I was going to say drink more water? Of course you're right, but as a crafter, I need to make it fun (and use up this insane amount of craft supplies I hoard).
Get Exclusive Free SVGs, Discounts, and More!
I'm giving away free SVG files to help you create for friends, family, and your home. Get all of these (and more) along with the weekly newsletter.
This week, I got in some tumblers in so it was time to set to work designing. I was feeling a bit snarky today and created these six free SVG files for water bottles that will hopefully make you laugh.
I'll tell you about each one included in the free bundle, but first…
Please Save or Share This Free Set of SVG Files for Cricut and Silhouette
Your shares are how this site grows and I am sincerely grateful. Use the sharing buttons to save this to a DIY Cricut pin board or share it with a crafty group on Facebook.
As an Amazon Associates, I could earn from qualifying purchases. There could be affiliate links within this article.
RELATED READING: Hundreds of Free SVGs from Ruffles and Rain Boots
This Is Probably Not Water
When I made This is Probably Not Water SVG, I laughed and laughed. I mean, it's funny even if it IS water! This design works best horizontally, however, you can turn and rearrange it if you want to fit it onto a skinny tumbler.
Savage Not Average SVG
If you need to pump yourself up to head to the gym or get through the last 5 minutes of a run, I've got you. This Savage Not Average cut file for Cricut and Silhouette is a modern design with typography stealing the show.
Tears of My Haters SVG Free Design
When you're on top, you need motivation to stay there. Stick this tears of my haters SVG onto a water bottle and continue to dominate.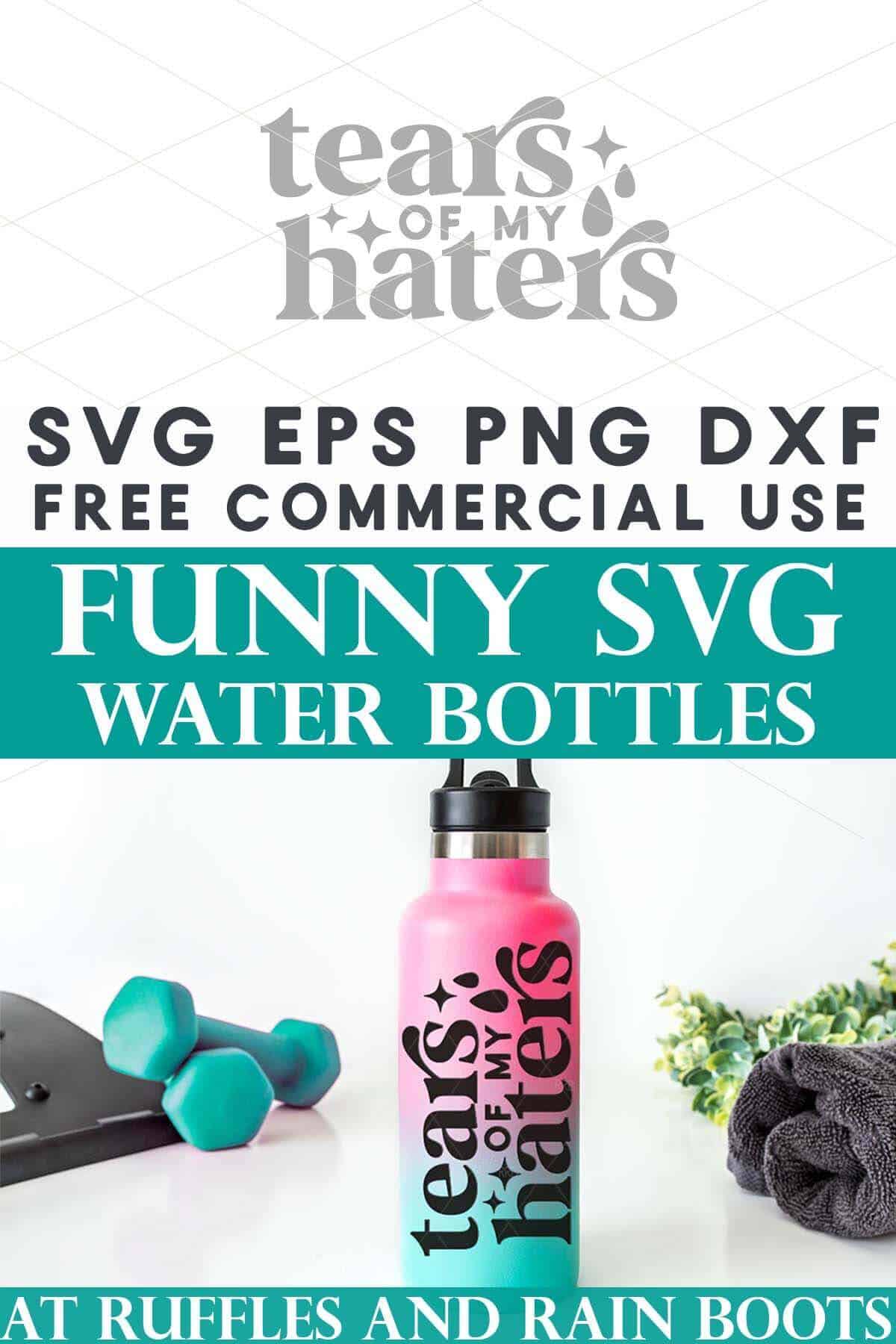 Might Be Water (Probably Vodka) SVG
I can't be the only college student who put vodka in a water bottle and brought it to football games, so… yeah. No one will guess what's really in a tumbler with this Might Be Water Probably Vodka design.
Wish This Was Coffee SVG
Those 5 am gym sessions come early. This Wish This Was Coffee SVG might conjure the memory of that smell to give you enough gusto to get going.
I Like My Water Cold (Like My Heart) Cut File Set
Sometimes a design comes along and just says all that needs to be said. If you can take the glares, this I Like My Water Cold SVG is for you.
How to Use These Designs
Included in the free SVG bundle for water bottles are four file types: SVG, EPS, PNG, and DXF and can be used with all cutting machines. Nearly 100% of the time, the SVG is going to be the best file type to use in most software such as Cricut Design Space or Silhouette's design program.
If you are using the basic version of Silhouette, however, you will use the DXF. One note about these cut files: they are OLD technology and they will cut slowly. Consider using software which allows the use of SVG files, such as Silhouette business edition.
How to Download This Free Water Bottle Design Bundle
The download will include the file types mentioned below and a personal and commercial use license. Please note that these files may not be uploaded as-is to any print on demand (POD) platforms, such as Amazon Merch, Redbubble, Spring, and others.
Download the free water bottle SVG bundle and unzip to use any of the free cut files in your Cricut, Silhouette, and laser creations. I would love to see what you make, so tag me Ruffles and Rain Boots or upload your creations to the Facebook group.