The Spookiest No-Sew Ghost Gnome Pattern You Can Make in Minutes!
I've been working behind the scenes to make the spookiest no-sew ghost gnome pattern for halloween this year. It's fun, fast, and so boo-tiful!
No-Sew Ghost Gnome Pattern
Here at Ruffles and Rain Boots, we have been hard at work stepping-up our halloween gnome game this year. Working on spooky, fun and fantastic DIY tomte that are so over the top cool was the goal. One of my proudest accomplishments so far is so simple, it's crazy. This adorable no-sew ghost gnome.
RELATED READING: NO SEW WITCH GNOME PATTERN
No way could I go for a minute longer without sharing this obnoxiously cute trick-or-treat gnome. He's just so perfect and even better than I imagined. If you're ready to make this insanely easy gnome, let's get started.
Get Secret Gnomes, Tips, & Freebies Delivered!
What is the best pattern to use when you don't want to sew? Do you know the secrets to a properly-proportioned gnome? Do you know where to get the best-priced fur?
Get all of this (and exclusive content just for you) delivered right to your inbox with the gnome-making series, free of charge. Sign up to get the once-weekly newsletter (and a jaw-dropping special offer)!
No Time to Make This Now? Pin it for Later
You're busy, I get it. Pin this to your favorite DIY gnome patterns board on Pinterest and it'll be here for when you're ready.
As an Amazon Associate, I can earn from qualifying purchases.
Tips to Make This No-Sew Gnome Ghost
Start by grabbing the no-sew ghost gnome pattern here (which is bundled with the mummy gnome…eep!). Or, if you want to cut the fabric pieces using your Cricut, you can grab the no-sew ghost gnome pattern and SVG set here. Either works, it's just the difference of being able to use your cutting machine to make your cuts or scissors.
Find about 1/3 of a yard of nice, thick fleece fabric. Trust me. You want something that's going to have body, that won't be see-through and has a little stretch. Plus, making this a no-sew pattern is pretty easy to do when you're using a fabric that won't fray.
This no-sew gnome pattern is based on a 7-inch styrofoam cone as the base. Cones are so fun to make gnomes based on. It's like a perfectly sized pre-filled body shape you can just wrap and decorate!
This is such an easy and fun gnome pattern, you're going to feel like "that's it?!" But it is. And it's that fast. I love it.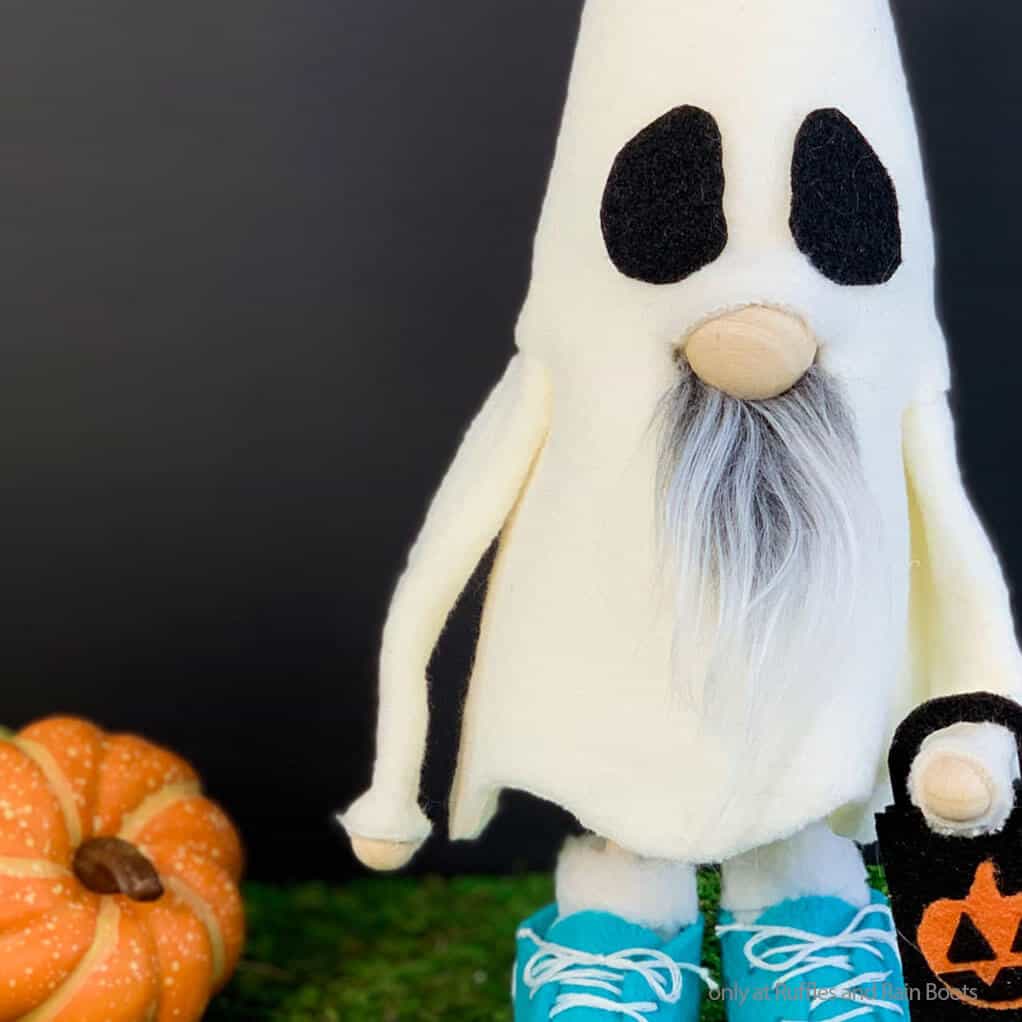 Get the Gnome Pattern
Click below to add this fun pattern to your cart. So many gnomes can be made with this!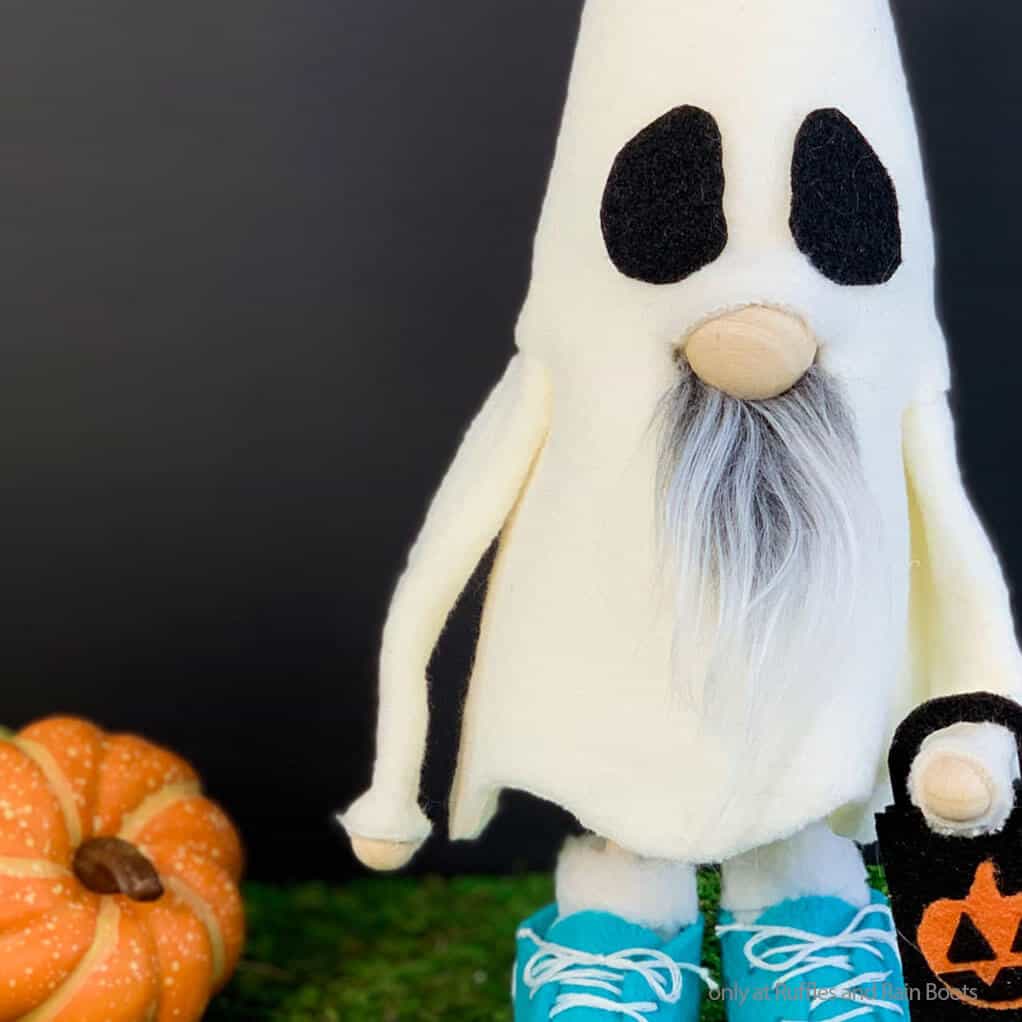 How Do I Make this No-Sew Ghost Gnome Pattern?
I'm so glad you asked. Below is our written tutorial. If you're making a how to make gnomes playlist on YouTube, here is our ghost gnome video tutorial.
More Halloween Gnome Tutorials You Might Like
Pirate Gnome – There's nothing like having a peg-leg pirate with a tricone hat and a hook. All I can say is "winner of the gnome halloween costume party."
Halloween Gnome Garland – All the fun little halloween monsters all in one place, literally hanging out and having a great and spooky time.
EEK! and BOO! Sock Gnome Duo – One of my favorite all-time halloween gnomes because they're quick, fun and really adorable! Plus there is a free SVG set. Eek!
Please Save This to Pinterest
Your shares are how this site grows and I am sincerely grateful. Know a friend who'd like this? Please share it on Facebook or save it to your favorite halloween DIY ideas board on Pinterest.