Make Waves with these Moana Cupcakes for an Easy Moana Party Treat!
I love how easy these cute Moana cupcakes came together! Perfect for a simple afternoon treat or a Moana party table!
What You'll Find On This Page
Moana Cupcakes
Here at Ruffles and Rain Boots, we adore Moana and Maui. I mean, a little less Maui, because, you know, he's a trickster and that leads to centuries of problems for the people of Motunui. But you know, he's still loveable, right?
RELATED READING: PARTY CUPCAKES FOR EVERY OCCASION!
So, of course we mad fun Moana cupcakes featuring both the Heart of Te Fiti and Maui's hook. I mean, what other pairing is more perfect?! LOL! If you're ready to get these cupcakes out of the oven and onto your table, let's get started.
Get Cupcake Recipes, Freebies, and More!
No Time to Make This Now? Pin it for Later
You're busy, I get it. Pin this to your favorite Moana party ideas board on Pinterest and it'll be here for when you're ready.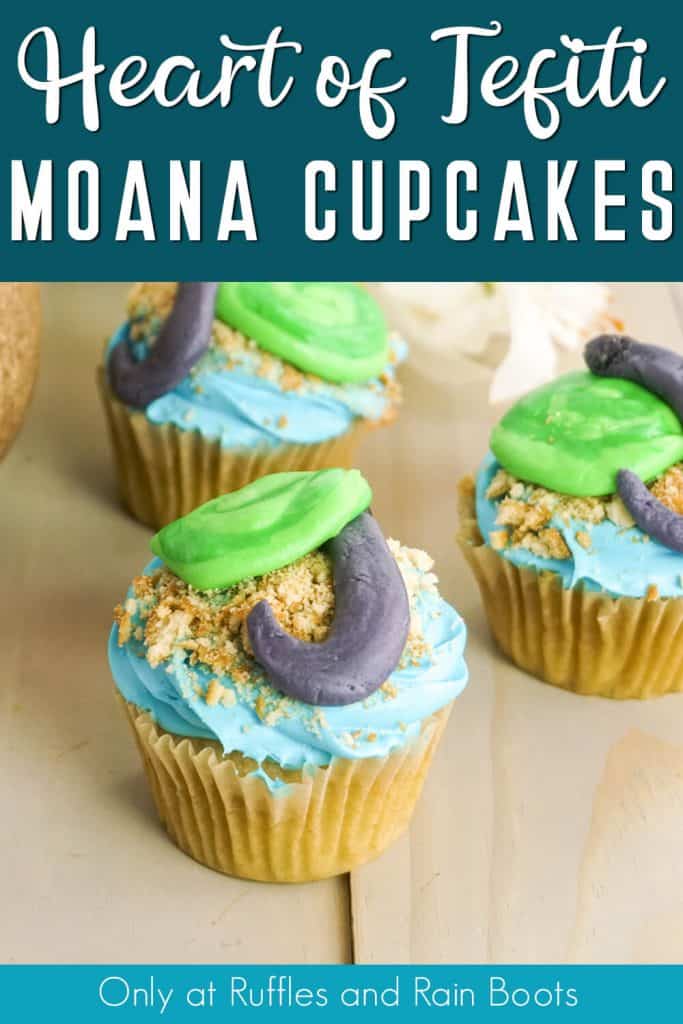 Tips to Make this Moana Party Food
When making your Heart of Te Fiti for each of the cupcake toppers, be sure to smooth over the exterior. It won't look much like the heart if it's lumpy.
To make these easy Moana cakes, I started with my favorite Lazy Girl cupcake recipe. It's a fun no-fail cupcake recipe anyone can make as long as you follow the recipe!
Don't frost your cupcakes until the cupcakes have cooled completely. Then you'll just have icky melted mess instead of cute iced cupcakes.
Tips for a Fun Disney Moana Party
You could easily call these Maui cupcakes and serve them for a Maui Party, instead of a Moana party. Don't feel constrained, seriously. They're such easy cupcakes, there's no reason not to make them.
If you need an amazingly cute idea for Moana party favors, check out these adorable crowns I found! So sweet.
Need more Moana party supplies? Oh, then you have to check out these adorable necklaces from View from a Step Stool. We made them once during a playdate and the kids loved them. So cute!
Oh! And definitely check out these beautiful Moana paper lanterns you can make for your Moana party table!
How to Make Moana Cupcakes for a Fun Party Treat
I'm so glad you asked. BelowBelow is the written and printable tutorial for this fun cupcake decorating idea. Use the comments section below if you have any questions.

More Moana Birthday Party Ideas You Might Like
Moana Bath Bombs - You definitely have to make these easy bath bombs for a fun party favor!
Moana Family Movie Night - Not wanting to do a whole party? But you still need a fun movie night idea? Oh, I've got the ideas, if you've got the time.
Moana Party Printable Popcorn Boxes - I always make popcorn for parties, there's no reason not to--and having special popcorn boxes, well, that's too fun.
Please Save This to Pinterest
Your shares are how this site grows and I am sincerely grateful. Know a friend who'd like this? Please share it on Facebook or save it to your favorite Disney princess cupcakes board on Pinterest.