DIY Halloween Witch Gnomes for Easy Decor
Today I'm using up some craft room staples to make these easy Halloween witch gnomes. They're quick and fun to make and perfect to tuck into any spot that needs a little spookifying.
These mini witch gnomes are perfect for tiered trays, dough bowls, and even placed alongside existing Halloween displays. You will need fur, felt, a glue gun, and some scissors to get started.
RELATED READING: Halloween Gnomes You Will LOVE
Halloween Witch Gnomes
Here at Ruffles and Rain Boots, I'm almost finished setting up my craft room after moving from Seattle, Washington to Austin, Texas. It's been… a challenge. Going from a much larger space, I've had to spend quite a bit of time figuring out where to put my craft-store-sized stash.
Get Secret Gnomes, Tips, & Freebies Delivered!
What is the best pattern to use when you don't want to sew? Do you know the secrets to a properly-proportioned gnome? Do you know where to get the best-priced fur?
Get all of this (and exclusive content just for you) delivered right to your inbox with the gnome-making series, free of charge. Sign up to get the once-weekly newsletter (and a jaw-dropping special offer)!
This week, I tackled small wood item storage, including wooden beads, wood balls, split rounds, and well, everything you can think of that is small and made of wood. Let me just share – it's a LOT over here.
But when I pulled out the split eggs and the miniature wood cone, I knew instantly what I needed to make today to bolster my Halloween home decor. Paired with a bit of felt and fur, these cuties were made in about 30 minutes.
No Time to Make These Now? Save or Share for Later
If you need to raid your craft stash or head to the store for some supplies, save this to a DIY Halloween pin board or share it on Facebook. Either really helps this site and it will make it easier to find when you're ready to begin.
As an Amazon Associate, I could earn from qualifying purchases. There could be affiliate links within this article.
Tips for Making These Adorable Witch Gnomes
Make the hanging gnome for a doorknob or cabinet pull like I did or put it as the centerpiece in a fun and festive Halloween wreath. You can use these in any of your Halloween decorations – just tuck them in into tiered trays, dough bowls, and in between your pumpkins.
If you're having a Halloween party, add these little gnomes along the dessert table display or to gift bags.
To make a witch gnome hat, it's all about proportions. Use the brim of hat to determine the height of the cone portion and you will always have a perfectly-proportioned witch hat.
Watch the gnome video tutorial if you want to use scraps of faux fur and learn how to piece them together. It's an easy process and it really helps to stretch the most expensive craft item we use when making gnomes.
For the gnome nose, use what you have on hand. I often use up scraps of polymer clay and roll it into balls or just use wooden beads or balls for the noses. For the larger hanging witch, however, I chose a split miniature Easter egg I picked up on Amazon here. It looks so cool!
If you don't have wooden cones for the mini gnome body like I used, no problem. Pick up the 4 inch mini paper maché cones and craft with those, instead, or make your own cone from a sturdy paper or poster board.
I use a detailed tip hot glue gun for this project (and so many others). While you don't need it for most gnome crafts, I do recommend it for anything small-scale like this.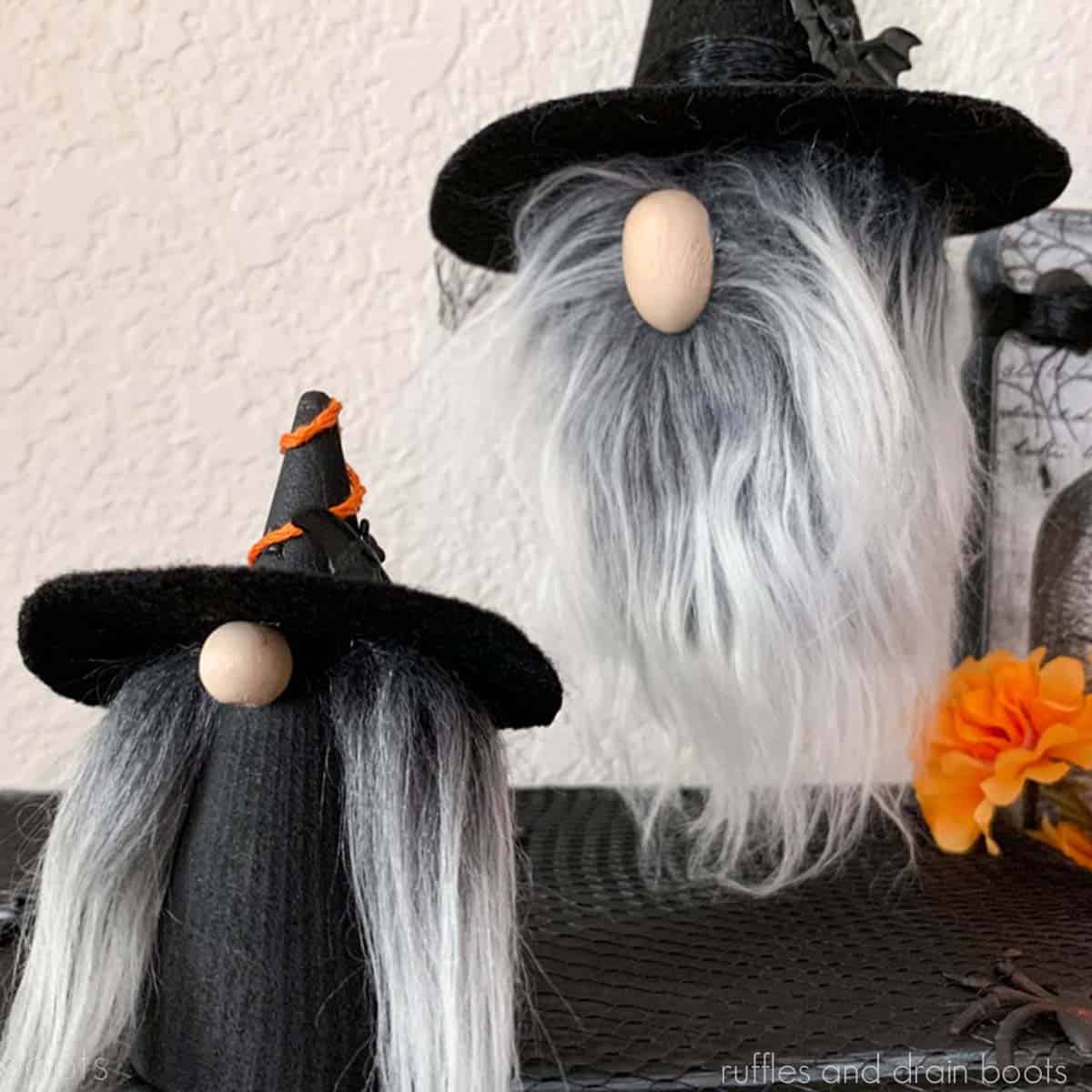 RELATED READING: DIY Christmas Gnome Crafts You Should Make This Year
How to Make a Set of Mini Witch Gnomes
Below is the written and printable tutorial I put together. If you're a visual learner like I am, watch the quick mini Halloween gnomes video tutorial here on YouTube.
Be sure to use the comments section here or on YouTube for any questions. I also am really involved in the free Facebook group here (it's such a kind and welcoming place).
More Halloween Gnome Crafts You Might Like
DIY Witch Gnome – This fun little gal is a standing gnome with arms and legs and can be sewn or hot glued.
Mummy Gnome for Halloween – Oh. My. Word. This is one of my favorite gnome crafts of all time because he's so much fun to make!
Hocus Pocus Gnomes – Grab a few fun socks and get to work making these Sanderson Sisters gnomes inspired by one of my favorite movies.
Please Save or Share This
Your shares are how this site grows and I am sincerely grateful. Please save this DIY Halloween gnome craft to a Halloween pin board or share it with a craft group on Facebook.