Mickey Mouse Slime Craft for Kids
This Mickey Mouse slime craft for kids has easy to find ingredients, is a snap to make, and is even easy to clean up! Let's get started.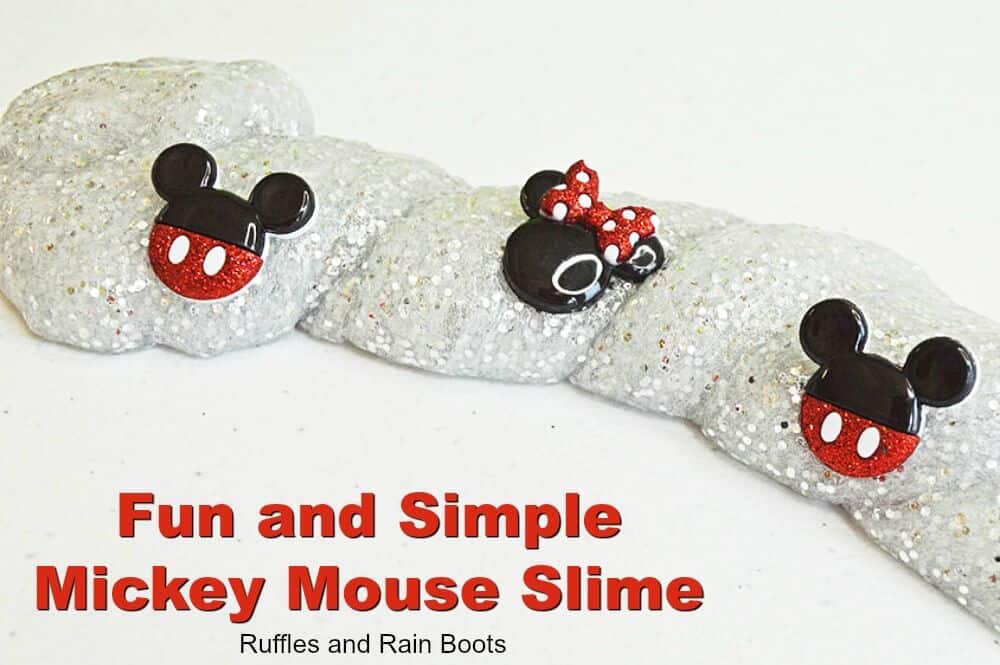 There are affiliate links in this article which means, at no additional cost to you, we could receive compensation for our recommendations. You can read our full disclosure policy.
What You'll Find On This Page
Mickey Mouse Crafts
Mickey Mouse is one of the most well-known icons. He captures the hearts of multiple generations and has kept interest for nearly 100 years (Mickey turns 90 years old in November 2018).
We love Mickey Mouse here at Ruffles and Rain Boots. A few of our favorites:
But today, we're focusing on science and this fun kitchen experiment: Mickey Mouse slime! This simple slime recipe is one of our favorite slime recipes, making it perfect for kids to make with minimal supervision.
RELATED READING: Mermaid Slime for Young Kids
Mickey Mouse Slime Ingredients
You likely have everything on hand to make this fun and simple Mickey Mouse slime.
4 ounces clear glue
1/2 teaspoon baking soda
2-3 tablespoons contact lens solution (must have sodium borate)
RELATED READING: Teenage Mutant Ninja Turtle Butter Slime
Simple Instructions for a Simple Slime Recipe
This is so simple, let the kids try to make the entire thing themselves. Check out our Amazon shop for the best slime ingredients, fun add-ins, and colorings!
Over to You
I think next time, we are going to make a deep red glitter slime (like this ladybug slime we made) and mix it with the silver glitter slime here. What would you do? Tell us below.
Please Share on Facebook or Pinterest