Garden Gnome Plant Markers Kid Craft
The garden gnome plant markers are perfect for outdoor fun. Your child will love the fun of contributing to the family garden!
Gnome Garden Markers
Here and Ruffles and Rain Boots, we love to create gnome crafts. Can you blame us? They're just too cute!
Spring is nearly in the air and with it comes planting. From herbs to vegetables and everything in between, the kids love adding their own touches.
Help little minds track what is in your garden or in containers with these whimsical gnome garden markers. They can be as plain or detailed as the children want and are perfect for a cold or rainy day craft.
No Time to Make These Now? Save or Share for Later
Come back when you have the time. Save this to a fun kid's craft pin board or share it to a crafty group on Facebook. You'll be able to find it easily.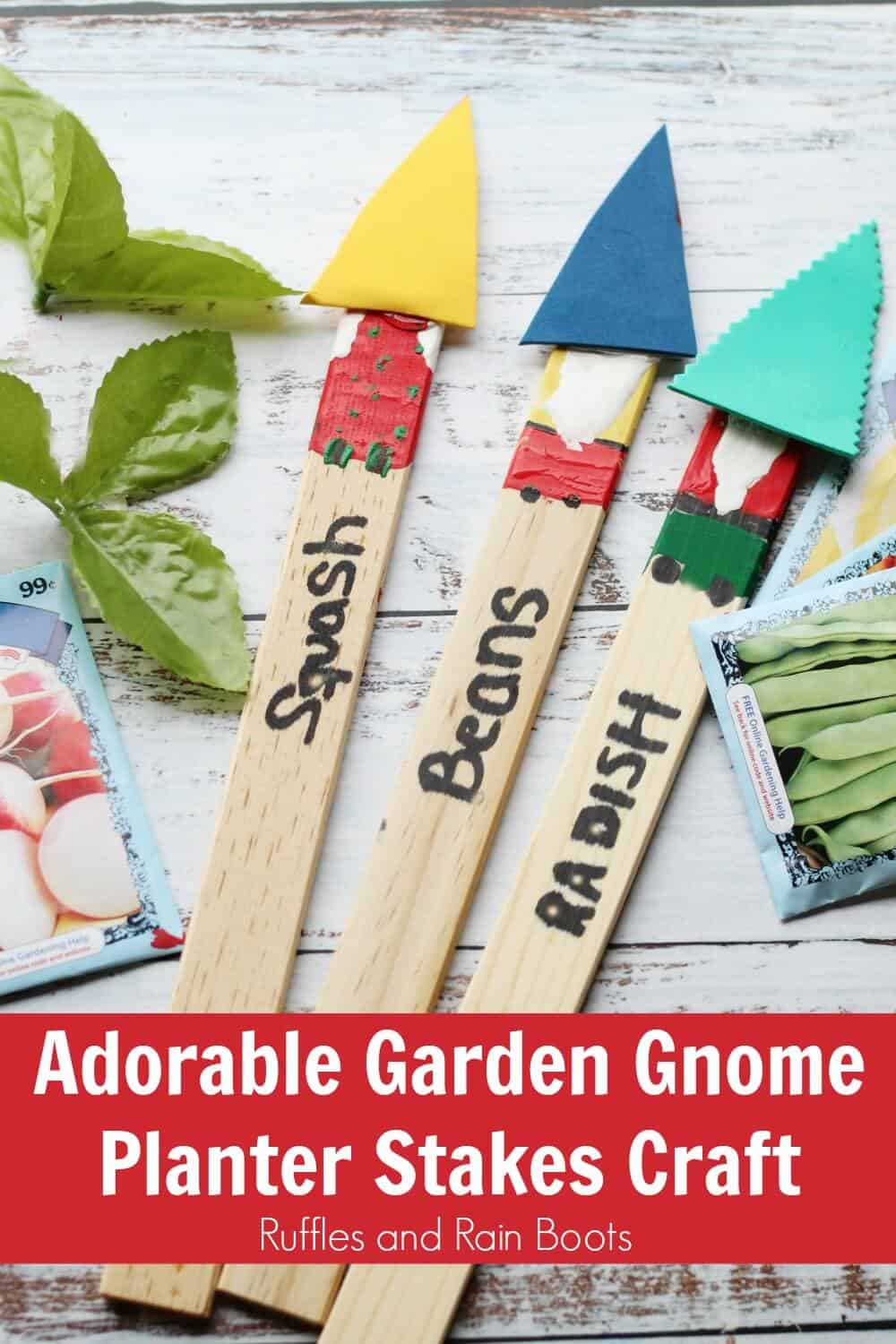 Tips for Making This Gnome Craft for Kids
These simple tips can make this craft a breeze but don't let them limit the children's creativity. Sometimes, just providing them the supplies with limited guidance makes magic.
Pick out your garden seeds before you start your craft! Go to the dollar store, home improvement store, or harvest them yourself.
Choose vegetables or flowers which are easy to grow. Some of my favorite easy to grow vegetables are: radish, peas, cherry tomatoes, and greens or lettuce.
Have fun painting and decorating your adorable gnomes! Use a combination of pens, markers, and paints. 
You can use a Dollar Tree tablecloth to make the hats for a scrunched look. They are pretty thin but if you double them up, they work well (just be sure to glue them down).
Make certain that you push them down far enough in the soil so that they won't topple over. 
How to Make This Garden Gnome Craft
I'm so glad you asked! These written directions will walk you through the entire process! If you are creating a Spring crafts for kids playlist on  YouTube, here is our garden gnome plant markers video tutorial. 
Get Creativity, Delivered
Would you like inspiration delivered right to you each week? Sign up for the once-weekly Ruffles and Rain Boots newsletter and you'll get that and more! Get access to the exclusive libraries full of free SVGs, hand lettering practice, and so much more.
More Gnome Crafts You Might Like
Please Save or Share This
Every time you save content to a pin board or share on Facebook, this fun site grows. We couldn't be chasing our passion and dreams without every single one of you!