Super Quick Dollar Tree Farmhouse Tray for Gnome Display
I needed a quick and easy way to display a gnome, so I made this fast dollar store farmhouse tray from just a handful of supplies and a little paint!
Dollar Store Farmhouse Tray
Here at Ruffles and Rain Boots, we are all about having a few fun and easy ways to display all of the farmhouse gnomes I make. I needed something different, but quick to make, to put out my most recent creations for fall. Not the gnome in the photos. That's just one I found at the store that I couldn't resist. But I'll show you my fall gnomes soon. In the meantime, back to the dollar store tray I made.
RELATED READING: FARMHOUSE RISER TRAY DIY CRAFT WITH FREE CUT FILE
It's such a fast way to make a farmhouse stand that I just couldn't wait to share how to make it. So, if you're in need of a quick way to make a fun dollar store craft, let's get started.
No Time to Make This Now? Pin it for Later
You're busy, I get it. Pin this to your favorite dollar store crafts board on Pinterest and it'll be here for when you're ready.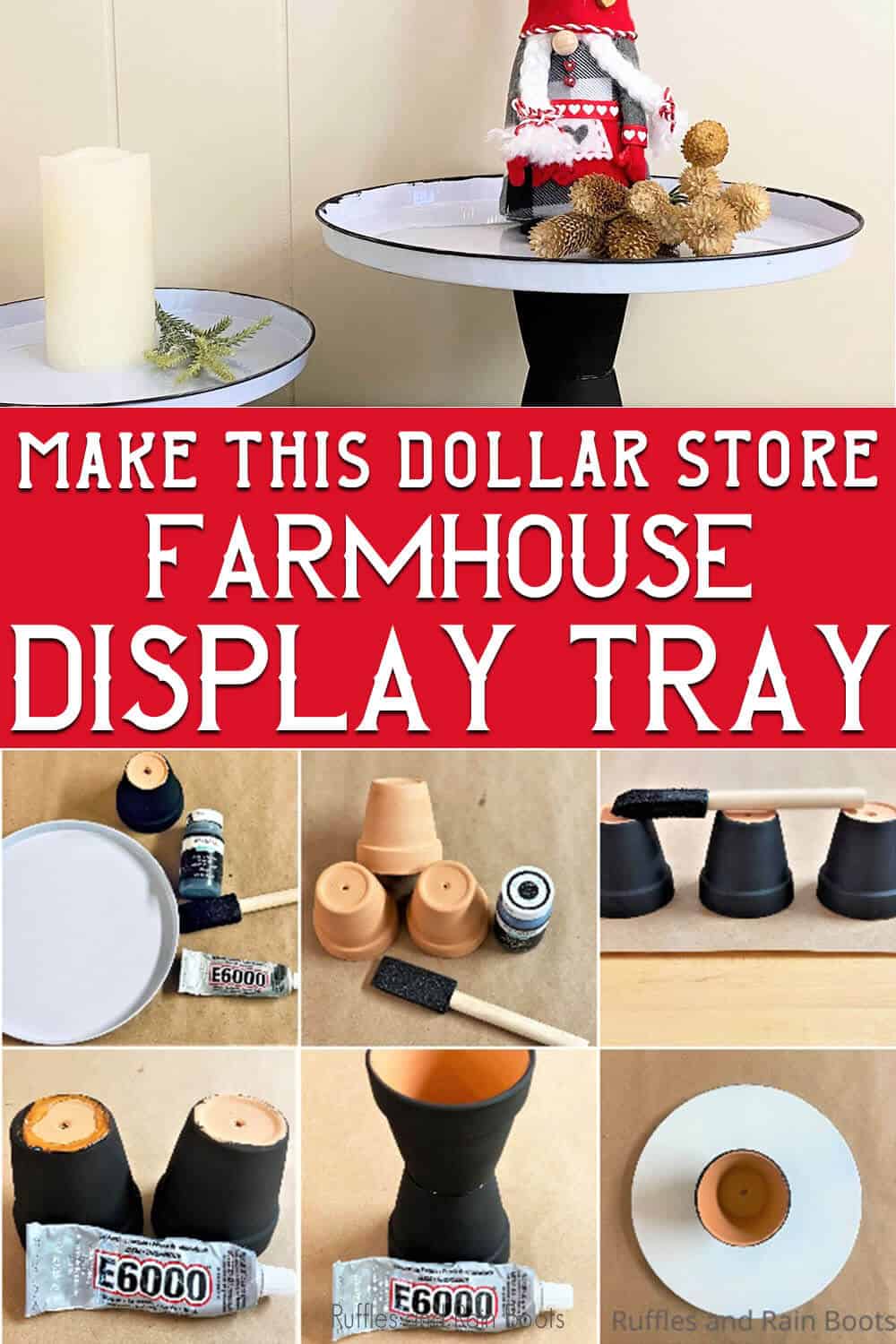 As an Amazon Associate, I can earn from qualifying purchases.
Tips to Make a Dollar Store Stand for Gnomes
If you can't find the supplies at the dollar store near you, don't get upset. They seem to be hit or miss on some items sometimes. Even though it won't be as inexpensive, you can still get the terra cotta pots here, the stove burner cover here and, of course, the craft glue here.
Sometimes, when I'm crafting, I have time to let my craft glue dry overnight when hot glue just won't cut it. Other times, I am in too much of a hurry to just get my gnome display done, but I still want a stronger hold than hot glue can do. So, I have found that using E6000 with just an extra bolster of hot glue will get you a semi-ok bond at first with a strong bond the next day. Best of both worlds.
To turn this single layer farmhouse tray into a triple-layer tiered tray, you can use the same stove burner cover, a pizza pan and a pot saucer. Paint them all the same color and you're ready to go!
How Do I Make this Dollar Store Farmhouse Tray?
I'm so glad you asked. Below is our written tutorial.
More DIY Tiered Trays You Might Like
DIY Santa Cookie Tray – This is the quickest and easiest way to make a fun farmhouse tray for Christmas that the kids can put out for Santa!
Farmhouse Tiered Tray DIY – My first and most favorite tiered tray DIY, this tutorial is fast and easy, but really packs an impact.
Buffalo Check Tray – I love this simple tutorial to not only paint a buffalo check pattern, this is such a fun craft, it's perfect.
Please Save This to Pinterest
Your shares are how this site grows and I am sincerely grateful. Know a friend who'd like this? Please share it on Facebook or save it to your favorite easy farmhouse crafts board on Pinterest.