DIY Beach Gnome Wall Hanging
Using a Dollar Tree ice cream sign, you can make this adorable beach gnome wall hanging in under 10 minutes. The Shore Living collection accents make this one easy and cute nautical gnome DIY.
You will need faux fur, fabric for the hat and a hot glue gun to get started. I had a lot of fun making this summer Dollar Tree craft idea and I hope you love it.
RELATED READING: Dollar Tree Nautical Wreath DIY – This Farmhouse Style is Cute!
Nautical Gnome Wall Hanging
Here at Ruffles and Rain Boots, scouring the Dollar Tree for craft supplies has become a bit of a game for me. I'll stop in once every couple of weeks to see if I can add to my ever-growing craft stash.
This week, I was amazed to discover the most adorable finds in the Shore Living collection. Immediately, I fell in love with the starfish wood bead garland and knew exactly what I wanted to use it on. After picking up the ice cream in their summer signs collection, I set to work.
Get Secret Gnomes, Tips, & Freebies Delivered!
What is the best pattern to use when you don't want to sew? Do you know the secrets to a properly-proportioned gnome? Do you know where to get the best-priced fur?
Get all of this (and exclusive content just for you) delivered right to your inbox with the gnome-making series, free of charge. Sign up to get the once-weekly newsletter (and a jaw-dropping special offer)!
If you use gMail or Yahoo, please check the spam or "promotional" folders. Whitelist my email address or reply to the email to ensure delivery of all files. Happy Holidays! - Sarah
No Time To Make This Now? Save or Share for Later
If you want to pop on into your dollar store to check their collection, I get it. Save this summer gnome idea to a summer DIY pin board or share it to Facebook so you can easily find it when you're ready to begin.
Tips for Making This Beach Gnome Wall Art
If you do not have faux fur, you can get it from Amazon, a craft store, or even Fabric.com where they sell swatches for only a couple of dollars. This blue faux fur piece was only $3 and I thought it would make a cute gnome for the summer.
If you can't find an ice cream cone sign, this project will work using a rectangle sign. Changes will be to cut the hat without the seam allowance using pinking shears or with the seam allowance and tuck it in behind.
Sea shells, starfish, and seahorses would all be really cute additions to the tip of the hat or hanging off the side.
Use burlap and twine for a fun beach bum combination. How cute would that be?
If you do not want to use faux fur, pick up a cotton mop head from the dollar store. Remove the strands from the plastic joiner before gluing them onto the gnome.
The stuffing for the hat is optional on this home decor piece; I happened to have some on my table from a leftover project. If you love the look of a poofy hat but don't have fill, use the inside of a stuffed animal or pillow.
How to Make This Beach Gnome Decor
Below is the written and printable tutorial for this easy summer craft idea using Dollar Tree supplies. You can watch the full length beach gnome wall hanging tutorial here on YouTube and see the other fun projects I whipped up, too! Previews below…
More Dollar Tree Nautical Decor Crafts
When I came across the Shore Living collection, I couldn't pass it up. Here are a few other items I show how to make in the video tutorial.
Mermaid Shelf Sitter
I made this using the mermaid tags by gluing all three together, adding a bit of paint, and using a couple of leftover garland beads to make it stand.
Starfish Shelf Sitter and Tiered Tray Sign
To make this fun tiered tray sign, I picked up an angled tray from the Dollar Tree and painted it. The inside rim was painted white and the bottom of the tray painted a dark gray. I glued on a starfish to the center, a couple of wood block game pieces to the back, and this was ready.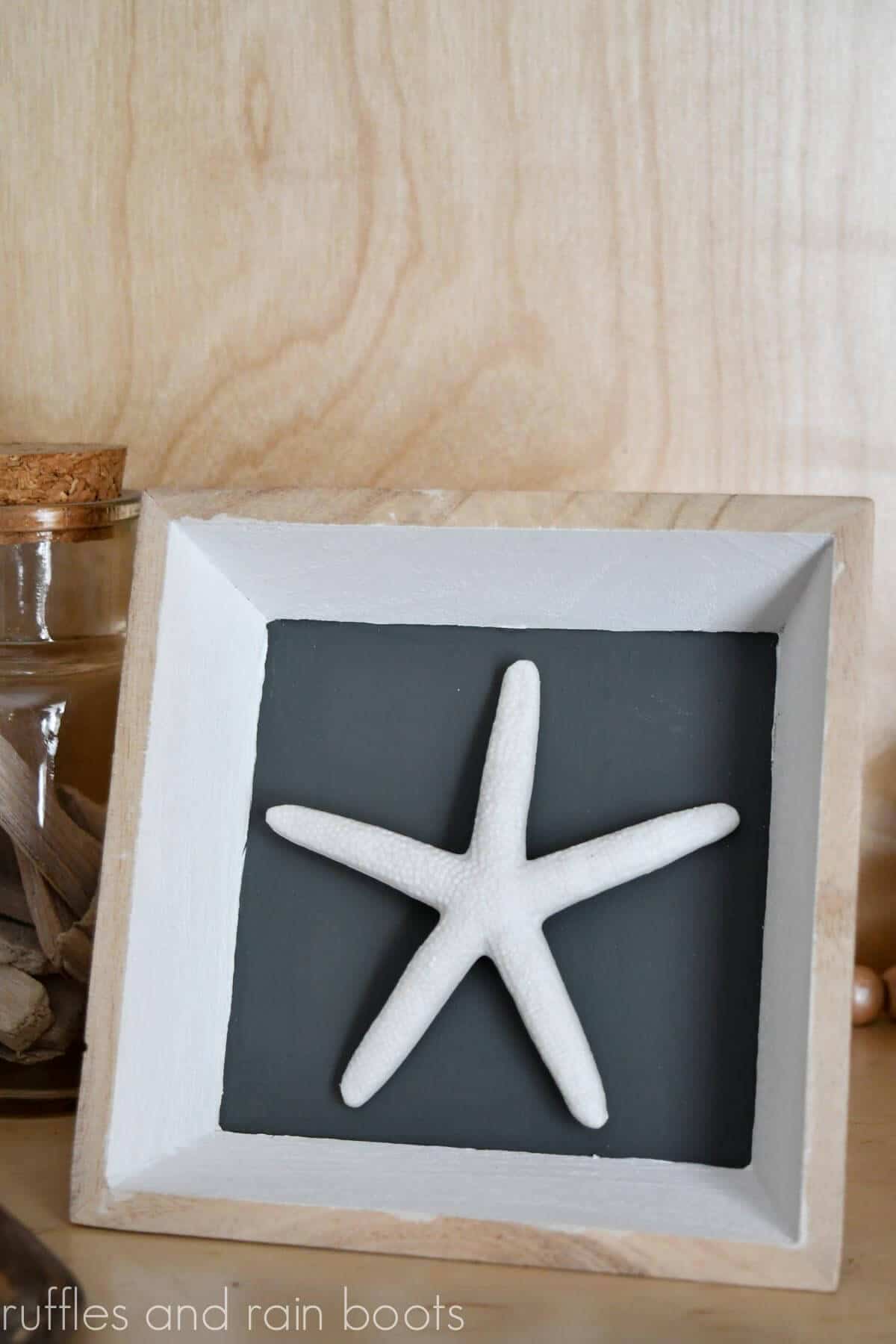 Mini Planter Using Rub-On Transfers
Another quick craft from the Dollar Tree is this mini planter accented with a bit of paint and rub-on transfers. I painted the outside white, the bottom and inside gray, and then put two of the inexpensive nautical shell rub-on transfers on either side.
More Crafts You Might Like
Please Save or Share
Your shares are how this website grows and I am sincerely grateful. Please save this summer beach gnome DIY to a summer crafts pin board or share it to a Facebook group where other crafts will love it!