These Snarky SVG Cut Files for Cricut or Silhouette are Hilarious (but true)
Feeling a little beaten by the year called for making some snarky 2020 SVG cut files for Cricut or Silhouette for some equally snarky 2020 crafts.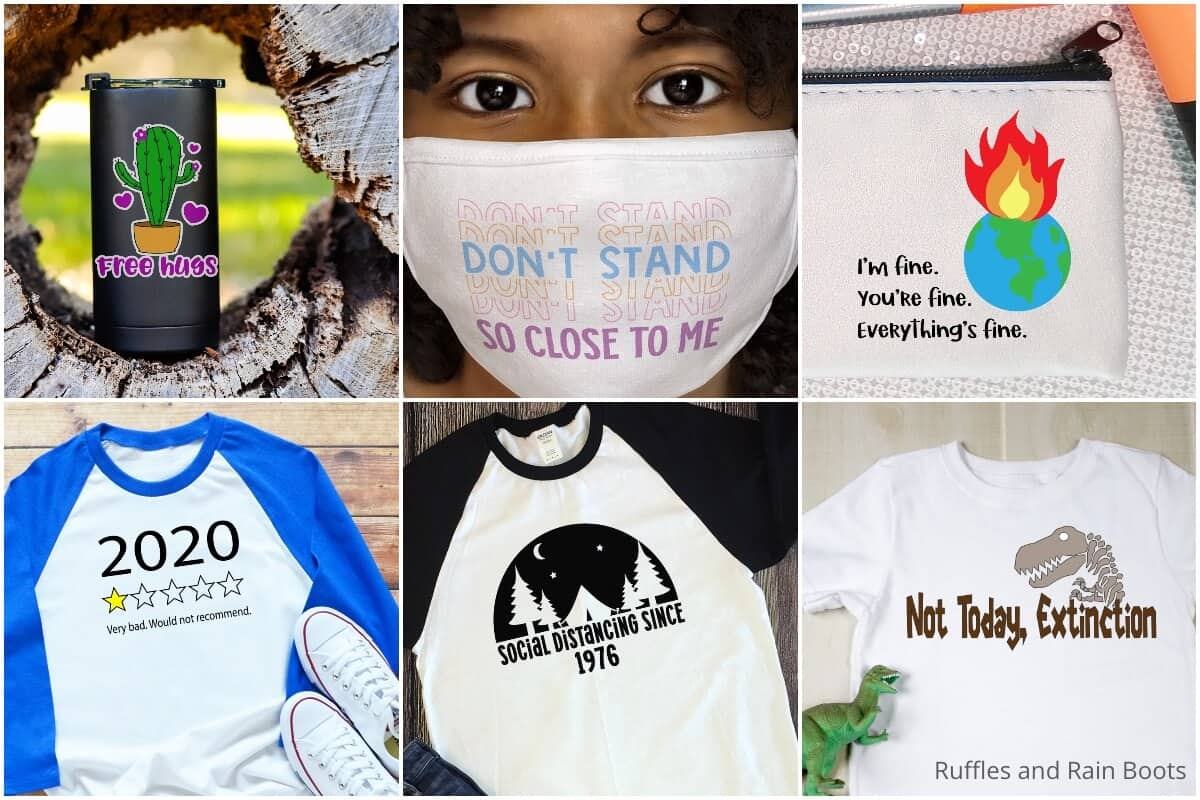 What You'll Find On This Page
Snarky 2020 SVG Cut Files
Here at Ruffles and Rain Boots, we are slogging through 2020 in the same way that the rest of the world is. I put on a nice smile and craft as a therapy to get some of the stress out, but sometimes it gets to me. The best way for me to deal with things when I start to get frazzled is with snarky comments and designing SVGs. Thank goodness there's plenty of material to make snarky comments and SVGs with this year.
RELATED READING: SUMMER UNICORN SVG BUNDLE
I mean, if you can still laugh, you can get through this. So, if you're ready to check out these snarky 2020 SVG cut files for Cricut or Silhouette, let's get started.
Get Exclusive Free SVGs, Discounts, and More!
I'm giving away free SVG files to help you create for friends, family, and your home. Get all of these (and more) along with the weekly newsletter.
How Do I Download this Snarky 2020 SVG Files?
I'm so glad you asked!
Just scroll down to get the link to our shop. While you're in the store, be sure to browse all of the free and exclusive SVG files created by Ruffles and Rain Boots. We have everything from apples to zebras and everything in between–and if we don't have it, it'll be coming soon, so be sure to bookmark the shop, so you can come back to it!
All I ask is that you share this page to Pinterest – maybe on a Cricut or Silhouette board. Your shares are how this site grows and I am sincerely grateful.
As an Amazon Associate, I can earn from qualifying purchases.
How to Use These 2020 Cut Files for Cricut
I need a ton of face masks, I'm finding, so I can wash one while wearing another. Its a nasty cycle, but oh well! As a result, I grabbed several sublimation mask blanks like these. That way I could have a few to decorate with my infusible ink!
My plan is to make a series of t-shirts like these with these funny 2020 cut files. I mean, why not?! Not only will they make great t-shits for this year, but for years coming because, you know, this seems like it might never really be "over."
Since I have an adorable 2020 commemorative gnome (its a dumpster fire gnome, who doesn't need one in their life?!) I am seriously considering a whole wall art situation with the I'm fine world on fire SVG below–although any of these fun 2020 cut files would make for fun wall art.
Let's all vote right now not to send Christmas cards this year–instead, we should totally send each other 2020 commemorative cards. Heh.
Get the Don't Stand SO Close To Me Face mask SVG Here
Click here to get the don't stand so close to me face mask SVG for Cricut or Silhouette!
Seriously one of the most fun and creative ways to make a statement on your face while you're half-covered. Perfect sentiment for 2020 and an awesome reminder to people that you're kind of still asking for that whole 6-foot thing.
Get the Trio of Social Distancing SVGs Here
Click here to get the trio of social distancing SVGs for Cricut or Silhouette!
The original 2020 cut file set I made, these crack me up. I mean, that one with the Sasquatch…I giggle every time I see it. I put it on a camping koozie without the text and it's absolutely adorable. You're not going to go wrong putting this on a shirt, for sure.
Get the 2020 In Review SVG Here
Click here to get the 2020 in review SVG for Cricut or Silhouette!
I really need a way to express how much I absolutely despise the way 2020 is shaping up. So, of course, if there was a Yelp! review of 2020, I would totally write this exact review. Perhaps a hundred times over. Because it's true. So. True.
Get the Free Hugs Cactus SVG Here
Click here to get the free hugs cactus SVG for Cricut or Silhouette!
I felt like I needed a bit of child-like whimsy mixed in amongst the more severe elements of my 2020 SVG series. So, yeah, let's throw-in a cutesy cactus offering free hugs! I am such a giggler.
Get the Not Today, Extinction SVG Here
Click here to get the not today extinction SVG for Cricut or Silhouette!
Speaking of having fun when making 2020 cut files for funny face masks and t-shirts, I almost laughed myself to death when I thought of this insanely silly fossil cut file set. I mean, it's sad, but true. This is the reason for the face masks, right?!
Get the Longest Monday Ever SVG Here
Click here to get the longest Monday ever SVG for Cricut or Silhouette!
When the initial waves of social distancing and quarantine were getting underway, I really felt like "oh, this is a long Monday." But then it just kept going and going…and now I'm just feeling like this Monday is never-ending. Good news, though, I've got a face mask for that now. LOL!
Get the I'm Fine World on Fire SVG Here
Click here to get the I'm fine world on fire SVG for Cricut or Silhouette!
At this point, the whole world really could be on fire and we'll all be like "I'm ok." Seriously, this is the perfect sentiment for a face mask, t-shirt, wall art or even a car decal. I mean, really, if this is not the most perfect sentiment to apply to 2020 and beyond, I have no clue what is. Just a great way to start a decade, right?!
More Cricut And Silhouette…
Please Save This to Pinterest
Your shares are how this site grows and I am sincerely grateful. Know a friend who'd like this? Please share it on Facebook or save it to your favorite DIY ideas board on Pinterest.