Unicorn Poop Bath Bomb Recipe – It's Rainbow, Too!
This unicorn poop bath bomb recipe is not only hilarious, but it smells great, too. It's perfect for a fun LUSH-inspired DIY craft or silly gift, so let's get started with this easy homemade bath bomb recipe.

Unicorn Poop Bath Bomb
It's no surprise that we love anything unicorn…and these Unicorn Poop Bath Bombs seriously make my day. First off, they're actually really cute (ya know, for poop…) and secondly, it's just something fun and useful to make with the kiddos.
I mean, C'mon! Who would turn down a chance to make unicorn poop? I literally can't say no when my kids ask to make this. I. Just. Can't.
RELATED READING: Mermaid Bath Bombs That Will WOW!
No Time to Make This Unicorn Craft? Pin It for Later!
Life is busy, girl, I get it. Pin this awesome unicorn craft and make it when you have time.
Tips For Making This DIY Unicorn Gift Idea
Like I mentioned earlier, we're no strangers to unicorn poop. A few things that we've learned along the way?
These Unicorn Molds MUST harden overnight (no one wants crumbly unicorn poop).
The more colored layers you add, the more fragile these bath bombs become unless packed well. If your mix is on the dry side, spritz the previous layer with alcohol before adding the next.
It's fun to tell people that you took a relaxing bath with unicorn poop!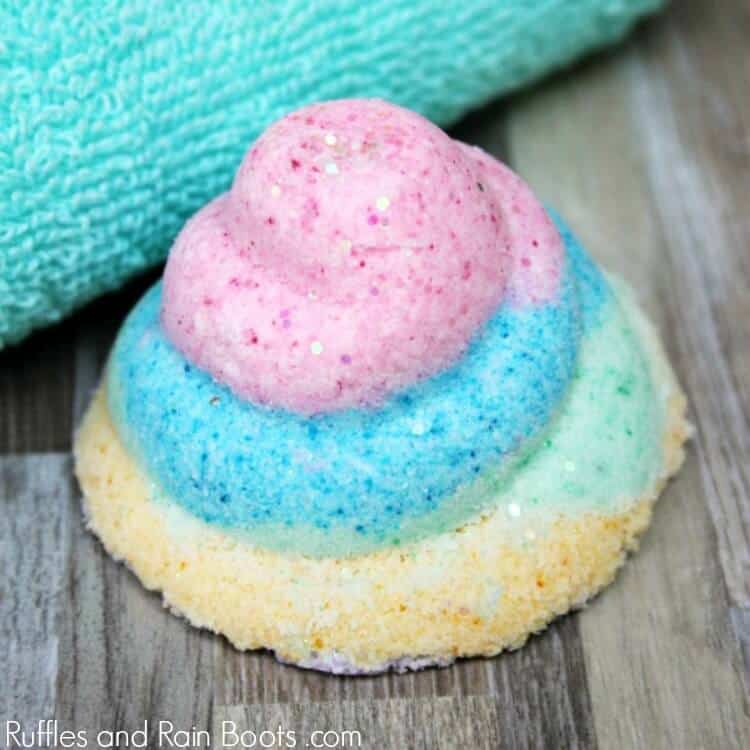 How To Make This Rainbow Unicorn Bath Bomb
Get ready to be "wowed" because this DIY bath bomb recipe is so simple. All you need are a few simple ingredients and my step by step instructions found below! If you're creating a DIY bath and beauty playlist on YouTube, here is our unicorn poop bath bomb video tutorial.
More Unicorn Crafts You Might Like
If you like this unicorn craft, you won't want to miss out on these!
Want More Fun Crafts Delivered Right to You? 
If you want to get notified when we create a new set of DIY Mickey Mouse ears or other fun Disney crafts, sign up to our once-weekly newsletter. No spam, no selling, just really fun crafts. :)
Please Save This to Pinterest
Your shares are how this site grows and I am sincerely grateful.